I teach and lead THE CC STRUMMERS ukulele group at the Culver City Senior Center (Culver City, CA). The intermediate level class meets every Thursday from 10 to 11:00 A.M. The beginners' class meets every Monday from 3:30 to 4:30 P.M. We learn new songs, chords, strums, nifty licks and tricks on the ukulele. Both classes perform shows together throughout the year (see videos on our YouTube page).
We have fun, laugh a lot, sing and play fabulous songs, make lots of mistakes, do the best we can, fake it when we have to...and make new friends. The CC Strummers has become an ohana. A family. And there's room for you! You must be a member of the Culver City Senior Center and the fee for each class is $3. Double your fun! Players are invited to attend both Mondays and Thursdays. Email for details or call (310) 285-3506 and leave a message.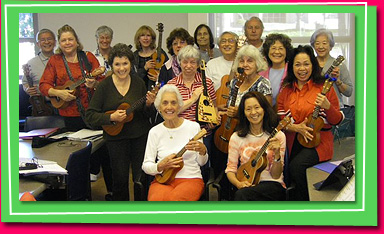 New to the ukulele? I offer one-day workshops, "Get Started and Have Fun Playing the Ukulele," every few months at the Senior Center. It's Ukulele 101, the basics, like how to hold your ukulele, tune it, make chords and sing songs. With a little instruction under your fingers you can join The CC Strummers and make music with us. No previous musical experience is necessary for this workshop. You must be a member of the Culver City Senior Center. The 1-1/2 hour class is $5.