Rockin' Fun Ukulele Songs Performed with Bass, Drums, Vibes, Steel Guitar & Clarinet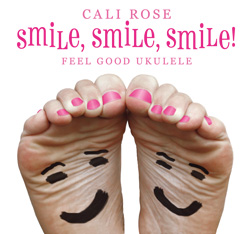 $10.00 + $2.50 shipping/handling
13 Track • Audio CD Format • ©2013

Or purchase/download from these online vendors
(and listen to more samples): CD Baby | iTunes
Smiles & Raves from Fans!

Photos from friends and fans. Send a photo of yourself with the "Smile, Smile, Smile!" CD to and I'll post it here! !
click any thumbnail to view the slide show
"If you are looking for an album that will chase away the blues and bring rainbows and sunshine into your life, this is the album for you!" — Sharon's Garden of Book Reviews
"Got your CD and played it going to work today. It is wonderful!!!!!! Does put a big smile on my face." — Gregg W.
"I am feeling so good listening to your CD... you have such a gift in knowing how to say/sing uplifting words/messages"
— Anne G.
"It's delightful and very much a reflection of who you are." — Jim Beloff
"...your tunes are very danceable - we've tried and they work well!" — Wena D.
Your album is terrific! Indeed, it IS AMAZING what 4 strings will do ! — Alan A.

I LOVE the CD!!!! I am on my second listen and this morning I found myself just smiling. — Peggy K.F.
I have officially worn out your new CD! I have played it at home, in the car, in other people's cars, on the computer....you name it. Thank you! — Noelle T.
Read lots more wonderful comments here!
To purchase by mail, send a check for $12 to: Cali Rose c/o Soup To Nuts Music, P.O. Box 4775, Culver City, CA 90231