It was snapping, crackling and popping around here July 4th. Despite the pleas of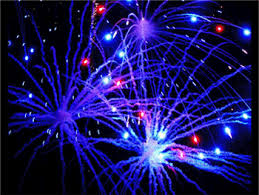 law enforcement, "so-called" adults (okay…idiots) were setting off fireworks, the illegal kind, in backyards and on street corners. Not to mention the big official fireworks shows nearby in Culver City and Marina del Rey. A cacophony of sounds set the air on fire. I heard blasts like gunshots, whoops, hollers and dogs. Howling, howling. I felt like howling too. "Make it stop…make it stop." On July 4th I want to hide in bed and pull the covers over my head. And that's where I was when the call came that my mother just passed away.
Earlier that day, the sunny board & care home where she spent her last months hosted a grand July 4th barbecue. Families, friends, neighbors converged in the backyard to chitter-chatter and fill our plates with grilled goodies. I sat with my mom and cajoled her to eat as I happily inhaled yet another hot dog and scoop of homemade potato salad. She just poked at her food then put her fork down. But chocolate is another matter. It's always been the food of last resort. I emptied a handful of baby Hershey bars on the table, carefully unwrapped the foil and placed a little slice of brown heaven in her hand. She took a tiny chipmunk bite and put it down. Hmmm.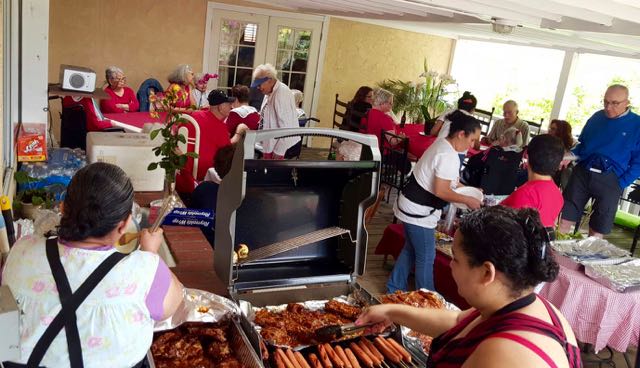 And she would not look at me either. "Mom, I'm over here. Let me see your beautiful face." She'd glance quickly my way and even more quickly the other way again. I found this odd enough to mention to my husband. For the last two weeks it seemed she was dropping deeper into the land of dementia and unlatching from this mortal coil. It's only now that I'm beginning to put two and two together.
After the party, the caregivers put her back into her Lazy Boy in the living room, in front of the big flat screen. She was holding her beloved stuffed puppy in her arms as I leaned in to kiss her. "Bye Mom. I love you." Her reply? "I know."
A few hours later she died in her sleep. The doctor had given her a clean bill of health only a week before. There was no frantic trip to the emergency room. My husband took me into his big warm arms and then we drove to her home. I stood over her body and studied her face. It was free of anguish. It looks like she died peacefully. We should all be so lucky. A heart attack, a stroke, a something that is quick and done.
The mortuary dude arrived quickly too. Probably July 4th is a big night in the undertaking business. I watched him drive away, with my mother in the back of his van, the red taillights disappearing in the night. Fireworks exploded nearby turning the sky smoky blue.
And just like that my "tormentor" was gone. She was 93 years old.
As you can imagine I am experiencing a cascade of emotions…and a whole lot of nothing. Those of you who are familiar with my story know that my mother had borderline personality disorder. She could be so kind and inexplicably cruel. Unfortunately, my father and I were her primary punching bags. Mom was a registered nurse, a clinical specialist, who went back to school in midlife to get her degree, which is quite an admirable feat. She prized her profession above all else and would interject the list of her accomplishments into any and all conversations. In her world there was little room for anyone else. It was only the last couple of years when dementia stole her memory and Zoloft balanced her moods that we actually had something resembling a loving relationship.
She is so much a part of "my story." What happens to our story when a main character dies? For me, this is complicated by the specter of mental illness. I could write a book. This woman threatened to kill me. That would be a couple chapters right there.
And yet… One evening many years ago, for a few moments, my mother emerged from her mental prison into lucidity. She was standing by her front door, sobbing. "I'm so afraid I'm going to push you away" she sputtered through her tears. "I can't help it. I can't help it. I can't help it." She talked about hearing voices.
You know, I had always thought she could help it. I thought I could "fix" her. And then she'd be nice to me. But at that moment my view began to change. Albeit not enough to stop the suffering that would continue for decades—for her and me. I can only hope that today she is free.
Flash forward… I am talking with funeral-director-guy in his office at Pierce Brothers Mortuary, which is conveniently located at the final resting place of so many Hollywood stars. My parents had a pre-paid, no-frills cremation plan on file. I am deeply grateful that they did this. They bought this plan twenty years ago for $695 each. Funeral-director-guy can't freaking believe it! He shows me what the same plan costs today. Whoa! Dying is expensive, folks… While he is imputing the information into his computer I wander around the graves and headstones. A couple tourists, distraught women, are doing some kind of emotional catharsis in front of Marilyn Monroe's crypt, otherwise I would have taken a picture. But I do snap a few. My mother loved cemeteries. It's feels so Zen to me—you know, that laughter in tears and tears in laughter stuff.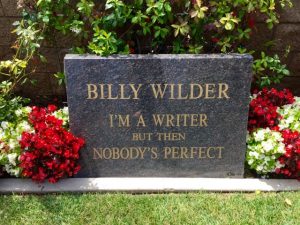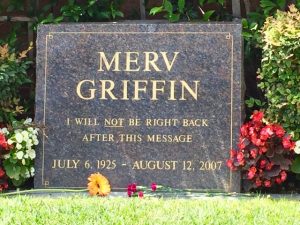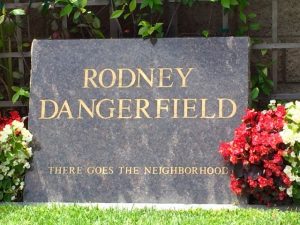 My mother could have been a stand-up comedienne. She was hilarious and loved shocking people with her ribald observations about body parts. We had this conversation a few months after my father died when I asked if she had thought about "like…going out on a date? What are you looking for in a man?" She answered so quickly and precisely that it was apparent she'd been mulling this over for a while.
"Yes. He's got to have three qualifications. First he has to be funny." What that means is he has to think SHE is funny.
"Second. He has to be smart." Which means he thinks SHE is smart.
"And what's the third one mom?" I can hardly wait to hear this one.
"He has to be impotent."
"Uh…do you mean important?" I ask…
"No. Imp-O-tent." She stresses the "o" so there is no doubt what she means. Or wants.
There is a moment of silence before I offer some real world advice…
"Mom it's so hard to find the perfect guy, you know. Would 'two out of three' work?"
She ponders this briefly before acquiescing… "well okay, he doesn't have to be smart…"
Not long after that my mother spiraled ever so slowly out of control and eventually lived like a bag lady in her own home, refusing to let people in, refusing help, refusing to throw anything away. There were no boyfriends.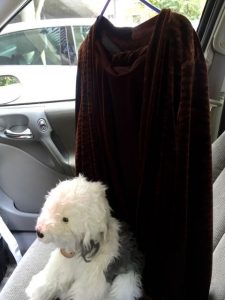 At the end of my visit, I hand funeral-director-guy her brown velour pantsuit. My mother was not a girlie-girl. She dressed like a Russian soldier. Then I give him the stuffed puppy she adored the last few weeks of her life. She and her polyester pooch and brown velour will go out in a blaze together.
My mom did not want a funeral or memorial. Nothing in the newspaper. This blog is it. She did not believe in heaven. Or hell. Not an afterlife nor reincarnation. One and done. She was the mistress of fireworks, this one. Sometimes it was quite a show and you couldn't look away. But mostly I wanted to pull the covers over my head and hide. That said, I know that my mother did the best she could with her one precious life.
I called her best friend with the news. They knew each other since they were teenagers in Washington D.C., giggling about the new boy down the street. This woman cried softly on the phone. "Your mother had a good heart, Cali…"
In time the stories soften around the edges and eventually fade away, but one thing remains: Our mother carried us in her belly for nine months and brought us into this world. Whether she had the stuff to be a good mother. Or not. How can we ever say thank you, thank you enough, for this astonishing gift? For our big messy life.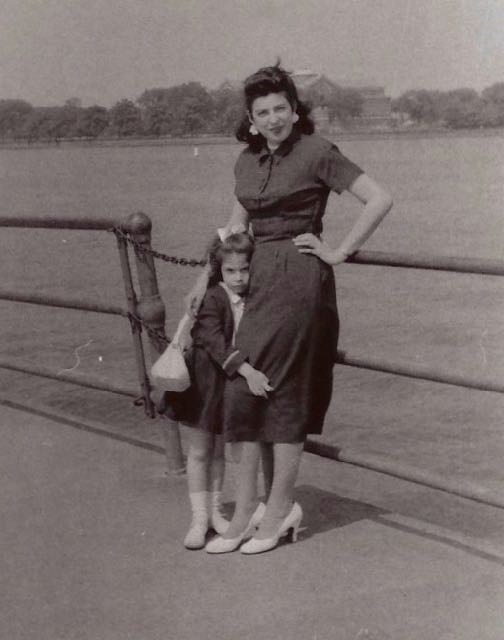 I received an avalanche of emails in response to my last blog about my mother. "Police Pursuit." Stories that are sad, complicated and utterly human. In my blogs I have hesitated writing about my really personal stuff… You have to know that my index finger hovers over the "send" button before I push it down. Should I? Shouldn't I? But that began to change this year with my mother, the defining relationship in my life. Your responses remind me that our stories connect us, not in our heads, but in our hearts. They give us comfort, like a deep heave-ho.An a-ha moment, perhaps. I'm especially gratified when you leave a message on my blog (WordPress) so others may be gifted with your words. Thank you!