Those of us who live in sunny, drought-stricken California were supposed to get slammed with rain. LAST YEAR. But it didn't happen. Little did we know Mama Nature was saving up. For the big wet party in 2017 that, unfortunately, drooled all over us—The CC Strummers and me—as we performed at Culver City's Screenland 5K Race of The Century. My adopted hometown is celebrating 100 years of "being here" on this small parcel of land. Five square miles squeezed into the map of Los Angeles.
So it's HOORAY time in the neighborhood with various celebrations going on all year. And why not a little foot race too? Around our historic downtown, passing the Culver Hotel where the Munchkins stayed during the filming of The Wizard of Oz, through Sony Studios, past the old MGM sound stages, east to Culver Studios, the sacred ground of Desilu, I Love Lucy and The Andy Griffith Show. Yes, Culver City is really Mayberry…
The runners are invited to "dress" as their favorite MGM movie characters. Or whatever. So are The CC Strummers. But as I frantically log onto weather.com for the latest hour-by-hour updates I'm thinking that I'm coming dressed as "an electric blanket." Thank goodness they are putting up a tent for us.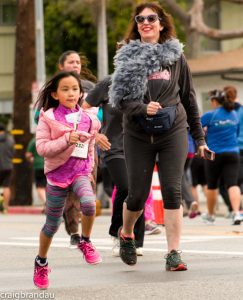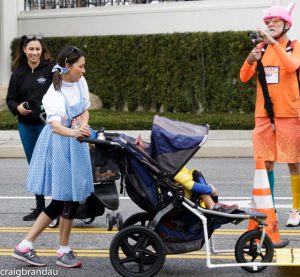 The show begins at nine-freaking-o'clock in the morning. Academy Award Sunday. Our hearty band of weather-tolerant ukulele players arrive early. The tent does not. The race crew delivers chairs.
A guy drops off an electric generator for my amplifier and then runs for his truck. because…it's raining. I snatch him back and say "oh by the way, how do you work this thing?" He points, turns dials, pulls a cord and bolts. "Oh no…nuh-uh." I make him watch ME turn it on…and off. That's the only way I learn. By doing it. Not watching someone else do it. I feel empowered now (no pun). I can turn on a big machine…well besides the washer.
But none of this is putting me in a good mood. It's freezing. Okay…"Southern California" freezing. I am wearing fingerless gloves which are rapidly becoming nothing more than a "fashion statement." We try to tune our ukuleles. Let's put it this way… You don't want to use the words "ukulele" and "rain" in the same sentence. I'm cabled into "the electricity." What a lovely thought. Getting fried just as we sing "Don't Worry, Be Happy."
No tent.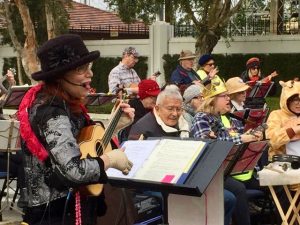 None of us knows what to expect. We are situated at the U-Turn of the course. The city has placed one volunteer, Haley, an exuberant high schooler, a few feet ahead of us to ward off any stray runners who might plow into our front row of players. Three thousand people have signed up to run, speed walk or just mosey. It's our largest audience ever. But they are moving. And we figure they will take a quick glance at us and head towards the finish line. Our own Emerald City. Also known as Trader Joe's.
We warm up (that's a joke) with "Hound Dog" then wait for the first runners to emerge from Sony Studios and gallop our way. I can't feel my fingers. All the fancy licks I've been woodshedding? That ain't gonna happen today.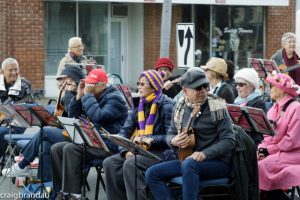 The elite runners show up first. They are stone-ass serious, grimacing mightily as they make the turn, until one hottie raises his arms and cheers us on. And we whoop it up right back at him. Carmen Miranda appears, wearing fruit on her head, a colorful flowy frock and expensive running shoes. We yell "Yay Carmen!" And she yips and waves back. Suddenly Dorothys and Tin Men, Beetlejuice, moms, dads, little ones, the delicious melting pot of humanity that makes Los Angeles such a spectacular metropolis, they stop and gather round us. Singing and dancing along, aiming their smart phones at us and applauding. It's raining. It's cold. And we are having the best time!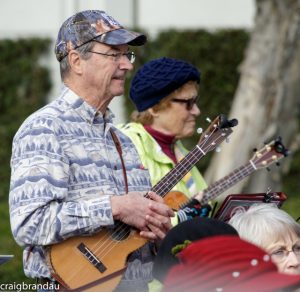 I have a set list but this is the first show I've done for an audience that is in motion and changing, literally every moment. So I end up calling songs out of order so we can amp it up and do "Jailhouse Rock" and "Somewhere Over the Rainbow" and "Rock Around The Clock" (all Culver City related songs) when people stop and cheer us on. "Singing In The Rain" goes over really well…
I'm so proud of The CC Strummers. They are such good sports as we soldier on. Music pages are flapping in the wind but eventually everyone catches up or just mute strums, sings and smiles at the audience. It's all good! The Three Stooges thank us at the end.
And no tent.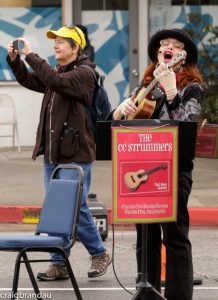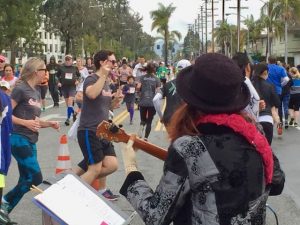 The amazing thing is you can actually watch all this unfold because Moshe, a very sweet man who is married to Ilana, one of our newest CC Strummers, captured the whole show, runners and all with his video camera. He did some dandy editing so it actually feels like YOU are right here, with us. Cold, wet and soaking up all that ukulele joy.
Watch the video on YouTube by CLICKING HERE. Thanks for sharing the "Yellow Brick Road" with us. Now go make some music and add a little sunshine to someone's rainy day.