DUE TO THE PANDEMIC, THIS CLASS IS NOW ON ZOOM SO PLAYERS NEAR AND FAR CAN JOIN US!  EMAIL CALI FOR MORE LOGIN INFORMATION AND TO SIGN UP.
The next 4-week session begins Saturday, April 3, 2021 and meets four consecutive Saturdays.  10:30 to noon (PST).
I make several instructional videos during each class and post them on YouTube for our players.
The suggested donation for each class is on a sliding scale $14 to $20.
What we'll learn
In this intermediate level class we create song arrangements together.  We add harmonic and rhythmic embellishments, fingerpicking, introductions and endings. We learn to improvise, pick out melodies, build chord melody solos, change keys and change-up the groove.  
Our players bring songs for the class to work on from pop music and jazz to standards and country.   We master the "C" scale, work with finger exercises to fine-tune our technique and learn to read tablature.  
In every class we also play a song by ear.  This is a go-with-the flow forum where we share our musical ideas, challenges and triumphs. Playing with other people in a warm and supportive atmosphere is a cool way to get new stuff under your fingers. Confident players are welcome, 16 years old and above.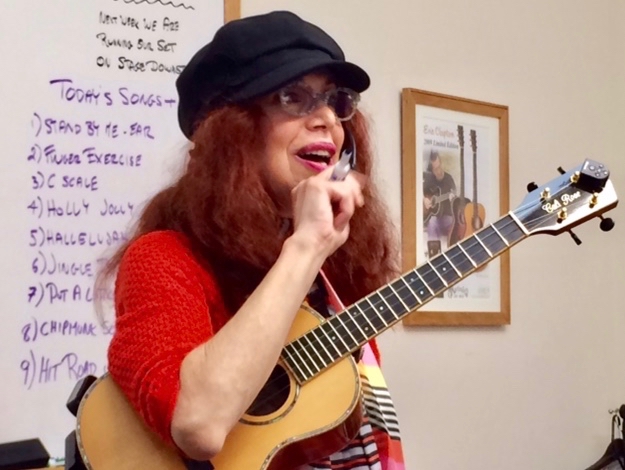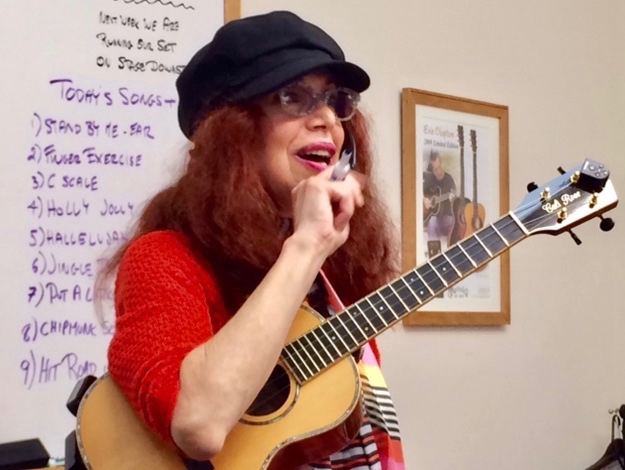 This class reminds me of the old one room school house back in the day where little kids are hanging in with the high school seniors.  We have confident beginners and others who have been playing for a long time.  So I think in terms of "ensemble."  Our beginners strum, our more experienced players fingerpick or pick out melodies.  In other words, there is something for everyone to play and we learn from each other.
Playing with other people in a warm and supportive atmosphere is a wonderful way to get some new techniques under your fingers.  A bass player joins us for the fourth class and we really jam!  Players 16 of age and older are welcome!
---
What you'll need
A ukulele with standard G-C-E-A tuning
Songs and arrangements are provided for you
A digital tuner, preferably one calibrated for ukulele tuning, such as the Kala KC02
A great big smile!
---
Cost
$80 includes all 4 classes.
---
How to enroll
In-person workshops are suspended due to social distancing measures. Join a zoom class in the meantime!
---
Time and Location
Check back for our next in-person class start date.
Boulevard Music
4316 Sepulveda Blvd, Culver City, CA 90230
(310) 398-2583
Free parking in the adjoining lot and on the street.