What we'll learn
Every four week session is uniquely its own because you bring in different songs to work on.  It's very spontaneous, loose and fun.  We often do tunes from The Daily Ukulele but lately our players have brought other songs to the party.  We create arrangements together, maybe change the key, add chord progressions and embellishments.  We work on strum patterns and fingerpicking. We are also learning about chord melody and playing solo ukulele.  We always play a simple song by ear, do finger exercises and also practice the "C" scale in the first three frets.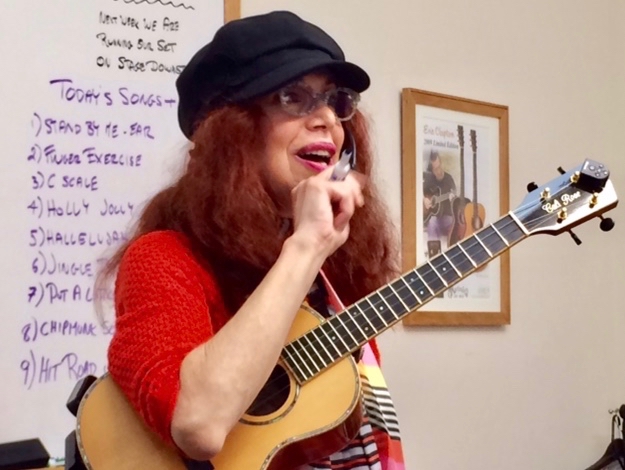 This class reminds me of the old one room school house back in the day where little kids are hanging in with the high school seniors.  We have beginners, fresh out of The Ukulele for Beginners class, and others who have been playing for a long time.  So I think in terms of "ensemble."  Our beginners strum, our more experienced players fingerpick or pick out melodies.  In other words, there is something for everyone to play and we learn from each other.
Playing with other people in a warm and supportive atmosphere is a wonderful way to get some new techniques under your fingers.  A bass player joins us for the fourth class and we really jam!  Players, sixteen of age and older, are welcome!
---
What you'll need
A ukulele with standard G-C-E-A tuning
A digital tuner, preferably one calibrated for ukulele tuning, such as the Kala KC02
"The Daily Ukulele, 365 Songs for Better Living" compiled by Jim and Liz Beloff and published by Hal Leonard. This book contains hundreds of uke-friendly songs and arrangements, chord charts and a Ukulele 101 Primer for beginners, along with handy tricks and tips for all players.
A great big smile!
---
How to enroll
$60 includes all 4 classes.
Please enroll by calling or visiting Boulevard Music.
---
Time and Location
The next workshop will be Saturdays, February 16, 2019
Boulevard Music
4316 Sepulveda Blvd, Culver City, CA 90230
(310) 398-2583
Free parking in the adjoining lot and on the street.