We play shows
The ukulele brings us so much joy and we want to share those good vibes with others.  We have a very large group. At Fiesta La Ballona (Culver City's County Fair) and The Culver City Senior Center Holiday Show we can be 60 players strong.  But mostly we do shows for smaller audiences in senior communities, for folks with dementia and other issues at Opica Adult Day Care Center, we have played for runners at The Culver City Screenland 5K race, our local Farmers Market, at the opening of the Expo Metro Line, The Culver City Woman's Club, The Retired Teachers of Santa Monica and for other groups and organizations.  We frequently include a "teaching segment" in our shows, giving a couple people from the audience a chance to learn a song on the ukulele while everyone else sings along. Just call us "Ukulele Goodwill Ambassadors."  Please email Cali with questions about setting up a show.
---
We teach children how to play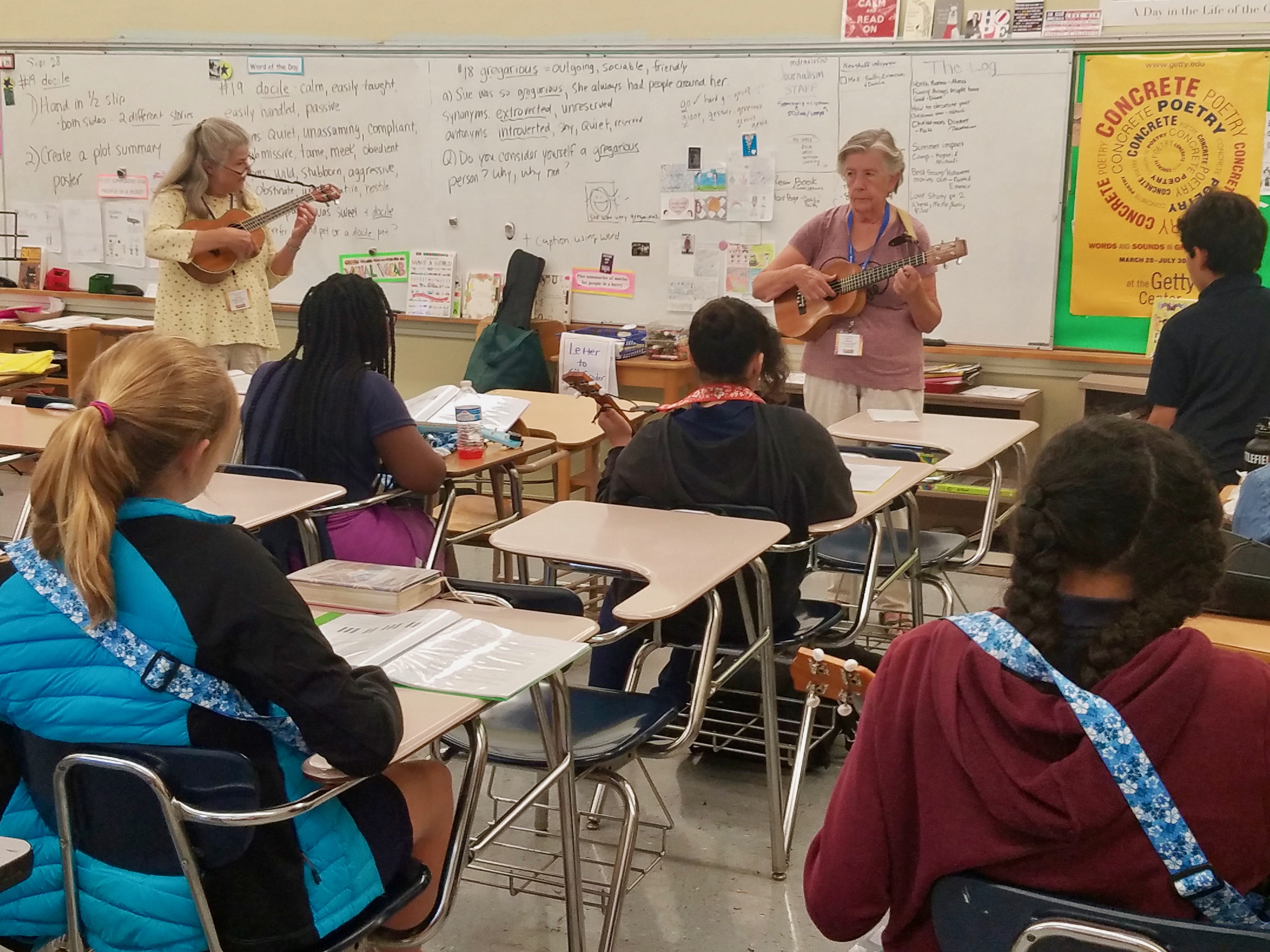 Several CC Strummers took the initiative and set up a teaching program at nearby Marina del Rey Middle School.  Ukuleles were purchased or donated, one of the school teachers opens her room at lunch time and oversees the class.  We have a rotating team of volunteer teachers from our group who bring music education, via the ukulele, to our neighborhood children. In two years the number of kids in this program have doubled and this year the students put on a show!
The science is in.  We know how learning music at a young age benefits us throughout our entire life and The CC Strummers are proud to have initiated and be part of this ongoing project. Many hands.  Many hearts.
---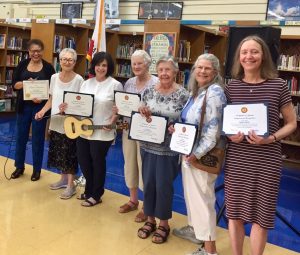 We are all students.  And teachers.  Our players teach their grandchildren to strum their first ukulele.  They teach their friends, neighbors and the list goes on. As I like to say, the best way to learn something is to teach it to someone else.
---
We volunteer at the UCLA Mattel Children's Hospital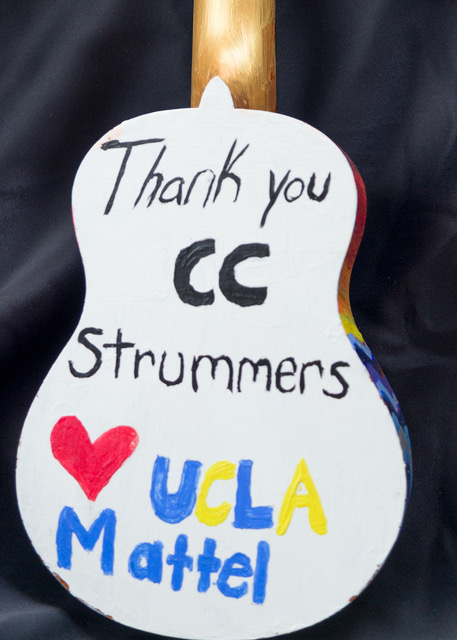 Our players have big bold ideas and they bring energy and enthusiasm to the table. That's how we learned about The Ukulele Kid's Club (UKC), an organization that donates ukuleles to pediatric hospitals in North America and now Europe.  One of our members wanted to send a donation in our name and UKC asked if we have a designated hospital.  We landed on UCLA.  It's close by and they were about to launch their music therapy program.  We got in on the ground floor.  We pay for ukuleles and bring tuners.  One of our CC Strummers put a whole songbook together so the kids can keep learning new tunes and chords.
Every other month a team of six players carpool to UCLA to sing for patients in pediatrics and pediatric ICU.  We also teach kids (and parents) to strum and present them with a ukulele.  For keepsies. Our CC Strummers continue to donate money to UKC, keeping UCLA well stocked with ukes.  In fact the ukuleles have become an integral part of the music therapy program, which is also growing and now includes internships.
---