Welcome to my website and blog!
---
Big News! I'm in the Movies!
Never Too Old is a new documentary depicting music's power to enrich life for older audiences, and for the musicians themselves. This half-hour film highlights the power of music and explores the paths that led professional musicians (including me!) to perform for older audiences. It shines a light on MusicianFest, an initiative of the Music Performance Trust Fund, to provide free musical performances at senior centers and assisted living facilities in the US and Canada.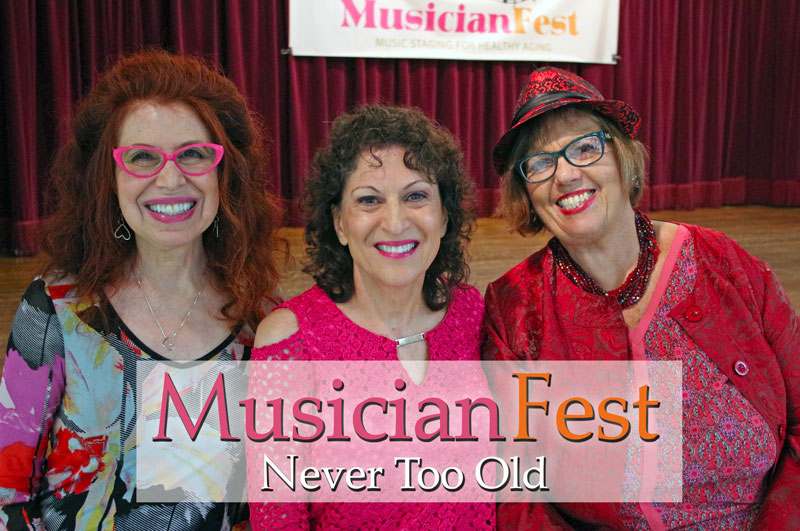 Watch the half-hour documentary in its entirety on the Music Performance Trust Fund website.
I appear around minute 19. Watch the whole documentary—it's inspirational!
"Brava! The documentary really touched me…. we all can remember the music and songs of our youth and those memories bring forth a lot of good feelings. Bless you and your compadres for bringing joy to our generation!"  —L.K.
Read more testimonials
---
Check out my video tutorials!
Sign up for Cali's Newsletter
---
Cali Rose and The CC Strummers perform at the 2018 Los Angeles Uke Festival.
My latest blog posts
I'm at Trader Joe's doing my "food gathering" thing and rolling the cart past the display of ready-made yummies because…well…I am good at reheating and turning on the microwave. Another shopper, a Gen Xer kind of gal, is leaning into the stacks of meatloaf and chicken wraps when her... Read More
We are having a date! Husband and I are zigzagging through rain-splashy traffic for an afternoon matinee of Julia Sweeney's one-woman show at the Geffen Playhouse in Westwood Village. It's dog-eat-dog as he squeezes our little Honda Fit into the long line of cars entering the $4 validated parking... Read More