Welcome to my website and blog!
Ukulele tutorial: "Better Times Will Come"
Janis Ian has generously shared her glorious and uplifting song with musicians everywhere, to learn, record, and share. Read more and get the chart.
Cali's Ukulele Kids Club Academy Workshop
Learn to play and sing Cali's tune "OO-KOO-LAY-LAY" — with all kinds of ways to fancy things up!! Get the sheet music here. The UKC is an international organization that helps children overcome the stress of serious health conditions by playing the ukulele. Check out their website and their YouTube page for more academy workshops.
The CC Strummers… in the news!
A great video story by Kristopher Gee about Cali Rose and The CC Strummers – read it here!
Cali Rose featured in OokTown's Ukulele Podcast
Coming to you straight outta Culver City, Cali Rose comes to talk to us about the beginnings of The CC Strummers, affirms the power of the ukulele in music therapy, and takes us through her journey from studying nursing to full-time musician. Hosts: Stuart Yoshida, Doug Brown. Watch on YouTube or Listen on iTunes.

Love your Zoom classes with The CC Strummers.  Thanks for all your good teaching and emphasis on rhythm.  I wish to stay on Zoom—even when life returns to some "new" normal.

Terrific Embellishments class today with UKC. So fun. I learned some cool stuff. Thank you.
—B.H., Ukulele Kids Club Participant

Just want to congratulate you on your program today. It went really well. I loved being present for it. Joyful. You alternated between the individual singers and the group songs so fluidly.  And it all was within the hour. Flawless.

Great class. I love your fingering tips‼️

I LOVE your Monday and Thursday sessions and have learned so much from you…if anything, I get so inspired to play with that amazing smile of yours and the positive energy you give off every second of every minute!! Thanks again.

Thank you very much for making the trek to our oasis group yesterday…. i was very enthusiastic about you both being there and playing for us all…. so talented… and inspirational you both are with your own unique individual styles… and i loved that you remembered me from your…

Love love love your blogging! You give me useful tips. My continuing education goes on.

You have inspired me to push beyond just strumming…thank you for a most enlightening hour of my ukulele life.  (Re: Chord Melody Workshop at the 2018 Los Angeles International Ukulele Festival).

"Singer/songwriter and multi-instrumentalist, Cali Rose, has produced a delightful and eclectic brew of fun, playfulness, intelligence and wit. Her piano and guitar playing is also excellent and she is joined by many talented musicians on this CD. She may be goofy, but she sure is good!"

I want to thank you again for including my class in your holiday show and all the great pictures you have sent me. Each time we perform with you, I see my dancers relax more and begin to enjoy themselves. And you are the reason. Your joy in connecting with people is irresistible…

"I play your CD in the car and it gets me through our beach traffic!"

Cali, you are an excellent teacher!

Cali, you are the best!! A woman after my own heart! Responsible, kind, patient, and conscientious! You are the reason I am able to stick to this challenge! Update: I have been tuning up everyday and now it's a cinch to get to the green…

Thanks for keeping up the spirits of so many people!!

I had forgotten how much fun it is to turn people on to making music together. I am really excited by this and it was your YouTube video that gave me the courage to do this. In fact , one of your YouTube videos inspired me to start a…

Cali Rose shows her versatility with this CD. She strums, picks, and sings her way into your heart with a combination of fun little ditties, love songs, and a few classics. I love "True Love," "Beautiful, Beautiful Hanalei," and "Soup Du Jour." Those three songs were just wonderful. Kudos…
— Ukulele Player, Aug 2009

You are our Den Mother! I've never met a teacher, coach, mentor or guide who took such pride in her charges, befriended all and supported all with that brilliant smile, sense of humor and empathy. Your spirit is the drive behind the success of CCS, Cali. We play our hearts…

"I have to say again how very much I enjoy your CDs. It feels like you singing just for me when I listen. Maybe it's because I know you or perhaps it's because I have seen you perform live, I don't know. Your music feels personal to me. I…

Thanks Cali!! I'm really grateful for access to your music arrangements and for learning with the CC Strummers!! Be well!

"Singing is like taking your voice on a joy ride to lift the blood and tears of life. Without music, I couldn't bear the stress." —Winston Churchill. Cali, thanks for bringing music to our lives. (more…)

Thank you for providing this special forum. Although I only see most of the folks in your classes virtually, I feel the sense of community and love that comes through – a large part because of you and the tone that you've set. Brava!

"This is one of the best CD's I have ever heard.  I love it!!! Great voice…great production…great arrangements…great originals…great choice on the cover tunes.. great musicianship…great graphics, CD cover and photos.  Great things in store for this CD and Cali Rose!!!"

"Chris and I wanted to pass along a thank you!  We have been playing your CD in the office this week and everyone here thoroughly enjoyed the tunes.  Being on the front end of "tings," it's always nice to see and hear the finished product.  It is especially nice…
— Chris Bailey and Brian Jones of Disc Makers.

Thanks to you and your wonderful group again for your performance yesterday at the Culver City Woman's club. You and your players have a lot of personality to go with your musical expertise. You have obviously brought a lot of joy into their lives and into ours yesterday. A special…

Always a pleasure to play with the CC Strummers!! Thank you for all you do!

"We fully appreciate your lovely renditions, plus you really transfer your unique touch to the instrument as it sings along with your vocals!"

 … I credit you with always encouraging us to try different things as there in no absolute right and wrong way to play a song. Only if it sounds good to us. Just wanted to share this with you, as you like fun "wacky "stuff."  And mention the wonderful…

"I have officially worn out your new CD! I have played it at home, in the car, in other people's cars, on the computer….you name it. I love it! Every song has its own personality and unique vibe. What truly makes it special is the fact that it puts…

"Congratulations to you on your joyous, funny, uplifting CD! I especially like 'I woke up' and Happy Birthday. And related so well to the saga of the VW (my '67 red bug remains my favorite car of all time, it ran like it thought it…

"…it's the players like you and Craig that make the world of ukulele what it is.  Put a guitar in someone's hands and they want to be a rock start.  Put a Hawaiian ukulele in someone's hands and they just want to play music and smile."
— Mickey Maguire of Uke Player Magazine
Cali's version of Chopsticks
Cali sings her own song "Smile, Smile, Smile
This Morning Something Wonderful Happened to Me (I Woke Up)
Cali Rose plays "The Way You Look Tonight" on piano
Cali's Blog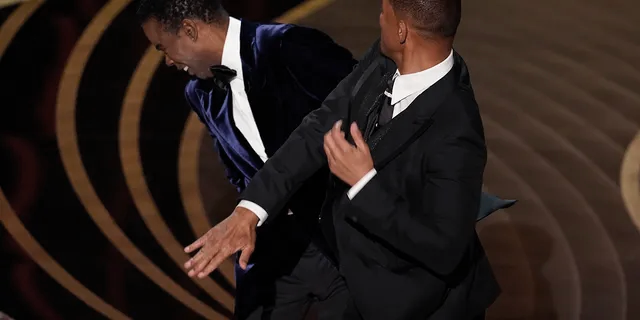 I'm watching the Academy Awards, answering emails and cleaning my desk. That's when I see Jada Pinkett Smith, sitting in the swanky front row with her husband Will Smith. The next presenter, Chris Rock, lays into her with a lame joke about her hair. She's rolling her eyes and looking very pissed-off. Hubby is laughing, kind of fakey-like. Until he isn't. That's when he bounds on stage, all huffy-puffy, and smacks Chris Rock in the noggin. My computer screen goes … Read More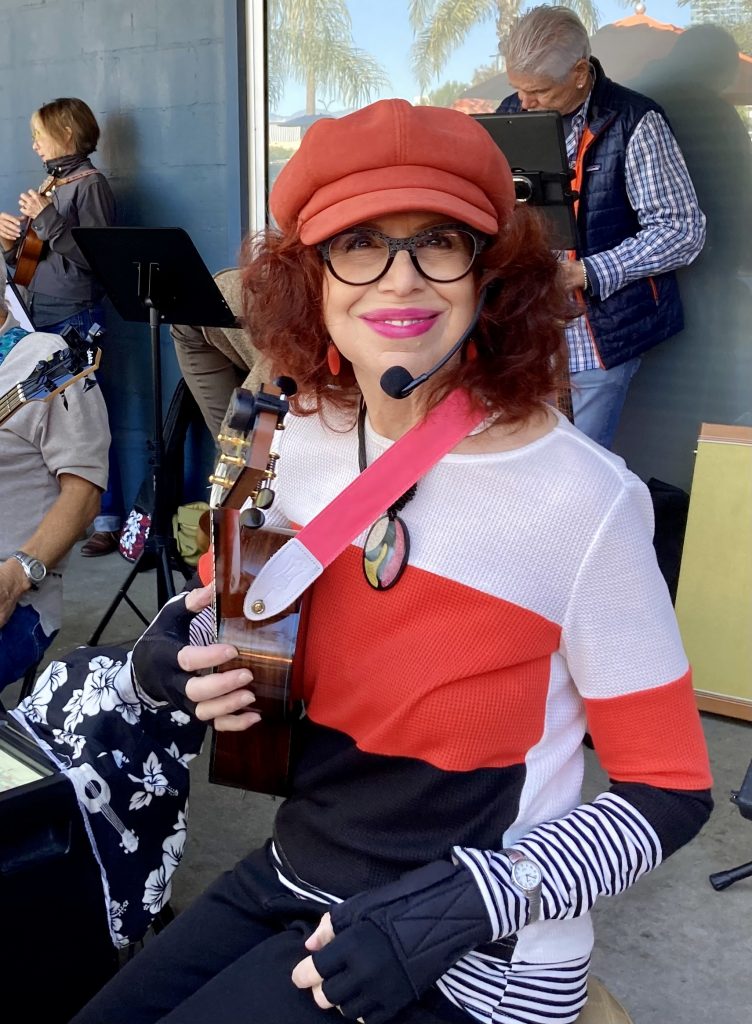 One year ago, Friday, March 12, 2021, I had big plans for the day — two Zoom gigs and a Covid surge take-out dinner with my sweetie, wrapped and ready to go from our favorite Mexican Restaurant, Paco's Taco's.
But…
"Life is what happens to you while you're busy making other plans," wrote John Lennon. Instead of enchiladas, I stared down a baby bowl of tepid vegetable soup that a guy from dietary delivered to my hospital room.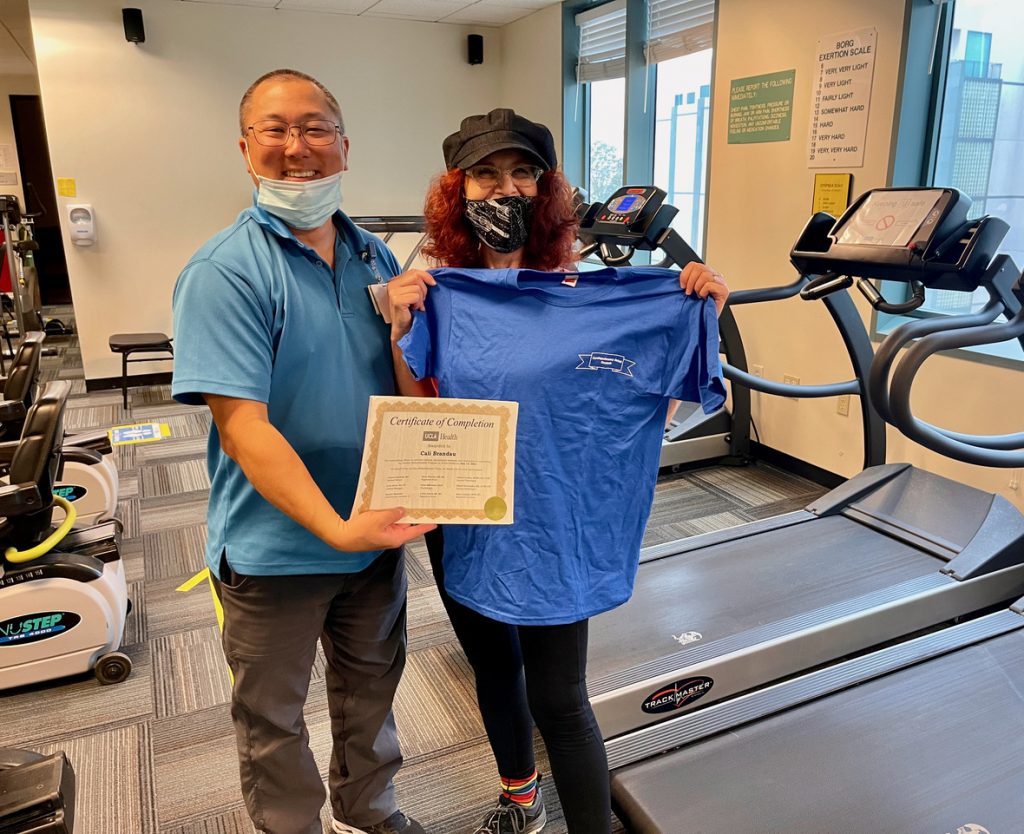 The staff in Cardiac Rehab at UCLA offered me a cap and gown for this momentous occasion: Graduation. I thought they were kidding. They weren't kidding nor were they laughing as hard as I was…