Welcome to my website and blog!
 The CC Strummers—in the News!
A Story About Cali Rose and The CC Strummers
Kristopher Gee of Spectrum News recently visited a CC Strummers jam session—watch his video above or on facebook or read it here!
Ukulele video tutorials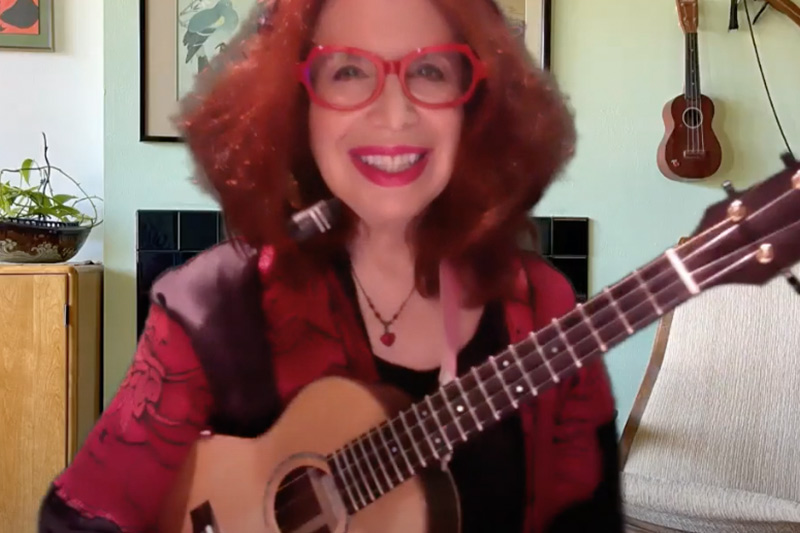 Cali helps you add some waltz skills to your ukulele playing with strumming and fingerpicking patterns in 3/4 time.

Zoom classes & lessons!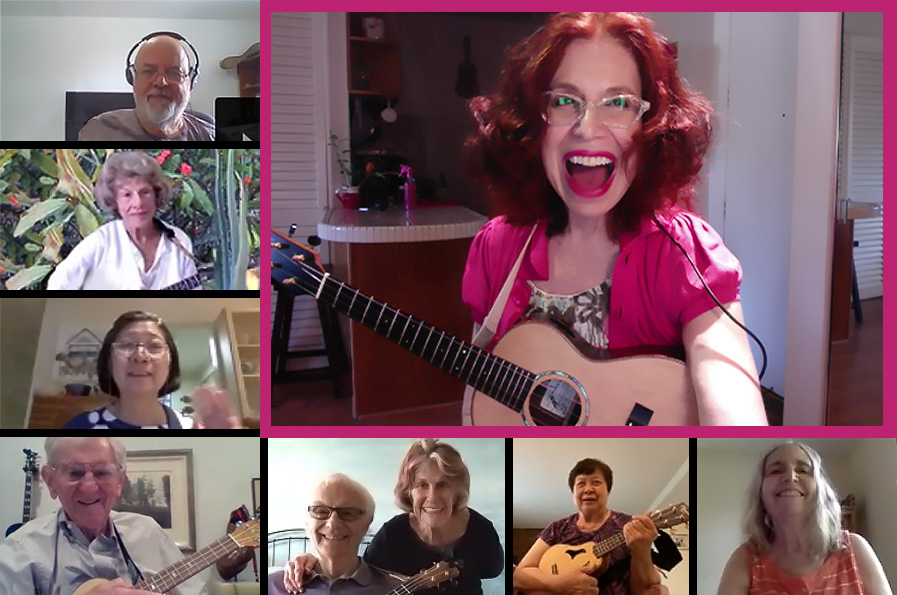 Learn ukulele skills and techniques and have fun!
Donation-based Zoom classes for beginners and intermediates—open to the public!


Thank you! Your extra advice during the class helps enormously, as does your encouragement.

Even though I am just a beginner, I am hooked!  You are a fabulous teacher!  I love the way you give us options and challenge us to try new strum patterns. Also, the alternate fingering for chords is very helpful.  Love, love, love your class.

You really have created an amazing community/ohana with your excellent personality and teaching abilities, my Dear. So many of us have remained connected during this dreadful pandemic because of YOU! Thank you. 

"Your classes are a joy and I'm so thankful for Zoom so I can "attend."

The routine of my life during this pandemic has been so enriched by taking your classes. My mental, physical, emotional and spiritual are healthier, I'm sure.

I LOVE your Monday and Thursday sessions and have learned so much from you…if anything, I get so inspired to play with that amazing smile of yours and the positive energy you give off every second of every minute!! Thanks again.

Cali, I enjoyed your class Wednesday for the children's uke group. One eye-opener for me:  I'd wondered how to remember embellishments, and you mentioned printing empty uke grids!! Brilliant, and just what I needed. Thanks so much for all your amazing efforts and expertise!
—D., Ukulele Kids Club Participant

Your song "Something Wonderful Happened Today" was SO GOOD. Seriously, I was stunned at how terrific you are on ukulele. After I watched and listened to you, I told my wife that you're an amazing ukulele musician. Thank you so much for sharing that with us. Cheers.
—B., Ukulele Kids Club Academy Workshop
Cali's version of Chopsticks.
Cali sings her own song "Smile, Smile, Smile."
This Morning Something Wonderful Happened to Me (I Woke Up)
Cali Rose plays "The Way You Look Tonight" on piano.