Welcome to my website and blog!
New video! Cali Rose teaches UKC Academy workshop!
Join Cali Rose as we learn to play and sing her tune "OO-KOO-LAY-LAY" — with all kinds of ways to fancy things up! You can find the sheet music here. The Ukulele Kids Club is an international organization that has helped thousands of children around the world to overcome the stress and anxiety of serious physical and mental health conditions. Check out their website and their YouTube page for more tutorials—and register for an upcoming workshop! View more of Cali's Tutorials here.
Cali Rose featured in OokTown's Ukulele Podcast
Coming to you straight outta Culver City, Cali Rose comes to talk to us about the beginnings of The CC Strummers, affirms the power of the ukulele in music therapy, and takes us through her journey from studying nursing to full-time musician. Hosts: Stuart Yoshida, Doug Brown. Watch on YouTube or Listen on iTunes.
New ukulele tutorials posted!
Featured tutorial: Let's waltz! Cali helps you add some waltz skills to your ukulele playing with strumming and fingerpicking patterns in 3/4 time. View all tutorials.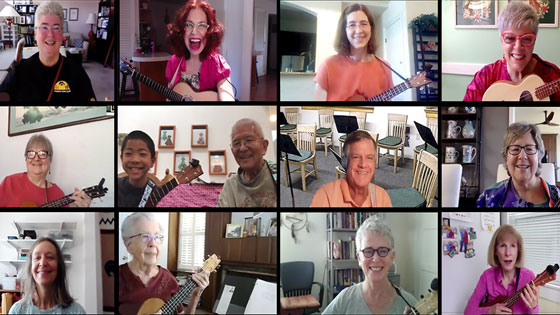 Zoom classes and lessons
Learn ukulele and have some fun! Donation-based Zoom classes for beginners and intermediates—open to the public! More info.
The CC Strummers… in the news!
A great video story by Kristopher Gee about Cali Rose and The CC Strummers – read it here!

"When describing Cali Rose, the words "wacky" and "zany" come to mind…unexpectedly good music backing up the jokes…"

Thank you once again, Cali, for sharing your special magic and the magic of the ukulele!

"Hi young lady – I wear a size 10 shoe, and I have forever – big feet give us a good foundation and able to deal with life with all its good and bad surprises."

 I owe my music to you, your charm, loan of a uke and endless enthusiasm gave me a new lease on life. Thank you thank you thank you!

And I love your wonderful classes that I join every Thursday!  A real highlight of my week, whether I'm in Cambridge, Cape Cod, or more recently NYC.

"I really liked your CD. My 2 favorites were by you; Set Your Tushie Down and Maui Nights."

Loved the documentary, and You, Miss lovely singer, player, entertainer! I hope it inspires others to sing for those who think they're forgotten. You've woken my inner musician, inspired my progress and are responsible for a lotta lonely folks letting music into their hearts and lives.

"I absolutely love it!  The song selection, vocals and musicianship are nothing less than stellar."

Thanks for your ongoing fabulousnous and loving leadership in our uke community. A community that continues to grow at your helm.

I was in your Boulevard Music ukulele class yesterday, and I just wanted to let you know how excited and happy it made me. I think you're a terrific teacher, and I'm looking forward to the next three weeks, and beginning, in those weeks, to learn to play the ukulele. Thanks…

Please know how much your spirit touches us and helps us to keep (or try) our own spirits up. You have a very important place in this world and I hope the Zoom classes help to keep your spirits up too!

Thanks for one of the few "bright spots" I look forward to every week!!  Plus, I'm saving gas, wear and tear on my car and getting more sleep.

During this terrible year you and the ukulele have been my sunshine! Keep shining spreading joy and laughter. 

Thanks, Cali, for all you do to keep us happy, playing our ukes, during the pandemic.

Brava! The documentary really touched me, especially, since I and my "girlfriends" are at the end of our 7th decade and will be moving into our 8th next year. We aren't able to get together as we once did because of transportation and physical issues. But I know we…

Your song "Something Wonderful Happened Today" was SO GOOD. Seriously, I was stunned at how terrific you are on ukulele. After I watched and listened to you, I told my wife that you're an amazing ukulele musician. Thank you so much for sharing that with us. Cheers.
—B., Ukulele Kids Club Academy Workshop

"I listened to "Are You Having Any Fun?" and I truly had fun listening.  I laughed and nearly cried.  Your music Cali gives so much, a whole philosophy, your personality, as well as pleasure.  I so enjoyed."

"We fully appreciate your lovely renditions, plus you really transfer your unique touch to the instrument as it sings along with your vocals!"

Thank you for all your work and compassion for your students, who range from those with the price tags still on their instruments (metaphor stolen from a bluegrasser) to professionals. As for me, you took a woman with a desire to learn from playing to performing. Because of…

Thank you so much, Cali. Your classes are so enjoyable and it is a pleasure to be in your presence . I really look forward to your class.

I'm loving the CC Strummers more and more every day. Thanks for allowing me to be an honorary member!!

I SO enjoyed your workshops last weekend, as well as my colleagues from R. Cucamonga Senior Center. We shared with our teacher/facilitator (she had to cancel out). She's now having me help teach the strums. Believe it or not, within 2 practice sessions at home, I had a break-through….

Thank you for your teaching and your music. I smile and laugh all the way through the lesson.

Wow, what an impressive list of songs that you have taught us starting last April when I joined you on Zoom.  You're such a highlight of the week.  My husband has noticed a dramatic improvement in my playing and technique. 

"Singing is like taking your voice on a joy ride to lift the blood and tears of life. Without music, I couldn't bear the stress." —Winston Churchill. Cali, thanks for bringing music to our lives. (more…)

"Well I said I L O V E  your website and I do and I also applaud your one-woman-do-it-all approach, going to the care homes and connecting with your CDs and upbeat attitude, so very important, as you said, in these challenging of all times.  Looking forward to your…

Your classes are so much fun and informative.  I so look forward to every class and really missed them when I didn't have my iPad.

"Had no idea you play the uke! Loved the Oo-Koo-Lay-Lay song!!! You have a wonderful touch – the intro on "The Fishing Hole" is just gorgeous!"

I'm thoroughly enjoying these classes! Thank you for all the time you put into these workshops, classes, gig's (latest flash mob was the best!), music arrangements and everything else you do for us.

I have come to greatly appreciate the time and effort you take to select songs, transpose to an easy voice range, chart for easy uke playing. and print out for the class. great fun!
Cali's version of Chopsticks
Cali sings her own song "Smile, Smile, Smile
This Morning Something Wonderful Happened to Me (I Woke Up)
Cali Rose plays "The Way You Look Tonight" on piano
Cali's Blog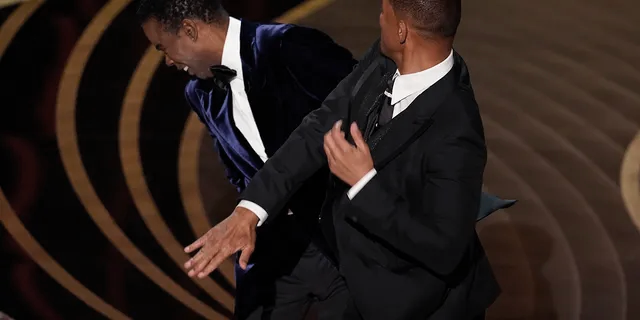 I'm watching the Academy Awards, answering emails and cleaning my desk. That's when I see Jada Pinkett Smith, sitting in the swanky front row with her husband Will Smith. The next presenter, Chris Rock, lays into her with a lame joke about her hair. She's rolling her eyes and looking very pissed-off. Hubby is laughing, kind of fakey-like. Until he isn't. That's when he bounds on stage, all huffy-puffy, and smacks Chris Rock in the noggin. My computer screen goes … Read More