Welcome to my website and blog!
Ukulele tutorial: "Better Times Will Come"
Janis Ian has generously shared her glorious and uplifting song with musicians everywhere, to learn, record, and share. Read more and get the chart.
Zoom classes and lessons
Learn ukulele and have some fun! Donation-based Zoom classes for beginners and intermediates—open to the public!
Cali's Ukulele Kids Club Academy Workshop
Learn to play and sing Cali's tune "OO-KOO-LAY-LAY" — with all kinds of ways to fancy things up!! Get the sheet music here. The UKC is an international organization that helps children overcome the stress of serious health conditions by playing the ukulele. Check out their website and their YouTube page for more academy workshops.
The CC Strummers… in the news!
A great video story by Kristopher Gee about Cali Rose and The CC Strummers – read it here!
Cali Rose featured in OokTown's Ukulele Podcast
Coming to you straight outta Culver City, Cali Rose comes to talk to us about the beginnings of The CC Strummers, affirms the power of the ukulele in music therapy, and takes us through her journey from studying nursing to full-time musician. Hosts: Stuart Yoshida, Doug Brown. Watch on YouTube or Listen on iTunes.

"I listened to your CD on the way to work this morning and also as I was out doing errands at lunch.  It's great – I was smiling the whole time I was listening.  It's got great compositions, great singing, great musicianship and it's very well produced.  Unfortunately, it's…

Thank you once again, Cali, for sharing your special magic and the magic of the ukulele!

I really enjoyed the Thursday class – your energy and spirit really add to the joy of the class…I so appreciate you and your work.  Thanks for helping all of us!!

Thank you very much for making the trek to our oasis group yesterday…. i was very enthusiastic about you both being there and playing for us all…. so talented… and inspirational you both are with your own unique individual styles… and i loved that you remembered me from your…

Thanks, Cali for your dedicated service and for holding down the fort, during these especially challenging times. The drum machine is a great touch!

Just wanted to tell you that you do really great work! With respect and admiration…

Thanks, Cali, for your expertise and humor.

Thanks, Cali, for all you do to keep us happy, playing our ukes, during the pandemic.

I'm thoroughly enjoying these classes! Thank you for all the time you put into these workshops, classes, gig's (latest flash mob was the best!), music arrangements and everything else you do for us.

"Hey Cali! Absolutely fabulous set… it was an honor to share a stage with you. I swear I've listened to your comedy disc a million times. I was singing along to "PMS Kind Of Day". I hope to play with you again soon =)"
— Mike Cisneros (at Kahnapalooza 7/2010)

Love your Zoom classes with The CC Strummers.  Thanks for all your good teaching and emphasis on rhythm.  I wish to stay on Zoom—even when life returns to some "new" normal.

Cali Rose … Your piano playing is sumptuous! You're such a dynamic and lovely performer! Thanks for sharing.

 I owe my music to you, your charm, loan of a uke and endless enthusiasm gave me a new lease on life. Thank you thank you thank you!

I SO enjoyed your workshops last weekend, as well as my colleagues from R. Cucamonga Senior Center. We shared with our teacher/facilitator (she had to cancel out). She's now having me help teach the strums. Believe it or not, within 2 practice sessions at home, I had a break-through….

"Well I said I L O V E  your website and I do and I also applaud your one-woman-do-it-all approach, going to the care homes and connecting with your CDs and upbeat attitude, so very important, as you said, in these challenging of all times.  Looking forward to your…

…I really enjoyed the Beginning Ukulele class. You are such an amazing teacher! I so appreciated your talent, teaching style and patience. I also really liked the information filled notebooks and summary emails you sent after every class. You have inspired me to pick up my ukulele every day and play.

…I saw the Musician Fest video with you playing and singing for the seniors, great job! Carry on, you're an inspiration!

Thank you! Your extra advice during the class helps enormously, as does your encouragement.

It was a great class with lots of helpful tips on strumming and fingering and I have to tell you I appreciate the care you take in preparing the music sheets with all the information we need to play and sing as easily as possible.  I really am…

Cali Rose shows her versatility with this CD. She strums, picks, and sings her way into your heart with a combination of fun little ditties, love songs, and a few classics. I love "True Love," "Beautiful, Beautiful Hanalei," and "Soup Du Jour." Those three songs were just wonderful. Kudos…
— Ukulele Player, Aug 2009

Cali, you are an excellent teacher!

"Chris and I wanted to pass along a thank you!  We have been playing your CD in the office this week and everyone here thoroughly enjoyed the tunes.  Being on the front end of "tings," it's always nice to see and hear the finished product.  It is especially nice…
— Chris Bailey and Brian Jones of Disc Makers.

We just got your CD in the mail!  What a wonderful production, and you are as good as they get!!  Thank you SO much for sending it to us… We'll do some more listening, but so far our favourite is "Maui Nights."

"Hi young lady – I wear a size 10 shoe, and I have forever – big feet give us a good foundation and able to deal with life with all its good and bad surprises."

"…thank you so much for sending me your CD. I love the music and it makes me smile to hear your voice. You are a very gifted siger/musician/entertainer. I'm glad your carrer is moving along. Thank you for all the happiess your music has brought…

Always a pleasure to play with the CC Strummers!! Thank you for all you do!

I moved to LA about 5 years ago and have been 'uking' ever since.  It has been an enormous gift for me.  I found good friends,  a welcoming community (which you have built) and a greater love of music.  Thank you so much.

I am so enjoying your lessons and especially your SPARKLE! Thank you so much.

I want to thank you again for including my class in your holiday show and all the great pictures you have sent me. Each time we perform with you, I see my dancers relax more and begin to enjoy themselves. And you are the reason. Your joy in connecting with people is irresistible…

Wow Cali! thank you sooo much!! We are so grateful for you sharing your time and talent with our community. I am 100% sure that people loved the lesson and are at home right now plucking away as we speak. I hope that it was an enjoyable experience for…
Cali's version of Chopsticks
Cali sings her own song "Smile, Smile, Smile
This Morning Something Wonderful Happened to Me (I Woke Up)
Cali Rose plays "The Way You Look Tonight" on piano
Cali's Blog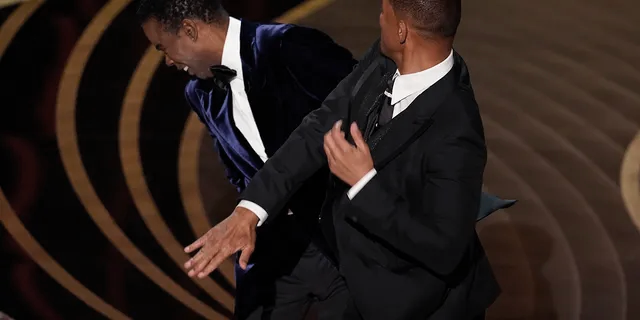 I'm watching the Academy Awards, answering emails and cleaning my desk. That's when I see Jada Pinkett Smith, sitting in the swanky front row with her husband Will Smith. The next presenter, Chris Rock, lays into her with a lame joke about her hair. She's rolling her eyes and looking very pissed-off. Hubby is laughing, kind of fakey-like. Until he isn't. That's when he bounds on stage, all huffy-puffy, and smacks Chris Rock in the noggin. My computer screen goes … Read More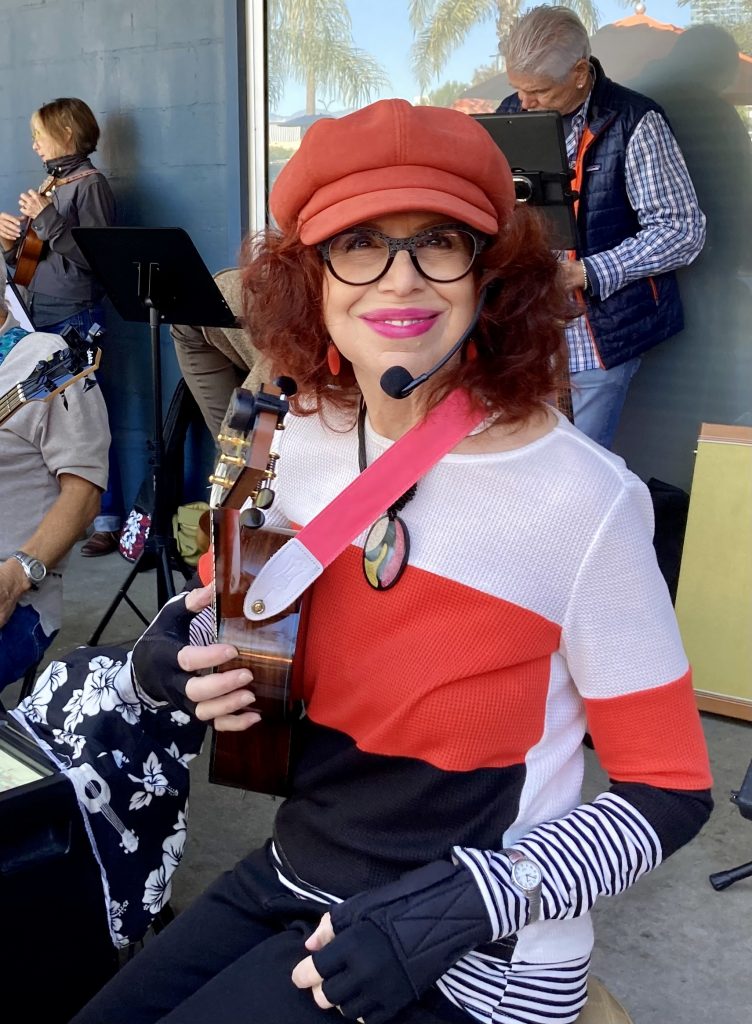 One year ago, Friday, March 12, 2021, I had big plans for the day — two Zoom gigs and a Covid surge take-out dinner with my sweetie, wrapped and ready to go from our favorite Mexican Restaurant, Paco's Taco's.
But…
"Life is what happens to you while you're busy making other plans," wrote John Lennon. Instead of enchiladas, I stared down a baby bowl of tepid vegetable soup that a guy from dietary delivered to my hospital room.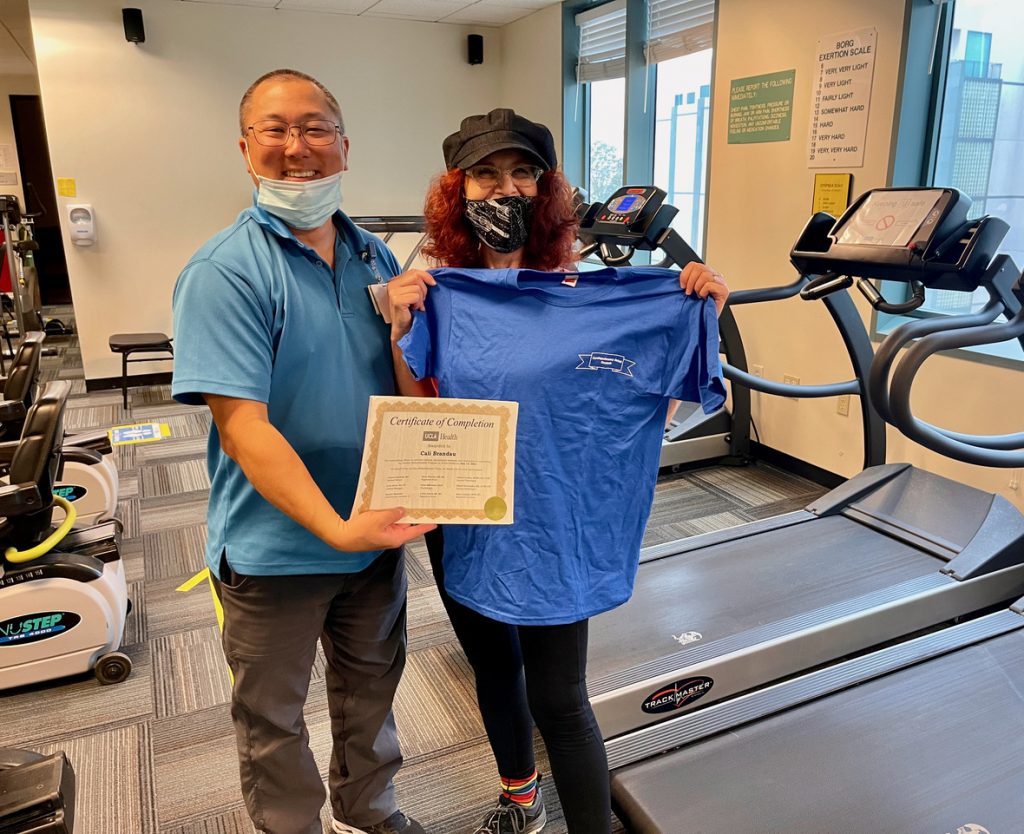 The staff in Cardiac Rehab at UCLA offered me a cap and gown for this momentous occasion: Graduation. I thought they were kidding. They weren't kidding nor were they laughing as hard as I was…