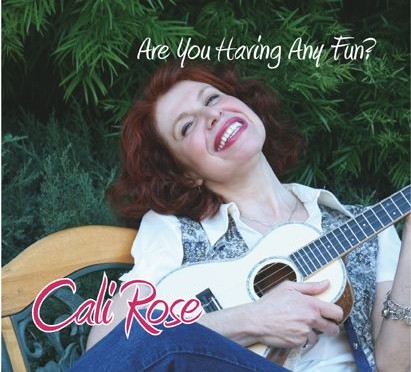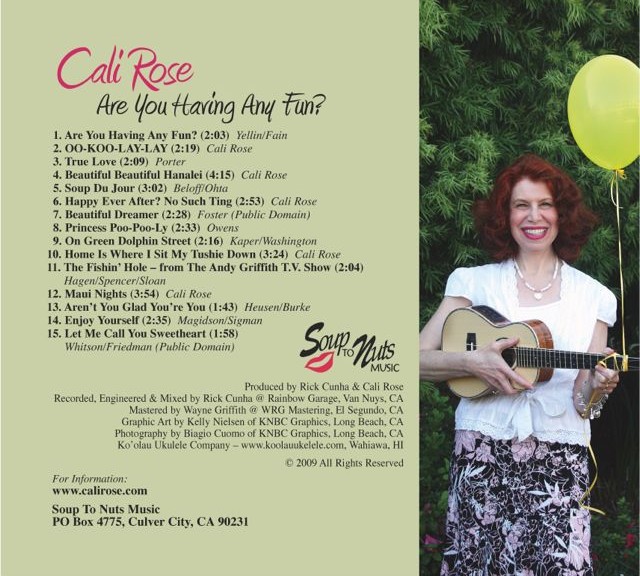 view back cover
Cali performs "The Fishin' Hole"
---
Are You Having Any Fun?
Ukulele CD by Cali Rose
This CD includes fifteen classic and original songs that I sing and play on the ukulele.  My talented musical friends add just the right splash of ooomph and va-va-voom so you can expect the unexpected.
$10.00 + $2.50 shipping/handling
15 Track • Audio CD Format • ©2009
Click the buy now button to buy directly from Cali
To purchase by mail, send a check for $12 to: Cali Rose c/o Soup To Nuts Music • 10736 Jefferson Blvd #873 • Culver City, CA  90230
You can also purchase from these online vendors (and listen to more samples):
---
Tracks
---
Kind words and reviews

"I love your CD – full of great music, talent, and such happiness! Thanks!"

"Your song 'Happy Ever After, No Such Ting' and 'Home is Where I Sit My Tushie Down' really made me smile and I loved the 'Beautiful Beautiful Hanalei' and 'Maui Nights.'  You have a marvelous gift."

"I just wanted to write how much I enjoy "Are You Havin' Any Fun." I hope this doesn't sound like an odd type of compliment, but it is of the highest order. If my mom were to sing to me it should be in your voice. And one more compliment, the Hawaiian songs you did – they are done as if you were a local."

"…a sweet and simple joy to listen to.  What an uplifting array of music and lyric.  I am so impressed with your originals, your poetry, singing, and with your ukulele playing! It's a first class production, and I wish you all the success that you have merited in the sales and distribution."

"I LOVE your CD! It is the best. My new favorite!!The whole package; the songs, the accompaniment, your  lovely voice. Truly, it is such a breath of fresh air!  Can't wait to get to one of your shows live and in person!!"

"Cali, I wanted you to know directly that I find your current CD a wonderful pleasure to hear. My enjoyment began with the first bar of "Are You Having Fun!" Yes!