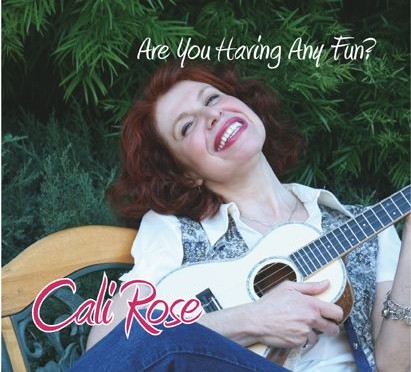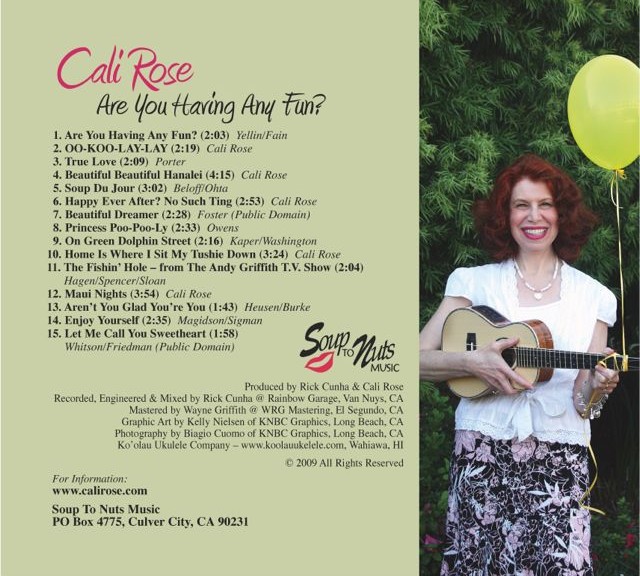 view back cover
Cali performs "The Fishin' Hole"
---
Are You Having Any Fun?
Ukulele CD by Cali Rose
This CD includes fifteen classic and original songs that I sing and play on the ukulele.  My talented musical friends add just the right splash of ooomph and va-va-voom so you can expect the unexpected.
$10.00 + $2.50 shipping/handling
15 Track • Audio CD Format • ©2009
Click the buy now button to buy directly from Cali
To purchase by mail, send a check for $12 to: Cali Rose c/o Soup To Nuts Music • 10736 Jefferson Blvd #873 • Culver City, CA  90230
You can also purchase from these online vendors (and listen to more samples):
---
Tracks
---
Kind words and reviews

"I've been loving listening to it in my car as I jaunt down the street, singing along with it. It is just a superb CD!  The production is splendid with everything clear, precise and balanced.  Especially, the slower songs reveal the nuances of your voice (e.g., Maui Nights, Beautiful Dreamer, Sweetheart, True Love).  Your uke playing is just wonderful!  Really neat arrangements, and skillful precise playing.  Every note, high and low, is in tune and perfectly rendered.  You do some amazing ukelizations.  Your singing is also wonderful. You are really versatile and with great presentation and arrangements.  Nice back up singing too.  What a pro you are.  Cali, dear, this is just a marvelously enthralling and professional recording showing off your best stuff, and I'm enjoying it immensely."

"Cali, I wanted you to know directly that I find your current CD a wonderful pleasure to hear. My enjoyment began with the first bar of "Are You Having Fun!" Yes!

"I LOVE your CD! It is the best. My new favorite!!The whole package; the songs, the accompaniment, your  lovely voice. Truly, it is such a breath of fresh air!  Can't wait to get to one of your shows live and in person!!"

"I love your CD – full of great music, talent, and such happiness! Thanks!"

"We fully appreciate your lovely renditions, plus you really transfer your unique touch to the instrument as it sings along with your vocals!"

"…the consistency I've heard in the songs are in the 'spirit' you successfully impart to your music.  Music is rightfully comprised of several facets much beyond notes, chords and arrangements and I especially enjoy how I feel when I listen to your music." [Kimo Hussey]
— Ukulele master Kimo Hussey