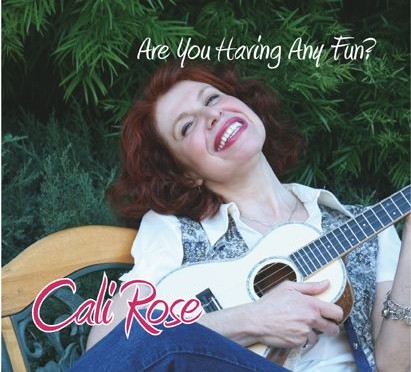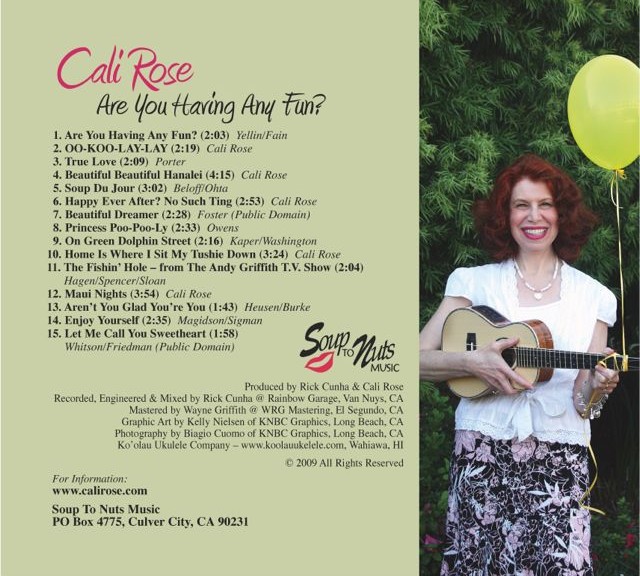 view back cover
Cali performs "The Fishin' Hole"
---
Are You Having Any Fun?
Ukulele CD by Cali Rose
This CD includes fifteen classic and original songs that I sing and play on the ukulele.  My talented musical friends add just the right splash of ooomph and va-va-voom so you can expect the unexpected.
$10.00 + $2.50 shipping/handling
15 Track • Audio CD Format • ©2009
Click the buy now button to buy directly from Cali
To purchase by mail, send a check for $12 to: Cali Rose c/o Soup To Nuts Music • 10736 Jefferson Blvd #873 • Culver City, CA  90230
You can also purchase from these online vendors (and listen to more samples):
---
Tracks
---
Kind words and reviews

"…it's the players like you and Craig that make the world of ukulele what it is.  Put a guitar in someone's hands and they want to be a rock start.  Put a Hawaiian ukulele in someone's hands and they just want to play music and smile."
— Mickey Maguire of Uke Player Magazine

"I just wanted to write how much I enjoy "Are You Havin' Any Fun." I hope this doesn't sound like an odd type of compliment, but it is of the highest order. If my mom were to sing to me it should be in your voice. And one more compliment, the Hawaiian songs you did – they are done as if you were a local."

"Cali Rose has contributed her CD "Are You Having Any Fun?" as a door prize. If you aren't having any fun, you will be when you listen to her sing and play the ukulele. Funny, ironic and too cool to conga! This is what the uke is all about, thanks Cali!"
— Cathy of Crossroads Ukulele Festival

"Cali, I wanted you to know directly that I find your current CD a wonderful pleasure to hear. My enjoyment began with the first bar of "Are You Having Fun!" Yes!

"Congratulations on your success. You are putting smiles on people's faces far and wide. What pleasure–and humor. I tell you, my tush is happier for having listened."

"Chris and I wanted to pass along a thank you!  We have been playing your CD in the office this week and everyone here thoroughly enjoyed the tunes.  Being on the front end of "tings," it's always nice to see and hear the finished product.  It is especially nice when the music is as good as "Are you having any fun?"!  Very serene. Thanks again for sharing." [Disc Makers]
— Chris Bailey and Brian Jones of Disc Makers.