The CC Strummers have four outdoor jams a month:
Jackson's Café Sunday Ukulele Jam
Next jam: Sunday, October 31, 2021
1:00-2:30pm
We meet every other Sunday on the outdoor patio of Jackson Café.
Located at 5880 W. Jefferson Boulevard, Los Angeles
(Business Park near Culver City — Tons of free parking)
Cali leads the Jackson's Cafe Jams.  Suggested donation is $5.00.
---
Wednesday Ukulele Jams at Lesley's House
Next jam: Wednesday, October 27, 2021
1:00-2:30pm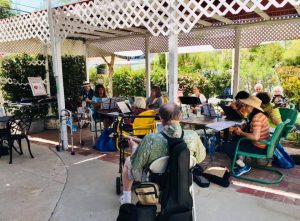 We meet every other other Wednesday in Lesley's covered backyard in Mar Vista, CA.
This is a lovely, casual gathering, accompanied by a bass player and percussionist.
Please email Cali personally for the address and directions.
---
Please check back for the updated schedule for our ukulele jams.