We are following the format of our classes for The CC Strummers, which has been meeting since May 2010 in Culver City, CA. Since moving to a Zoom platform, we are growing quickly and now offer these classes to players of all ages! Everyone is welcome, no matter where you live!
How do I join?
If you are new, please email Cali for the information you need to join our classes. Make sure you have a computer or tablet in order to access the internet.

How much does it cost?
 Suggested Donation is $5.00 a class. Cali puts in hours of preparation for each of her classes and offers her own song arrangements for free. Thank you for supporting her ongoing work!
What level of classes are available?
Which class is right for me?
Cali is currently offering 3 zoom classes/levels:
Mondays 3:30-4:30pm (PST) — Beginners
Thursdays 10-11am (PST) — Intermediate and Beginners
Saturdays 10:30am-noon (PST) — Cali's Ongoing Ukulele Workshop & Jam. We learn intermediate and advanced techniques on the ukulele. Click here for more information.
All times listed are Pacific.
---
Current Class Materials
Instructions:  Click the song titles below, a PDF copy will appear and then you can make your own copy.
The CC Strummers — Monday, October 25, 2021
3:30 to 4:30pm (PST)
GET TOGETHER  (Revised 4/2018)
GHOST RIDERS IN THE SKY  (Revised 1/2019)
ROUTE 66  (Updated 4/2019)
The CC Strummers — Thursday, October 28, 2021
10:00 to 11:00am (PST)
I CAN'T GET NO SATISFACTION  (10/2021)
DON'T WORRY, BE HAPPY  (Revised 5/2016)

ON THE SUNNY SIDE OF THE STREET (12/2020)
SPOOKY  (10/2019)
These song arrangements, worksheets and audio files are provided for educational purposes only.  Any other use is prohibited.
---
Cali's Tutorial
4/4 Time Ukulele Strum Patterns
Watch and download the worksheet

---
CLICK HERE to watch more of Cali's video tutorials.
---
Getting ready for a Zoom class:

Make sure you have Zoom installed on your computer. CLICK HERE for the free Zoom app.
If you are completely new to Zoom, CLICK HERE to read detailed instructions for using Zoom in our classes (PDF). Thank you, Mike Kohan!
---
MASTER AUDIO LIST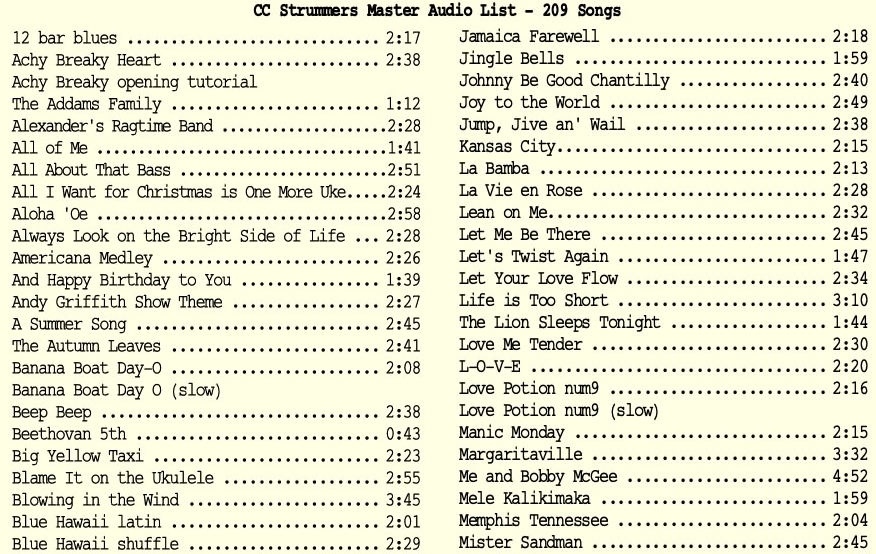 CLICK HERE 
for The CC Strummers' Master Audio List to play along.
DONATIONS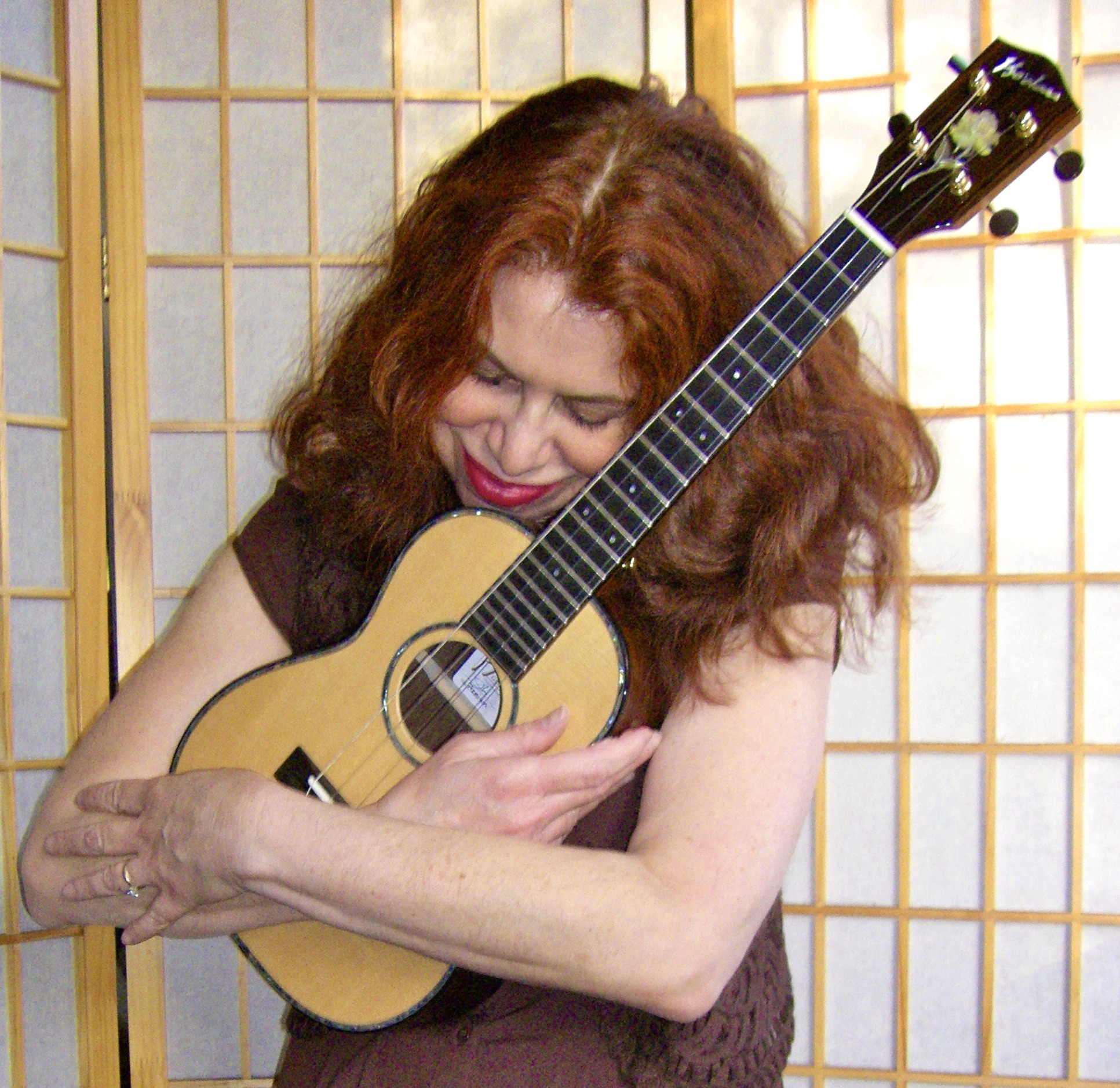 CLICK HERE
Suggested donation is $5.00 a class and for the Jackson Cafe live jams that I lead. Thank you, from the bottom of my heart, for supporting my work.
---
Read some kind words about my new Zoom classes:

Thank you! Your extra advice during the class helps enormously, as does your encouragement.

 … I credit you with always encouraging us to try different things as there in no absolute right and wrong way to play a song. Only if it sounds good to us. Just wanted to share this with you, as you like fun "wacky "stuff."  And mention the wonderful influence that you have on people as a teacher.

Thank you. It's always a happy time when taking your class, and making music. 

Even though I am just a beginner, I am hooked!  You are a fabulous teacher!  I love the way you give us options and challenge us to try new strum patterns. Also, the alternate fingering for chords is very helpful.  Love, love, love your class.

 I owe my music to you, your charm, loan of a uke and endless enthusiasm gave me a new lease on life. Thank you thank you thank you!

Thank you for providing this special forum. Although I only see most of the folks in your classes virtually, I feel the sense of community and love that comes through – a large part because of you and the tone that you've set. Brava!
Dear Cali Class today was an epic event. Thank you for your inspiration always. There was so much love and heart in the zoom room. You look great and I am so grateful that you listened to your inner wisdom. You are a gift to all of us. Sending you love.

Cali, So glad you are back in the saddle! I'm looking forward to working out arrangements and becoming fluent with the ever increasing bag of tricks. You and the musical journey we are all on together makes a big difference in our lives and our world. Thank you.

Wow, what an impressive list of songs that you have taught us starting last April when I joined you on Zoom.  You're such a highlight of the week.  My husband has noticed a dramatic improvement in my playing and technique. 

Thank you for your time and the love you put into your classes. You don't know how much we appreciate it, especially during these trying times.

You really have created an amazing community/ohana with your excellent personality and teaching abilities, my Dear. So many of us have remained connected during this dreadful pandemic because of YOU! Thank you. 

During this terrible year you and the ukulele have been my sunshine! Keep shining spreading joy and laughter. 

"Your classes are a joy and I'm so thankful for Zoom so I can "attend."

You have grown and nurtured the natural gifts that you were given, and in your sharing bring so much joy to so many others.

Your enthusiastic and supportive dedication to the CC Strummers and those of us here stands high in my mental list of things for which I continue to be grateful.

I can't tell you how much I look forward to your classes. During this pandemic, it's your bright smile and enthusiasm that has kept me sane. Thanks a zillion.

"I really like this new scale chart (movable). I remember when i first grokked the three fret, 1 octave C scale, and a whole new musical world was opened up to me. And then i went on holiday with my uke and didn't need music in order to make music. What a joy.
ALSO, the other day when i just wanted to go to sleep, this stuff contributed to helping me out of my funk. So, in short, thank you.  Who knows, one of these weeks or months, "chord melodies" won't seem like so much of a struggle!"

You are an amazing connector of people….."The greatness of a community is most accurately measured by the compassionate actions of its members." – Coretta Scott King. I love the fact that you are encouraging members to introduce themselves.

Thank you for your teaching and your music. I smile and laugh all the way through the lesson.

The routine of my life during this pandemic has been so enriched by taking your classes. My mental, physical, emotional and spiritual are healthier, I'm sure.

I LOVE your Monday and Thursday sessions and have learned so much from you…if anything, I get so inspired to play with that amazing smile of yours and the positive energy you give off every second of every minute!! Thanks again.

Thanks for keeping us sane in 2020

Thanks you, Cali. You are terrific fun. Good teacher too.

It's really because of who you are, the quality of your work, and of course your embracing persona. Gratitude back for making my life better for the last seven years.

Cali, your class has been one of the highlights of the pandemic for me.  I enjoy learning new things in your classes and appreciate all the knowledge of music you have shared with us.  I love how you are always cheerful and happy in class and how you let everyone ask their questions and explain the answers patiently, always being mindful of our feelings.  The one thing I will be sad about if/when this situation ends, is not being a part of your ohana.  Thank you again for being there for us!!

Thank you so much for putting in hours of work so that we can enjoy and learn. Music therapy is the greatest for me.

Thank you for your loving time and effort you put into our weekly lessons. You are greatly appreciated. Have a wonderful 2021 year.

Please know how much your spirit touches us and helps us to keep (or try) our own spirits up. You have a very important place in this world and I hope the Zoom classes help to keep your spirits up too!

Cali, thank you for all your hard work in creating the music sheet for Aloha 'Oe. I've been working on it, watching the YouTube videos and appreciate the creative challenge you had to get it into a playable format for us seniors. Beautiful song and arrangement. Thank you.

Today I became a CC strummer!! Cali is a fabulous teacher. Glad I was on mute. I wasn't keeping up but I learned so much in one class!  She's amazing. I was very quiet. I sat in the hypothetical back row being a newbie!! I've got some practicing to do…

I really enjoy the Monday and Thursday classes.  Several of your arrangements have become my favorites, especially La Bamba, the first song I have memorized in years. Thank you for offering these wonderful classes.  They truly are a bright spot in this terrible time.

I can't grasp most of those fancy up the neck chords but now I know they exist. Thanks Cali.

I really enjoyed the Thursday class – your energy and spirit really add to the joy of the class…I so appreciate you and your work.  Thanks for helping all of us!!

Today was the best class ever, Cali! I learned so much and you were so clear on your instructions, I even had time to scribble them down.

I wanted to thank you and let you know how much I'm enjoying these zoom meetups. Your song selections and arrangements are wonderful, and they strike just the right balance of fun and challenging — I always learn something new. During quarantine, it has been so nice to have something to look forward to.

We wanted to thank you for your Zoom meetings. Bill and I are enjoying them very much. (Being a bass player he loves that you put in the beats since he's not familiar with many songs.)  All you do takes a lot of time and we appreciate it.  We both play cause we've found it's something we can do together, not like tennis, ugh!  And it's fun, we're not in it to be great. In today's world it's even more important to have something to focus on.

I am happy to be back with you again!  And after more than two years, my fingers still remember and were not sore.  I am grateful and appreciate your zoom classes.  You are effective and always a fantastic teacher!  I especially like the close ups of your strumming and fingering.

Thanks for one of the few "bright spots" I look forward to every week!!  Plus, I'm saving gas, wear and tear on my car and getting more sleep.

I also have to compliment you on how you chunk songs together using a common key for the theme for each session and your seamless spiraling upward of strum and fret fingering techniques at each session.

Thank you for all that you do for us, Cali.  You've motivated me to actually practice and try to get rid of my sloppy fret habits

Just want to congratulate you on your program today. It went really well. I loved being present for it. Joyful. You alternated between the individual singers and the group songs so fluidly.  And it all was within the hour. Flawless.

Thank you once again, Cali, for sharing your special magic and the magic of the ukulele!

Thank you for all you do to keep us happy at this time.

And I love your wonderful classes that I join every Thursday!  A real highlight of my week, whether I'm in Cambridge, Cape Cod, or more recently NYC.

Cali, I enjoyed your class Wednesday for the children's uke group. One eye-opener for me:  I'd wondered how to remember embellishments, and you mentioned printing empty uke grids!! Brilliant, and just what I needed. Thanks so much for all your amazing efforts and expertise!
—D., Ukulele Kids Club Participant

Your song "Something Wonderful Happened Today" was SO GOOD. Seriously, I was stunned at how terrific you are on ukulele. After I watched and listened to you, I told my wife that you're an amazing ukulele musician. Thank you so much for sharing that with us. Cheers.
—B., Ukulele Kids Club Academy Workshop

I can't tell you how much I enjoy your classes and really look forward to them each week.  With sincere thanks.

Your classes are so much fun and informative.  I so look forward to every class and really missed them when I didn't have my iPad.

THANK YOU  Cali! For your irresistible enthusiasm, skills, caring and sharing the music with us.  You mix things up and make us laugh and really listen to people, Cali, all of which makes you a very rare, special, wonderous teacher students love to follow. Thanks for all you do.

Thanks, Cali, for your expertise and humor.

Cali, your workshops are the highlight of my week. Thank you!

Thank you so much, Cali. Your classes are so enjoyable and it is a pleasure to be in your presence . I really look forward to your class.

There is no doubt, if we lived in Southern California, I would be attending your classes, once the virus is gone.  The issue of the "D7" chord, all of a sudden I understood the reason for the variations of chords.  Your explanations of the music is very easy to follow. I'm going to pursue watching your videos.

I want to say "Thank You" for your "zoom" classes.  Your instruction is perfect..  Even though the Monday class is supposed to be for the "beginner", it contains information that everyone can use.

Thanks for your commitment to excellence!

I am so enjoying your lessons and especially your SPARKLE! Thank you so much.

Thanks, Cali, for all you do to keep us happy, playing our ukes, during the pandemic.

Thanks, Cali for your dedicated service and for holding down the fort, during these especially challenging times. The drum machine is a great touch!

Thank you for another fun week. I look forward to learning something new from each class and am never disappointed.

Look forward to your class.  I appreciate your patience and kindness and the participants.

 We just wanted to let you know how very much we are enjoying your classes… you are helping to keep our spirits up as well as improve our ukulele skills.  Thank you once again.

 Your class brings light into this period of despair.

This is the first time I'm actually learning how to play the ukulele properly!  It's been quite challenging but fun!   You've already answered some of my questions that I had about fingering.   Your explanations about fingering are helpful and I like your flexibility about allowing us to find what works best for us and encouraging us to experiment!  …I do love your ways of teaching us and your sense of humor!

Always a pleasure to play with the CC Strummers!! Thank you for all you do!

Thanks for your ongoing fabulousnous and loving leadership in our uke community. A community that continues to grow at your helm.

Thank you Cali for all your terrific teaching and your beautiful heart. I can't wait to be in person again. I have to say you are doing a great job with zoom.

I really love both Monday and Thursday classes and hope you continue your Zoom classes even when our quarantine time is lifted.

Just want to let you know you are an inspirational ukulele teacher!  I love your teaching ways.  They are so entertaining and enjoyable.  I am learning much and feel the improvement in my playing thanks to you.

Love your Zoom classes with The CC Strummers.  Thanks for all your good teaching and emphasis on rhythm.  I wish to stay on Zoom—even when life returns to some "new" normal.

You are a treasure and have motivated me to actually practice between sessions.  I love the way your song sheets are annotated.  So much information all on one page.  I love it.

Thank you Cali, for keeping us going with your wonderful teaching and positive energy.  Keep smiling!

Cali, I really appreciate your lessons and keeping me playing my uke.

Great song selection and great class.

Thank YOU for teaching. I am so enjoying your classes. I consider your Zoom classes one of the few silver linings of this crazy pandemic. Cheers.

Thanks for keeping up the spirits of so many people!!

Great class. I love your fingering tips‼️

Thanks for the great sessions this week Cali! I especially enjoyed How Sweet it Is and Brand New Day. Stay well!

It was a great class with lots of helpful tips on strumming and fingering and I have to tell you I appreciate the care you take in preparing the music sheets with all the information we need to play and sing as easily as possible.  I really am glad to be a part of your class…thank you for having it for all us housebound but happy ukulele students!

THANK YOU!! for having us "in class" and I am truly enjoying it.  You give me joy, motivation, inspiration, and you make us laugh!  And I'm sure most of us feel the same!  Keep up the great work that you are doing, especially during this covid-19 crisis.  Thanks, again!

Thank you and your class helps me connect  with the society.

As I have always said since I met you, "I go to the class, because you are cheaper than a psychiatrist, and much more fun.

You are a fabulous teacher, Cali!! 

I look forward to Mondays and Thursdays now!!

Thx for lessons and sharing your talent.

I'm loving the CC Strummers more and more every day. Thanks for allowing me to be an honorary member!!

Thank you so much for allowing our son to join your Zoom classes.  This has been such a huge positive during this unprecedented time.  After Monday's zoom class, he played "Somewhere Over the Rainbow."  The time that he spends with (his grandpa) in your classes is time spent away from screen time, another blessing!

I really enjoy trying to play and sing along with your class and totally love being a part of it, even if it's from across the ocean.  I love the embellishments you show us as well as tips on how to change chords more easily.  Thank you so much.

Thank you for your warmth and understanding. I appreciate you so much. It was a great class Saturday.  I love Summer Wind. You taught us so much and my aspirations are high.  It really is about coming together. I'm blessed to be part of this loving and fun ukulele community.  What a gem.

Thanks, Cali! You are a wonderful teacher !!


The class was very helpful to me because it forces me to stay in the pocket and not slow or rush the music. Thank You!

THANK YOU for bringing such joy to us during these difficult times.

You are an awesome teacher! The best I've ever had! Hasta mañana!

Thanks Cali!! I'm really grateful for access to your music arrangements and for learning with the CC Strummers!! Be well!

Thank you for your inspiration in these difficult times.

Cali, you bring such joy to the CC Strummers, and the world at large. You are a godsend. You are a gracious, chill and outstanding teacher. Thank you so much! Love…