We are following the format of our classes for The CC Strummers, which has been meeting for ten years at The Culver City Senior Center in Culver City, CA. Since moving to a Zoom platform, we are growing quickly and now offer these classes to players of all ages! Everyone is welcome, no matter where you live!
How do I join?
If you are new, please email Cali for the information you need to join our classes. Make sure you have a computer or tablet in order to access the internet.

How much does it cost?
Classes are donation-based. Cali puts in hours of preparation for each of her classes and offers her own song arrangements for free. Thank your supporting her ongoing work!
What level of classes are available?
Which class is right for me?
Cali is currently offering 3 zoom classes/levels:
Mondays 3:30-4:30pm — Beginners
Thursdays 10-11am — Intermediate and Beginners
Saturdays 10:30am-noon — Cali's Ongoing Ukulele Workshop & Jam. We learn advanced techniques on the ukulele. This class is by invitation only.  Email Cali for info.
All times listed are Pacific.
---
Current Class Materials
Instructions:  Click the song titles below (in pink), a PDF copy will appear and then you can make your own copy.
The CC Strummers — Monday, August 10, 2020
We are rolling over several two-chord songs from last week and adding "Fever" to the list
The CC Strummers — Thursday, August 13, 2020

Today is our first Zoom OPEN MIC/GRAB BAG!
We will alternate our six Open Mic performers with a group jam, playing the songs above that you have chosen from our Zoom Songbook.
These song arrangements and audio files are provided for educational purposes only.  Any other use is prohibited.
---
Getting ready for a Zoom class:

Make sure you have Zoom installed on your computer. CLICK HERE for the free Zoom app.
If you are completely new to Zoom, CLICK HERE to read detailed instructions for using Zoom in our classes (PDF). Thank you, Mike Kohan!
---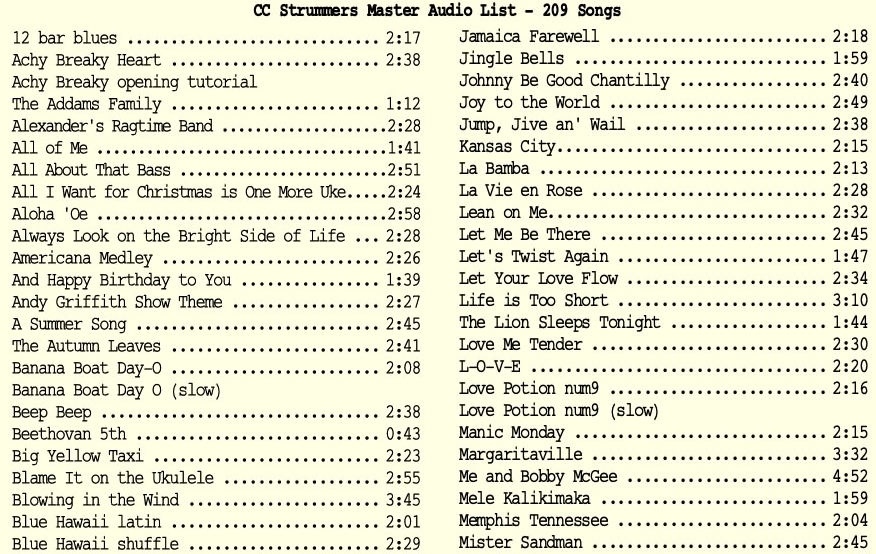 CLICK HERE for The CC Strummers' Master Audio List to play along.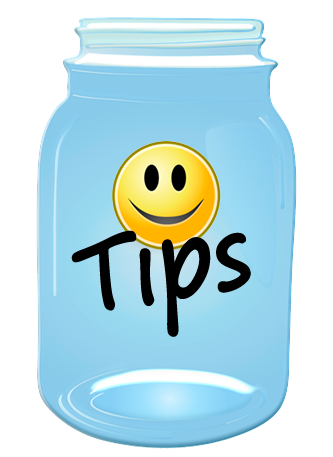 CLICK HERE
I am working mightily to help our ukulele community connect and thrive. Thank you so much, from the bottom of my heart, for supporting my efforts.
---
Read some kind words about my new Zoom classes:

I can't tell you how much I enjoy your classes and really look forward to them each week.  With sincere thanks.

Your classes are so much fun and informative.  I so look forward to every class and really missed them when I didn't have my iPad.

THANK YOU  Cali! For your irresistible enthusiasm, skills, caring and sharing the music with us.  You mix things up and make us laugh and really listen to people, Cali, all of which makes you a very rare, special, wonderous teacher students love to follow. Thanks for all you do.

Thanks, Cali, for your expertise and humor.

Cali, your workshops are the highlight of my week. Thank you!

Thank you so much, Cali. Your classes are so enjoyable and it is a pleasure to be in your presence . I really look forward to your class.

There is no doubt, if we lived in Southern California, I would be attending your classes, once the virus is gone.  The issue of the "D7" chord, all of a sudden I understood the reason for the variations of chords.  Your explanations of the music is very easy to follow. I'm going to pursue watching your videos.

I want to say "Thank You" for your "zoom" classes.  Your instruction is perfect..  Even though the Monday class is supposed to be for the "beginner", it contains information that everyone can use.

Thanks for your commitment to excellence!

I am so enjoying your lessons and especially your SPARKLE! Thank you so much.

Thanks, Cali, for all you do to keep us happy, playing our ukes, during the pandemic.

Thanks, Cali for your dedicated service and for holding down the fort, during these especially challenging times. The drum machine is a great touch!

Thank you for another fun week. I look forward to learning something new from each class and am never disappointed.

Look forward to your class.  I appreciate your patience and kindness and the participants.

 We just wanted to let you know how very much we are enjoying your classes… you are helping to keep our spirits up as well as improve our ukulele skills.  Thank you once again.

 Your class brings light into this period of despair.

This is the first time I'm actually learning how to play the ukulele properly!  It's been quite challenging but fun!   You've already answered some of my questions that I had about fingering.   Your explanations about fingering are helpful and I like your flexibility about allowing us to find what works best for us and encouraging us to experiment!  …I do love your ways of teaching us and your sense of humor!

Always a pleasure to play with the CC Strummers!! Thank you for all you do!

Thanks for your ongoing fabulousnous and loving leadership in our uke community. A community that continues to grow at your helm.

Thank you Cali for all your terrific teaching and your beautiful heart. I can't wait to be in person again. I have to say you are doing a great job with zoom.

I really love both Monday and Thursday classes and hope you continue your Zoom classes even when our quarantine time is lifted.

Just want to let you know you are an inspirational ukulele teacher!  I love your teaching ways.  They are so entertaining and enjoyable.  I am learning much and feel the improvement in my playing thanks to you.

Love your Zoom classes with The CC Strummers.  Thanks for all your good teaching and emphasis on rhythm.  I wish to stay on Zoom—even when life returns to some "new" normal.

You are a treasure and have motivated me to actually practice between sessions.  I love the way your song sheets are annotated.  So much information all on one page.  I love it.

Thank you Cali, for keeping us going with your wonderful teaching and positive energy.  Keep smiling!

Cali, I really appreciate your lessons and keeping me playing my uke.

Great song selection and great class.

Thank YOU for teaching. I am so enjoying your classes. I consider your Zoom classes one of the few silver linings of this crazy pandemic. Cheers.

Thanks for keeping up the spirits of so many people!!

Great class. I love your fingering tips‼️

Thanks for the great sessions this week Cali! I especially enjoyed How Sweet it Is and Brand New Day. Stay well!

It was a great class with lots of helpful tips on strumming and fingering and I have to tell you I appreciate the care you take in preparing the music sheets with all the information we need to play and sing as easily as possible.  I really am glad to be a part of your class…thank you for having it for all us housebound but happy ukulele students!

THANK YOU!! for having us "in class" and I am truly enjoying it.  You give me joy, motivation, inspiration, and you make us laugh!  And I'm sure most of us feel the same!  Keep up the great work that you are doing, especially during this covid-19 crisis.  Thanks, again!

Thank you and your class helps me connect  with the society.

As I have always said since I met you, "I go to the class, because you are cheaper than a psychiatrist, and much more fun.

You are a fabulous teacher, Cali!! 

I look forward to Mondays and Thursdays now!!

Thx for lessons and sharing your talent.

I'm loving the CC Strummers more and more every day. Thanks for allowing me to be an honorary member!!

Thank you so much for allowing our son to join your Zoom classes.  This has been such a huge positive during this unprecedented time.  After Monday's zoom class, he played "Somewhere Over the Rainbow."  The time that he spends with (his grandpa) in your classes is time spent away from screen time, another blessing!

I really enjoy trying to play and sing along with your class and totally love being a part of it, even if it's from across the ocean.  I love the embellishments you show us as well as tips on how to change chords more easily.  Thank you so much.

Thank you for your warmth and understanding. I appreciate you so much. It was a great class Saturday.  I love Summer Wind. You taught us so much and my aspirations are high.  It really is about coming together. I'm blessed to be part of this loving and fun ukulele community.  What a gem.

Thanks, Cali! You are a wonderful teacher !!


The class was very helpful to me because it forces me to stay in the pocket and not slow or rush the music. Thank You!

THANK YOU for bringing such joy to us during these difficult times.

You are an awesome teacher! The best I've ever had! Hasta mañana!

Thanks Cali!! I'm really grateful for access to your music arrangements and for learning with the CC Strummers!! Be well!

Thank you for your inspiration in these difficult times.

Cali, you bring such joy to the CC Strummers, and the world at large. You are a godsend. You are a gracious, chill and outstanding teacher. Thank you so much! Love…