I'm looking forward to doing another One Day Ukulele Workshop in June and will let you know when it's happening.

Last month we took a glorious road trip of "fancies" and oh the "fancies" our players came up with too.  It was definitely a carpool kind of adventure.  We explored two songs, Goody Goody and Sea of Love but it felt like we still didn't have enough time.  So the next workshop we'll take a deeper dive with one song. That will include more discussion about scales and licks, honing in on the melody notes (by ear), locating chord forms up the fretboard, putting it altogether and how we can apply these goodies to other songs.  So it's gonna look like this:
One Song!  Tons of "Fancies"
Coming July 2023
10:30am-noon (Pacific Time)
The suggested donation is $20.
This workshop is on Zoom – Email Cali to sign up. The workshop will be recorded and available for later viewing.
Intermediate and Confident Beginners are welcome.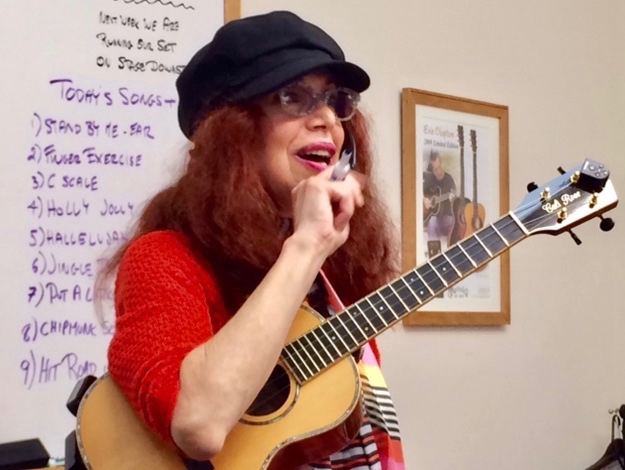 ---
What's It All About?
We start with Cali's song charts which form the foundation of this workshop, play through the chords and land on some basic strum patterns.  Then we build a new arrangement together and explore chord substitutions, strumming variations, fingerpicking, melodic and rhythmic fills, improvising over a solo and creating a chord melody.  We tackle the challenges of multi-tasking.  At any given moment, the right hand is doing one thing, the left hand another, we're singing (or humming), tapping a foot, making eye contact with our audience.  Putting this all together takes woodshedding and planning ahead. 
Preview the workshop videos from our last One Day Ukulele Workshop in April 2023
These intermediate level ukulele workshops have been in progress for several years and began Saturday mornings at a local music store.  When the pandemic hit, Cali took the classes on Zoom and players all over discovered our little pot of musical gold in Culver City, California.  
In Cali's world, we are all students…and teachers…so her workshops are collaborative and rollicking fun as we share our musical ideas, triumphs, travails, questions and "hey, try this" kind of stuff online.  As she likes to say "I'm showing you my way, but it's not THE way.  You have to find that out for yourself."
As we build scaffolding around our arrangements, find a level that is accessible to you.  And hang out there as long as you want.  You are supported and encouraged in this group. When you're ready, explore something new, even if it's a little messy.  Because life is messy.  So strum lots.
___
Cali has worked as a fulltime performing musician her entire life.  She brings a pragmatic, irreverent approach to learning (and loving) the ukulele.  She has been teaching ukulele since 2010 when she founded The CC Strummers.  Today the group has an international following, meets twice a week for Zoom classes and performs locally in Los Angeles.
As a working musician, Cali has done thousands of gigs — singing, playing piano, guitar, banjo, ukulele.  She teaches from personal experience and shares what she has learned on the job, from her mentors and especially from all of you.  So let's fill your goody bag with sparkling new musical ideas so you can begin to build your own arrangements.  Then take it to the streets!
---
Cost
Suggested Donation $20 per class
Thank you for supporting Cali's work. You can use these online platforms: PayPal, Venmo & Zelle. Cali also accepts checks delivered the old-fashioned way by snail mail. It all works! Please Click here for the specific links and more details.
---
How to enroll
Email Cali for instructions on how to join and receive class materials (which include the song arrangements and play & sing along videos) which will be sent to you a week before the workshop, via email.
---
Time and Location
Our classes are on Zoom so players from all over the world can join us.  Saturday, April 29, 10:30am to noon, Pacific Standard Time (so you do the math if you don't live on the west coast of The United States). But because a video of the workshop will be recorded, you can watch it anytime, especially if the workshop is happening in the middle of the night where you live. Of course it's a lot more fun to "be there" and participate live, but videos work too…and really well.

Cali, you are the best!! A woman after my own heart! Responsible, kind, patient, and conscientious! You are the reason I am able to stick to this challenge! Update: I have been tuning up everyday and now it's a cinch to get to the green…
Can I mention that we all play in a group led by Cali Rose in Culver City and she is just amazing! She writes great ukulele charts and we adore her! Thanks Cali.

"Singing is like taking your voice on a joy ride to lift the blood and tears of life. Without music, I couldn't bear the stress." —Winston Churchill. Cali, thanks for bringing music to our lives. (more…)

Thank you!  I have just added the Thursday class to my life and fingerpicking.  What a transition you and the uke have brought to my life.  Life with the ukulele is so much richer.

Thank you! Your extra advice during the class helps enormously, as does your encouragement.

 … I credit you with always encouraging us to try different things as there in no absolute right and wrong way to play a song. Only if it sounds good to us. Just wanted to share this with you, as you like fun "wacky "stuff."  And mention the wonderful…

Thank you. It's always a happy time when taking your class, and making music. 

Even though I am just a beginner, I am hooked!  You are a fabulous teacher!  I love the way you give us options and challenge us to try new strum patterns. Also, the alternate fingering for chords is very helpful.  Love, love, love your class.

 I owe my music to you, your charm, loan of a uke and endless enthusiasm gave me a new lease on life. Thank you thank you thank you!

Thank you for providing this special forum. Although I only see most of the folks in your classes virtually, I feel the sense of community and love that comes through – a large part because of you and the tone that you've set. Brava!
Dear Cali Class today was an epic event. Thank you for your inspiration always. There was so much love and heart in the zoom room. You look great and I am so grateful that you listened to your inner wisdom. You are a gift to all of us. Sending…

Cali, So glad you are back in the saddle! I'm looking forward to working out arrangements and becoming fluent with the ever increasing bag of tricks. You and the musical journey we are all on together makes a big difference in our lives and our world. Thank you.

Wow, what an impressive list of songs that you have taught us starting last April when I joined you on Zoom.  You're such a highlight of the week.  My husband has noticed a dramatic improvement in my playing and technique. 

Thank you for your time and the love you put into your classes. You don't know how much we appreciate it, especially during these trying times.

You really have created an amazing community/ohana with your excellent personality and teaching abilities, my Dear. So many of us have remained connected during this dreadful pandemic because of YOU! Thank you. 

During this terrible year you and the ukulele have been my sunshine! Keep shining spreading joy and laughter. 

"Your classes are a joy and I'm so thankful for Zoom so I can "attend."

You have grown and nurtured the natural gifts that you were given, and in your sharing bring so much joy to so many others.

Your enthusiastic and supportive dedication to the CC Strummers and those of us here stands high in my mental list of things for which I continue to be grateful.

I can't tell you how much I look forward to your classes. During this pandemic, it's your bright smile and enthusiasm that has kept me sane. Thanks a zillion.

"I really like this new scale chart (movable). I remember when i first grokked the three fret, 1 octave C scale, and a whole new musical world was opened up to me. And then i went on holiday with my uke and didn't need music in order to…

You are an amazing connector of people….."The greatness of a community is most accurately measured by the compassionate actions of its members." – Coretta Scott King. I love the fact that you are encouraging members to introduce themselves.

Thank you for your teaching and your music. I smile and laugh all the way through the lesson.

The routine of my life during this pandemic has been so enriched by taking your classes. My mental, physical, emotional and spiritual are healthier, I'm sure.

I LOVE your Monday and Thursday sessions and have learned so much from you…if anything, I get so inspired to play with that amazing smile of yours and the positive energy you give off every second of every minute!! Thanks again.

Thanks for keeping us sane in 2020

Thanks you, Cali. You are terrific fun. Good teacher too.

It's really because of who you are, the quality of your work, and of course your embracing persona. Gratitude back for making my life better for the last seven years.

Cali, your class has been one of the highlights of the pandemic for me.  I enjoy learning new things in your classes and appreciate all the knowledge of music you have shared with us.  I love how you are always cheerful and happy in class and how you let…

Thank you so much for putting in hours of work so that we can enjoy and learn. Music therapy is the greatest for me.