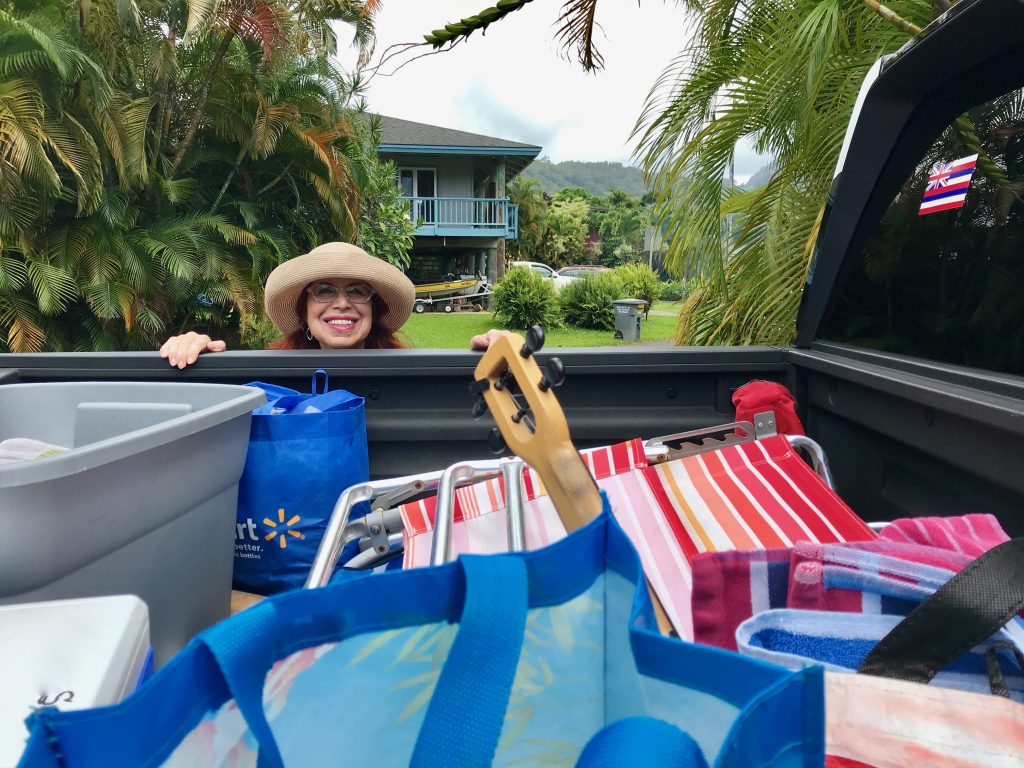 Our two weeks in Kauai have come and gone, like everything else in life, but the memories are still burning bright. And…I have pictures and a video to show for it!
Have ukulele, will travel!
I bring along my beloved beat-up mid-century modern Flea, the one I take to UCLA Mattel Children's Hospital to play for the kids. The one I take to the beach. A good friend has shared a gorgeous instrumental with me, Ashokan Farewell, and I get busy writing a ukulele arrangement. With the soft rain and gentle trade winds making their own kind of music, inspiration is only a breath away.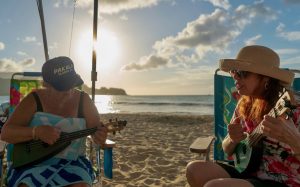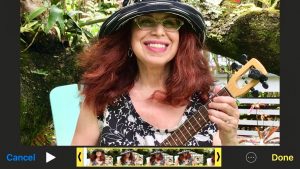 This tune was written in the style of a Scottish lament by a fiddle player from the Bronx, Jay Ungar, and it became the theme song in Ken Burn's mini-series The Civil War. There is something about the elegant simplicity of the melody that short-circuits my chattering mind and what opens up is…well…wordless and yummy. Even after woodshedding the thing hundreds of times I still feel a big "ahhh" when I play it.
Finally I plop down on a plastic chair in our friend's backyard in beautiful Hanalei and Craig takes this short video. We get it in just before it begins to rain and a neighbor turns on his chain saw.  Please CLICK HERE to watch.
______________
It feels like we are living through a global storm surge right now—there's a lot of "I'm right and you're wrong" strong fisting going on. Of course I have my own Rolodex of political concerns and let's put it this way, I frequently wake up at three o'clock in the morning in a state of existential angst. That's when I grab the Sudoku I have snipped from the LA Times, a pencil and flashlight which I tuck under my chin, pull the covers over my head and dive into the world of numbers. Nothing puts me to sleep faster than numbers…
But what do I do during the day? Well I vote and I TRY to be kind. Moment to moment, my act of civil disobedience is being kind. Can you imagine that? I do not email my congresswoman or sign petitions or post political stuff on Facebook. I do not appear at marches.
Unless I'm in Kauai.
It just so happens that the "Families Belong Together" March is happening around the country AND right at the airport in Lihue. This week! My husband and I spray on sunblock, grab the Gatorade and drive an hour to the green space that will soon fill with 500 hearty souls dressed in all sorts of subversive displays of dissent. It's a people-watcher's dream. Cars and big flatbed trucks swoosh by, honking their horns in support as the crowd goes "YAY!" A Hawaiian band of musicians bang their drums and plays songs. The march organizers let me borrow a sign from last year's Woman's March so I'm not exactly the picture of "current events" but by golly I'm here.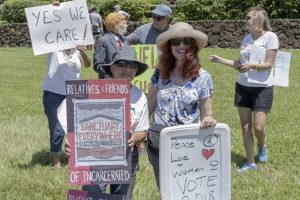 While my husband Craig is on the hunt for great photo ops, I am talking to the lady next to me and I soon learn she is protesting the penal system in Hawaii, that her letter to the editor appeared in today's Garden Island Newspaper, that she is a gardener and lives in a converted shipping container and that we both have mothers who were pathological narcissists. Don't ask me how a conversation with a stranger can turn so personal so fast, but it does. The more I talk about my experiences, growing up with a mother with mental illness, the more I find that SO many others are walking the same road. This reminds me that politics is personal; it's like we are broadcasting our own radio station, all talk. 24/7. But getting to know another person, tuning into their bandwidth, for a while, it can open my heart. Just a little.
Back in November 2016, right after the election, I wrote a blog about my mother, about pathological narcissism and how it muddies the waters–for family and friends. This blog, "Not Your Normal Trip to Trader Joe's," is one of my favorites. You may want to check it. CLICK HERE.
---
Craig and I are very lucky that we get to leave our little bubble in Culver City and experience the ordinary AND extraordinary somewhere else. As if we are wearing a new set of bifocals. Even the sweet mundane stuff like taking a walk, having a cup of tea, standing in line at the box store takes on a different sheen because it feels new again.
Happy travels to us all – to the next room, down the street, one state over, across the country or the world, by car or plane or imagination.