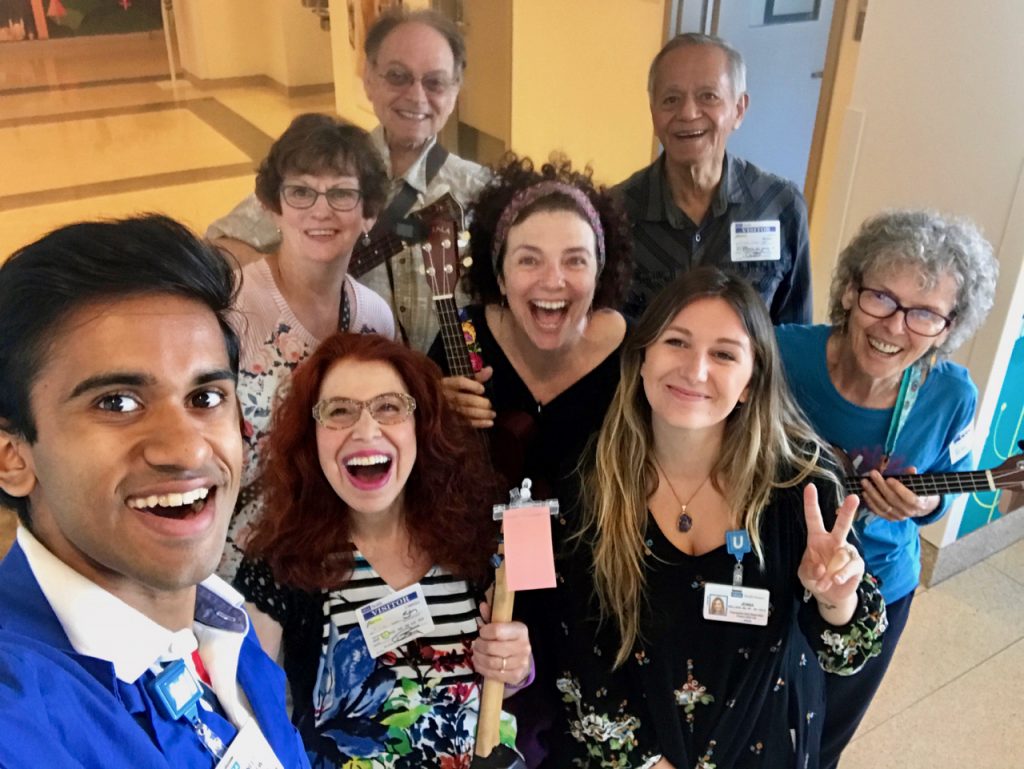 What is it about the ukulele? This sweet little musical instrument that makes you feel so good. When you hear it. When you play it.
We "oo" and "ah" when we watch a great guitar player or violin virtuoso, piano, sax… "Wow, look at that." We are grateful spectators.
There are ukulele virtuosos too but that is not what this story is about because the ukulele, more than any instrument I can think of, finds YOU. With its four tinkly strings, it invites you to join the party. Because you can. The ukulele is for "civilians." For people who have never thought of themselves as "musical." With this instrument you can experience the utter joy and deep mystery that comes with being THE ONE who is making music.
The ukulele turns spectators into participants and when we keep on strumming, something magical happens. A community appears. Out of nowhere… I have seen this again and again. At my gigs. In my classes. There is just something non-threatening and goofy and sweet happening with this instrument. It is not about rivalry. It is about sharing. It's about "being human." Together. That means the whole circus of being human. The triumphs. The travails. The hello's. The goodbye's.
The CC Strummers and I "take our community on the road." Every other month we visit The U.C.L.A. Mattel Children's Hospital. The music therapist tells us that some of the kids we meet…well…they won't make it. Room after room we breathe in the truth that hangs over all of us: It's a short life even when we live long.
So we make music. That's what we do. We play a song or two, sometimes we teach a kid or mom and dad how to strum along then we give them the ukulele with a tuner and songbook. There are no words to describe what this means to them. What it means to us. Several CC Strummers have come close when they say it's "life-changing."
I put together a short video of our trips to Mattel.  It includes kids, parents and our "Carpool Ukulele" where we rehearse as we drive north on Westwood Boulevard towards U.C.L.A.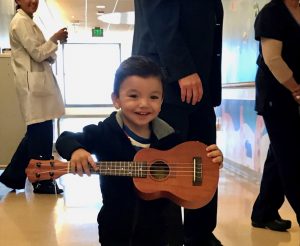 And you can do something like this too.  First of all we partnered with The Ukulele Kids Club which donates ukes to pediatric hospitals around the United States. When we sent them our first check they asked if we had a hospital we'd like to designate. The CC Strummers are close to Westwood so we contacted U.C.L.A. and waited several months for them to get funding to begin a Music Therapy program. But it happened! And from that moment on things started moving very fast. With the help of the music therapist whom I swear is an angel incarnate, we brought the ukulele to the intensive care unit at Mattel.
Doing something like this changes you. Our entire group has been transformed because we are all part of this journey whether we step foot into the hospital or not. It goes back to that "community" thing. As of August 2017, we have donated over $1000 to The Ukulele Kids Club. That's a lot of ukuleles… And a lot of smiles.
Please watch the video by CLICKING HERE and you will see what I mean. This instrument is powerful medicine! For the kids, the families, the staff. For us. It is a gift that keeps on giving.
Resources:
The Ukulele Kids Club
Mattel Childrens Hospital Music Therapy Department
_ _ _ _ _ _ _ _ _ _ _ _ _
We recently lost a member of The CC Strummers Family. Raymond. He joined us the first time we visited Mattel and brought a strong, tender and very sweet presence to those kids that day. We miss him.