I was a sick kid–-as familiar with my hospital room in the pediatrics wing at U.C.L.A. as I was with my own little room at home. Being a teaching hospital, I was frequently Exhibit A as interns and residents and their stern physician instructors made their daily rounds. They'd refer to me by my gender and age and disease. I didn't appear to have a name. They didn't know I love to play the piano or sit under big shady trees or that in some perverse way am relieved to be in the hospital and away from the war zone that is home.
I got swept into the routine of it — everything you can imagine them doing to keep a critically ill kid alive. But you never know when something wonderful will happen. One morning there is a sudden flurry of activity and excitement outside my door. Nurses and other staff are trotting up and down the corridor but not in a "Code Blue" kind of way. They are positively buoyant. Maybe I'm hallucinating because that's the only way I can explain this level of bizarre…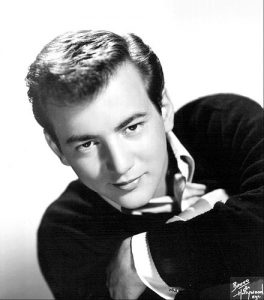 Until one of the nurses swoops into my room and breathlessly exclaims "Bobby Darin is here!  B-O-B-B-Y  D-A-R-I-N !!!   He's here to see the kids."  Splish-Splash, Mack The Knife, Dream Lover, Beyond The Sea. THAT Bobby Darin!
He's a BIG star, this guy. And I am a BIG fan. The nurse fluffs up my hair and smooths out the wrinkles in my hospital gown just as HE walks into my room. I can't freaking believe it. There is no entourage trailing him, taking pictures and commiserating. He leans towards me with that beautiful face. And those eyes. Oh God. And he talks…to me. "Would you like a picture and an autograph?" He asks SO sweetly as if he is singing the words. I nod yes because I can't get my mouth to work. I'm completely undone. It's Bobby Darin. As he hands me his 8 x 10 glossy everything is right with the world.
We all have moments in our lives that are seared into our memory, burned into our bones. Little moments that can turn into a monumental shift—like when a teacher says "good job" or a stranger looks you in the eyes and says "you're okay." And that close encounter with Bobby Darin is one of my moments.
He used his celebrity to bring kindness, a little healing to ALL the people in pediatrics that day. He didn't have to do it. His warm presence was not "put-on." Bobby Darin was a sick kid too. He was visiting "a land" he knew well. He must have known that he was on borrowed time. We all are. He died ten years later.
Even as a little girl I already knew that music healed me. And during those dark years when I was so ill, if I didn't have a piano to play I would not have survived. So it's just been my thing that music, at the very least gives us a second wind and at the deepest, most profound levels, it transforms us.
Which brings me to January 2017. My ukulele group, The CC Strummers" has been named "Senior of The Month" by The Culver City Senior Center because we bring a little healing to our community. We regularly play for folks with dementia at a local adult day care center and get them singing and dancing along. Several of our CC Strummers now teach ukulele to nearby middle school students once a week. The kids LOVE it and love them.
And…
Through a series of serendipitous events–one person comes up with an idea that inspires another person to do something and suddenly more people are jumping on the bandwagon–The CC Strummers landed at The Mattel Children's Hospital at U.C.L.A. playing and donating ukuleles to sick kids on the pediatric wards.
The story begins with our association with a wonderful organization called The Ukulele Kids Club which donates ukuleles to sick kids in hospitals around the country. Our group quickly collects enough money for five ukes and they ask where we'd like the ukuleles sent. U.C.L.A. is close to Culver City so we begin our collaboration with this respected institution as they build their music therapy program.
Finally the day arrives when we do our first session: Michael, Rose, Raymond, Vicki and me. We have no idea what to expect as the music therapist leads us from hospital room to room. We sing "How Much is That Doggie in the Window?" to the little ones and "All About That Bass" (minus the "booty booty" and "bitch" parts) to the bigger ones.
Some kids are in isolation and we stand outside their door and sing. With others, we gather around them and talk about how much we love the ukulele and show them how to play "Row, Row, Row Your Boat." We give ukuleles away. The kids can't believe it. They are over the moon. We give a ukulele to parents who will learn to play a few songs and teach their kids. The sense of gratitude is like an arrow that shoots both ways.
And here I am, coming full circle, spinning back, back, in time. Pediatrics is in a different building now than I remember. The long corridors are painted lilac, yellow, sky blue. Each kid has a name and we learn it before we meet them.. I'm doing okay…considering… But suddenly I am blindsided with emotions that rise from some deep, unknown place inside. Suddenly I am THAT sick kid again, laying in that hospital bed. AND I am a musician standing beside her, sharing a smile and a song. The past, the present are whirling together in some time-bending dance.
It's a Bobby Darin kind of moment. A little healing. A fierce reminder that we are all on borrowed time.