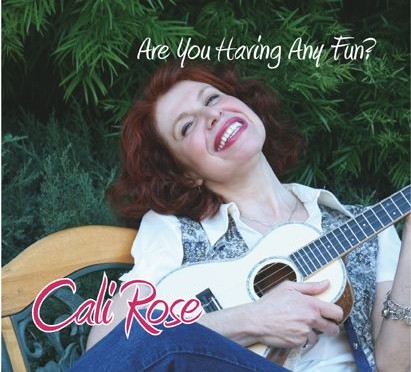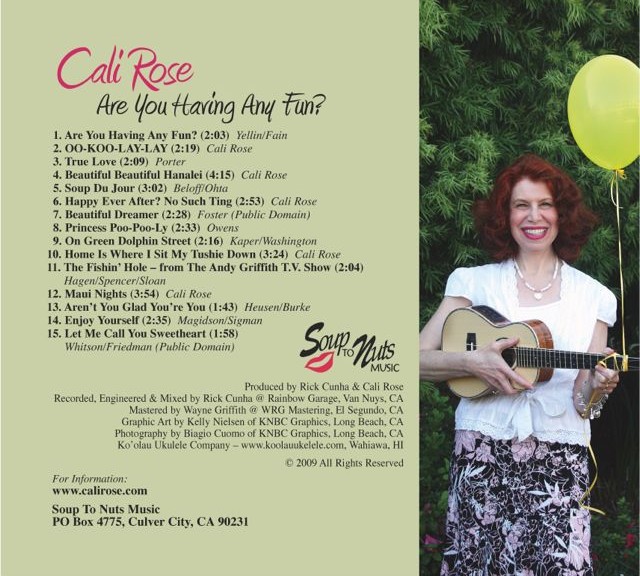 view back cover
Cali performs "The Fishin' Hole"
---
Are You Having Any Fun?
Ukulele CD by Cali Rose
This CD includes fifteen classic and original songs that I sing and play on the ukulele.  My talented musical friends add just the right splash of ooomph and va-va-voom so you can expect the unexpected.
$10.00 + $2.50 shipping/handling
15 Track • Audio CD Format • ©2009
Click the buy now button to buy directly from Cali
To purchase by mail, send a check for $12 to: Cali Rose c/o Soup To Nuts Music, P.O. Box 4775, Culver City, CA  90231
You can also purchase from these online vendors (and listen to more samples):
---
Tracks
---
Kind words and reviews

I have your CD "Are You Having Any Fun" in my car. I listen to it when I drive home and want a sense of otherness from hard days work. It relaxes and melts the edginess I would otherwise bring home to my family, husband, dog and cat.

"This is one of the best CD's I have ever heard.  I love it!!! Great voice…great production…great arrangements…great originals…great choice on the cover tunes.. great musicianship…great graphics, CD cover and photos.  Great things in store for this CD and Cali Rose!!!"

"Your song 'Happy Ever After, No Such Ting' and 'Home is Where I Sit My Tushie Down' really made me smile and I loved the 'Beautiful Beautiful Hanalei' and 'Maui Nights.'  You have a marvelous gift."

"…thank you so much for sending me your CD. I love the music and it makes me smile to hear your voice. You are a very gifted siger/musician/entertainer. I'm glad your carrer is moving along. Thank you for all the happiess your music has brought me over the years…
Your latest CD is still my favorite and I always queue it up on the IPod first when we get airborne – puts me in the right mood and calms me down…not that the pre-departure cocktail wasn't kicking in by then, but you are much purer sense of peace and calm. Maybe I shouldn't say purer…I mean, Whoa!, check out the clam shells on Cali in Hawaii!! Regardless your voice is incredible."

"…a sweet and simple joy to listen to.  What an uplifting array of music and lyric.  I am so impressed with your originals, your poetry, singing, and with your ukulele playing! It's a first class production, and I wish you all the success that you have merited in the sales and distribution."

"Chris and I wanted to pass along a thank you!  We have been playing your CD in the office this week and everyone here thoroughly enjoyed the tunes.  Being on the front end of "tings," it's always nice to see and hear the finished product.  It is especially nice when the music is as good as "Are you having any fun?"!  Very serene. Thanks again for sharing." [Disc Makers]
— Chris Bailey and Brian Jones of Disc Makers.