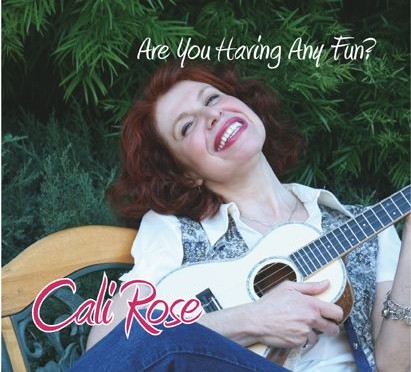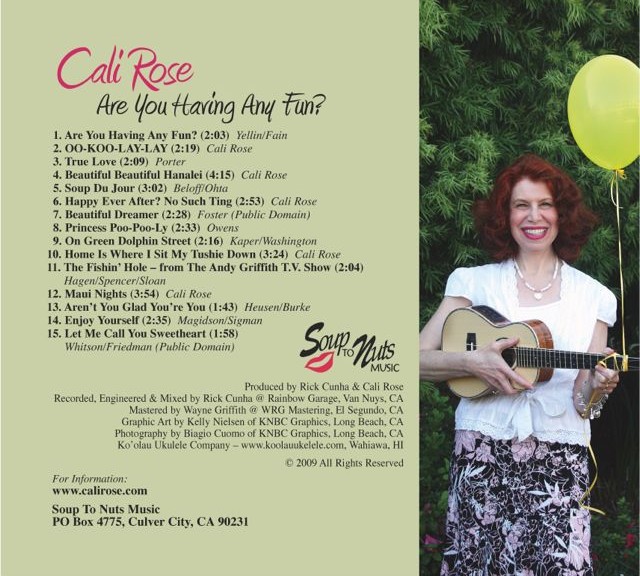 view back cover
Cali performs "The Fishin' Hole"
---
Are You Having Any Fun?
Ukulele CD by Cali Rose
This CD includes fifteen classic and original songs that I sing and play on the ukulele.  My talented musical friends add just the right splash of ooomph and va-va-voom so you can expect the unexpected.
$10.00 + $2.50 shipping/handling
15 Track • Audio CD Format • ©2009
Click the buy now button to buy directly from Cali
To purchase by mail, send a check for $12 to: Cali Rose c/o Soup To Nuts Music, P.O. Box 4775, Culver City, CA  90231
You can also purchase from these online vendors (and listen to more samples):
---
Tracks
---
Kind words and reviews

Cali Rose shows her versatility with this CD. She strums, picks, and sings her way into your heart with a combination of fun little ditties, love songs, and a few classics. I love "True Love," "Beautiful, Beautiful Hanalei," and "Soup Du Jour." Those three songs were just wonderful. Kudos to Jim Beloff and Herb Ohta for "Soup Du Jour." That was the highlight of the album. I do want to acknowledge Cali Rose's "Home Is Where I Set My Tushie Down." It is a tune with cute lyrics and a meaning that is inspirational. This CD was a very nice mix of tunes and styles. If you like upbeat, positive, happy songs, this CD is for you. Read the entire review (in PDF) from Ukulele Player Magazine, Issue 7, August 2009
— Ukulele Player, Aug 2009

"I absolutely love it!  The song selection, vocals and musicianship are nothing less than stellar."

"…the consistency I've heard in the songs are in the 'spirit' you successfully impart to your music.  Music is rightfully comprised of several facets much beyond notes, chords and arrangements and I especially enjoy how I feel when I listen to your music." [Kimo Hussey]
— Ukulele master Kimo Hussey

"I LOVE your CD! It is the best. My new favorite!!The whole package; the songs, the accompaniment, your  lovely voice. Truly, it is such a breath of fresh air!  Can't wait to get to one of your shows live and in person!!"

"Cali, it is so fine.  The arrangements, the mixing, the production level, not to mention your gorgeous vocal sound and the ukulele playing.  Just excellent.  All the work you did month after month — it's all there.  What I like more is that you deliver what you promised.  All the songs make one smile; they tickle and tease.  This is what you wanted to do.  Make us smile."

"Chris and I wanted to pass along a thank you!  We have been playing your CD in the office this week and everyone here thoroughly enjoyed the tunes.  Being on the front end of "tings," it's always nice to see and hear the finished product.  It is especially nice when the music is as good as "Are you having any fun?"!  Very serene. Thanks again for sharing." [Disc Makers]
— Chris Bailey and Brian Jones of Disc Makers.