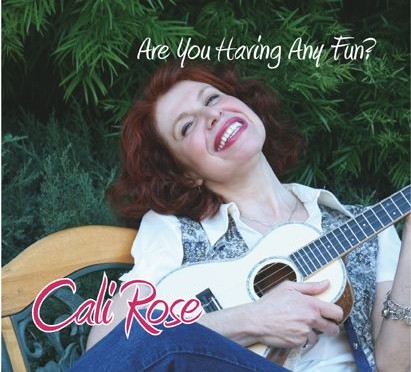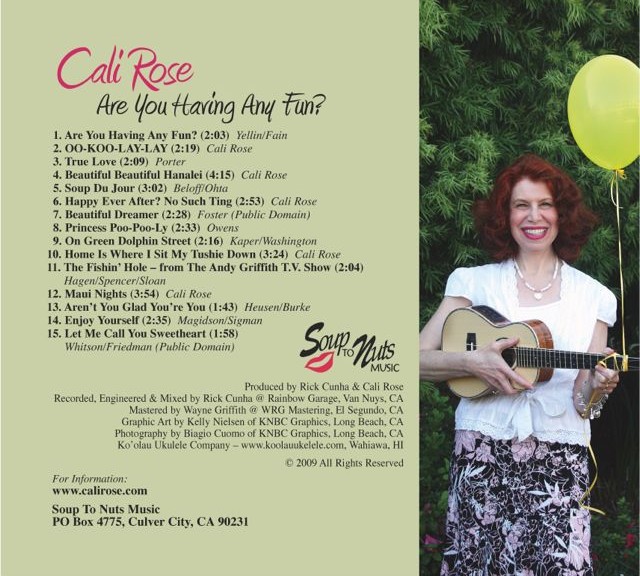 view back cover
Cali performs "The Fishin' Hole"
---
Are You Having Any Fun?
Ukulele CD by Cali Rose
This CD includes fifteen classic and original songs that I sing and play on the ukulele.  My talented musical friends add just the right splash of ooomph and va-va-voom so you can expect the unexpected.
$10.00 + $2.50 shipping/handling
15 Track • Audio CD Format • ©2009
Click the buy now button to buy directly from Cali
To purchase by mail, send a check for $12 to: Cali Rose c/o Soup To Nuts Music, P.O. Box 4775, Culver City, CA  90231
You can also purchase from these online vendors (and listen to more samples):
---
Tracks
---
Kind words and reviews

"Cali Rose has contributed her CD "Are You Having Any Fun?" as a door prize. If you aren't having any fun, you will be when you listen to her sing and play the ukulele. Funny, ironic and too cool to conga! This is what the uke is all about, thanks Cali!"
— Cathy of Crossroads Ukulele Festival

I have your CD "Are You Having Any Fun" in my car. I listen to it when I drive home and want a sense of otherness from hard days work. It relaxes and melts the edginess I would otherwise bring home to my family, husband, dog and cat.

"We fully appreciate your lovely renditions, plus you really transfer your unique touch to the instrument as it sings along with your vocals!"

"I LOVE your CD! It is the best. My new favorite!!The whole package; the songs, the accompaniment, your  lovely voice. Truly, it is such a breath of fresh air!  Can't wait to get to one of your shows live and in person!!"

"Congratulations on your success. You are putting smiles on people's faces far and wide. What pleasure–and humor. I tell you, my tush is happier for having listened."

"…it's the players like you and Craig that make the world of ukulele what it is.  Put a guitar in someone's hands and they want to be a rock start.  Put a Hawaiian ukulele in someone's hands and they just want to play music and smile."
— Mickey Maguire of Uke Player Magazine