Welcome to The CC Strummers!
The Ukulele Group at the Culver City Senior Center
---
Way back in 2010, I offered a two-month Ukulele For Beginners class at the Culver City Senior Center in Culver City, California. We started with 15 players and I thought "two months…we're done."  But the ukulele doesn't work that way!  We grew an ohana, a family.  More people joined us and today we have two large classes a week, perform shows in the community, teach uke to local middle school students and do music therapy at UCLA Mattel Children's Hospital where we play for the kids and give ukuleles away.
Our songbook is an eclectic mix of tunes for beginners and intermediate players.  The arrangements are my own which I have written in ukulele and vocal friendly keys.  We learn new chords, strums, fingerpicking patterns, cool licks, melodic and rhythmic embellishments.
Our classes are an oasis in this crazy world.  It feels SO good to make music together. We have tons of fun, laugh a lot, make lots of mistakes and make new friends.  We learn about melody, harmony and rhythm. We warm up our bodies with hand and vocal exercises.  Even if you have never played an instrument before the ukulele could be your ticket into the world of music. Welcome to our ohana.
---
PLEASE NOTE: DUE TO THE CORONAVIRUS PANDEMIC, ALL IN-PERSON CLASSES ARE TEMPORARILY CANCELLED.  CHECK OUT OUR FUN ZOOM CLASS INSTEAD!
---
Time and location
Both classes meet at The Veterans Memorial Building, 4117 Overland Ave, Culver City, CA., usually in the Multipurpose Room. But sometimes we meet in The Garden Room, Iksan/Yanji Room and Rotunda Room too. Follow the music and you will find us!
Both Monday and Thursday classes meet in The Multipurpose Room through June 2020.
---
How to enroll
It's easy!  Just show up.  Guests are welcome but in order to join our group and perform in our shows you MUST be a member of the Culver City Senior Center. Membership is $15 a year and that includes ALL activities and shows at this spectacular center. It doesn't matter where you live but you must be at least 50 years old to sign up.  The Culver City Senior Center is located across the street from where we have our classes and you can join anytime at the front desk
Each class is $5.00 and there is a sign-up sheet at each class. Once you join, you will have access to the song arrangements in our repertoire.
---
About the classes
ALL OUR PLAYERS ARE INVITED TO BOTH MONDAY & THURSDAY CLASSES.
Monday Beginners Class:  
We play easier songs and I give more instruction.  If you have never played the ukulele before it may feel overwhelming at first but we have all "been there."  You pick up stuff through osmosis and just playing with other people.  Keep coming back!
That said, the class is very large and I cannot give individual instruction.  Four times a year, I offer a five-week Ukulele For Beginners class at Boulevard Music in Culver City and we start with the basics.  I also offer private lessons in my home nearby.
Many of our intermediate players come on Monday so they get a chance to stretch and try new techniques.
Bring a playable ukulele (the strings stay in tune) or borrow one for the class (email me so I can have one for you).  Or just bring yourself, check us out and sing along!
Please download this NEWCOMERS PACKET.
Thursday Intermediate Class: 
We play more challenging songs with more chord changes and embellishments.  Beginners are invited because you can always "fake it" (mute the strings with your left hand and strum with your right), sing along and work on your technique.
---
---
The CC Strummers' Ukulele Challenge—a Virtual Kanikapila!
Check out what The CC Strummers created while waiting out the Coronavirus.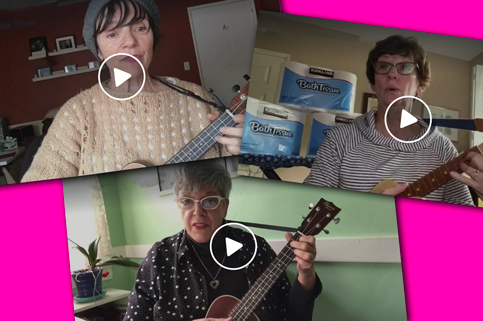 ---
Check out some videos of The CC Strummers—more available on our YouTube channel.