It's been quiet here, on the western front, with regards to my soon-to-be-born ukulele CD, "Smile, Smile, Smile," probably because this thing has seemed, at times, like the "never-ending" story. Two years in the making. Well that's what happens when life happens. Like…I have to work, you know. That means doing gigs and teaching. And there's writing, cooking, cleaning, hovering around those damned social networks and never, ever catching up on my email. I don't have to tell you how it is… We're all trying to poke holes in the sky.
But alas, I'm finally seeing the smiley-light at the end of the tunnel and am so proud of this album and thrilled to share it with you. It will be in my hot little hands at the end of June. So between now and then I'll be sharing tidbits about the songs (my own tunes this time) and the people, oh the people, whose abundant talent and generosity are making this whole recording experience possible.
Recording in a studio is SO different from performing live and the learning curve in music is a life-long march outward (and inward). For example, in the studio I lay the ukulele tracks first. By themselves. No singing (although we almost have to stuff a towel down my throat to keep me from humming along). You see, I always accompany myself either with the piano or ukulele and over the years, we've grown a deep symbiotic relationship. For better or worse, when I'm separated from my "musical piece of wood," I get a little wobbly, like my center of gravity has turned to mush. And this affects my vocal performance.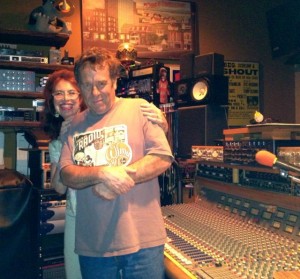 At first I think it is me. Like what's wrong with me? Why can't I just stand up and sing. Naked. Well it feels naked without my own instrument. Then I speak to other singer/musicians who tell me the same thing happens to them. Whew, what a relief! So never mind the "why." Let's work with the "what." Indeed I find an interesting solution and share it with you in an impromptu video Bob Wayne and I whip up during one of the early vocal sessions. It's short, fun and you can see the gorgeous hunks I get to work with! Click here to check it out!
Making a CD is like freezing musical moments in time: This is what happened today, in this place and it won't ever happen again. Guess that's the way it is. Maybe we're all just trying to leave a little sparklysomething in the messy dirt of our lives so someone else will find it and know we were here.