This post is part 10 of 11 in the series, "Marvelous Midwest," about discovering my extended family in Indiana and "ukeing" it up in Missouri.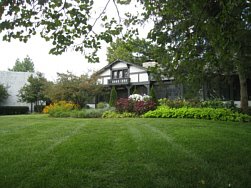 It's the first day at the Mighty Mo Ukulele Festival. We line up in the quaint Swiss Chalet dining hall for dinner and fill our plates at the trough…er…buffet. Lovely women, dressed Heidi-like, scurry here and there providing the sweetest service. "You mean I get dessert?" I ask. "This is the Midwest, honey. You get dessert with every meal." She chirps.
My husband Craig and I are sitting at a long table with "Elvis." Well that is the name I give this courtly Southern gentleman who I meet at my first workshop. When he speaks, it's like The King himself has suddenly re-appeared as a ukulele player.
He turns every edge of discourse into something hilarious, delivered with a down-home dollop of zing. The conversation goes from ukuleles to llamas, yes llamas, in the time it takes to wipe the salad dressing off my lips. He used to work at a wildlife preserve and especially loves llamas. "Their eyes are so sweet. If everyone had eyes like llamas we'd all get along…" His Elvis voice hypnotizes me into believing that llama-eyes are the secret to world peace.
We better fortify ourselves with bonus dessert calories because there's going to be a hot time inSaloon Town tonight. It's Open Mike at the "O-K Corral." Now this is a marvelous thing. I know of no other instrument that engenders this egalitarian spirit of participation. One after another, all ages, the ladies, the guys, groups of them perch on the stage, lean into the microphone and play their music. A few confess, "this is my first time." Hooray for them. Doing their "first time" in a socially acceptable AND supportive saloon of sound.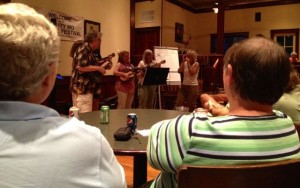 I remember reading one of those USA Today kind of lists about what scares human beings the most. You would think the number one thing that scares us is, say…Dying.
But no-o-o-o-o. It's public speaking (or singing). We are more afraid of going cryogenic in front of an audience than we are of actually keeling over for real. Well I have had my share of "ego deaths" on stage. And yes it's awful. But afterwards I get to go home, kiss my husband and eat chocolate. So what the hell. Perspective is good as gold.
So back at Saloon Town, the music finally winds down. Sated and exhausted, we file into the warm night past the glowing salt-water pool where late-night swimmers are splashing around with what look like giant sperm. About eight of these things are bobbing in the water. They have that familiar spermy look and are about the size of a ukulele. I move in for a closer look. Holy crap, they are ukuleles. Inflatable ukuleles. Who thinks of such a thing?
Janelle Hoffmann… The mover and shaker who shakes and moves this festival.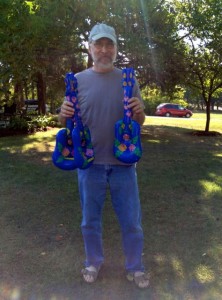 Talk about attention to detail. I am so flabbergasted by the sight that I neglect to take a picture. So this one will have to suffice. Here is Boat Paddle Jerry, in broad daylight, with his latex ukuleles.
You have to know the uke has gone mainstream when you can purchase a blow-up version on the internet!
________________________________________
Stay tuned for the final installment of this series, "The Marvelous Midwest." Coming to your local inbox, as soon as I write it!