This post is part 9 of 11 in the series, "Marvelous Midwest," about discovering my extended family in Indiana and "ukeing" it up in Missouri. 
It's the first day of the Mighty Mo Ukulele Festival and we land at The Cedar Creek Conference Center which is nestled in the big green trees atop one of those rolling hills in wine country Missouri. Ukulele players from neighboring states like Illinois, Iowa, Indiana, even not-so neighboring California, pull into the driveway to unload their bags and ukes. All blue jeans and Aloha!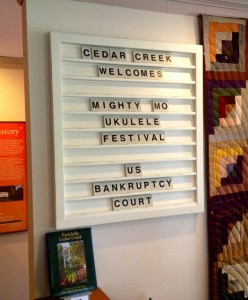 We are greeted by this sign at the Registration Desk. Proof positive that uke players get along with everyone. Actually the bankruptcy people have just checked out as we begin to check in. Nevertheless there is something deliciously radical about the message here.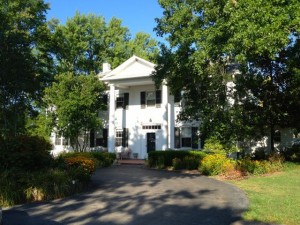 This rambling spread is an interesting concoction of themes and history. Somehow it all melts together. Mysteriously and wonderfully. There is a main building and dining hall, fashioned like a Swiss Chalet, a grand old white house, Southern Mansion style, a salt-water swimming pool and a replica of a western saloon town.
No kidding. This collection of Gunsmoke replicas is straight out of a movie set on the back lot of Universal. And then I learn that Cedar Creek used to be more "monastery" than "monetary." So to speak… There is something grounding and contemplative about the place. Wow! Ukuleles meet inner peace.
Janelle Hoffman co-sponsors this festival with her husband Jerry (The Boat Paddle Ukulele Guy). She has that unique gift of seeing the big picture AND the little details that make it BIG. In fact, at every turn I see her hand in some lovely touch, some splash of generosity and fun.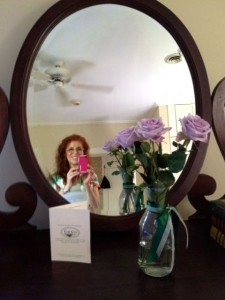 For example, imagine our surprise when we learn that big old Southern mansion is ours for the weekend! It's about eight hundred times bigger than our one-bedroom condo back home. This is pretty darned spectacular. The next morning when Craig and I need to woodshed on our ukes, I go east, he goes west and we're walls apart.
I am greeted at the festival with fresh roses and a nametag that would make any mother proud. But let it be said that all nametags, souvenirs for sure, are our passes into the food fair! Breakfast, lunch and dinner. We love to make music but we love to eat too!!!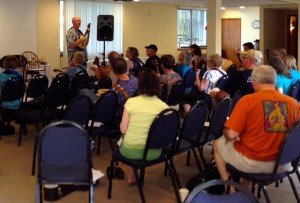 So Craig and I unpack our bags and I make haste to the first workshop of the day. The big conference room fills with weary ukulele pilgrims and we begin.
That's where I meet Elvis…