Have you heard this saying?
"Those Who Can, Do. And Those Who Can't, Teach." Who ever coined this one needs to repeat kindergarten. A couple times…
As I continue to improve my chops as a teacher, the words of my treasured guitar mentor resonate in my head. One afternoon during a lesson, this genius player told me, flat out, that he didn't really learn about the guitar until he began teaching it. Until he had to explain what the hell he was doing. And why. Teaching helped him connect the dots, for himself and his students. And here's a man who played thousands of gigs, who took a solo over "Satin Doll" thousands of times. In more than one key…
Well it's déjà vu. Teaching is making me a far better musician than I ever dreamed possible. I continue to meet fabulous people and am enlivened by their stories and their triumphs. I thought my heart would launch out of my chest last week when my Thursday uke class played a delicious triplet strum. Together. At the same time! What a joy.
Speaking of.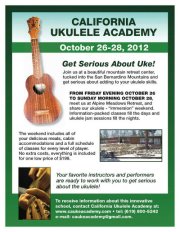 I have two "joyful" teaching extravaganzas barreling down the track like a choo-choo. Yes they are Southern California happenings, where I live, but for my friends in other parts of the world, please read on anyway. Perhaps you will be inspired to take a class, teach a class or show a kid how to play a "C" chord on the uke.
My husband Craig and I will be teaching at The California Ukulele Academy Friday, October 26 through Sunday, October 28, at Alpine Meadow Retreats in the San Bernardino Mountains.
On-going classes are offered for beginners through advanced and everything in between. One (stunningly reasonable) fee includes food, lodging, classes and the big Saturday Kanikapila where everyone gets to sing and play and be part of the show. This is what ukulele is all about.
Space is limited and they are very close to full capacity now. So give yourself a treat! Bring your significant other. There are beautiful hiking trails for the non-ukers. Or perhaps "sweet silence" is the perfect weekend antidote for our frenetic daily lives. Sitting under a pine tree, with a book, or a uke, or nothing, is good as chocolate to me.
Here in Culver City we have a very special music store, Boulevard Music, with a big upstairs for teachers to do what they do best. I'm thrilled to tell you that I will teach a four-week workshop "Ukulele For Beginners." Upstairs!
We will start at the very beginning: How to hold your uke, tuning, chords, strums, songs, how to create a "groove" and more. No previous musical experience is necessary. You will be playing your ukulele and singing along the first day. This class is about making music and having fun in a warm and supportive atmosphere. Everyone, all ages, are welcome.
The classes are Saturdays, November 3, 10, 17 & 24 from 11:00 to noon (or so…). The entire workshop (all four classes) is $80. All you need to bring is a playable ukulele with standard G-C-E-A tuning. And a great big smile.
Contact Boulevard Music, 4316 Sepulveda Blvd., Culver City, CA 90230-4716 (310) 398-2583 (Free parking in the adjoining lot and on the street).
And speaking of teachers…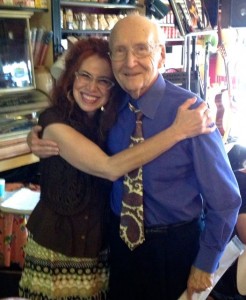 Last Sunday my husband's longtime teacher and mentor, Howard Heitmeyer, celebrated his 90th Birthday with his friends and devoted guitar students, some of whom flew in airplanes to be there. Howard has been named one of the "Unknown Greats" of Los Angeles by Guitar Player Magazine. He has chosen to live his life under the radar of fame and fortune and devote himself to the pure artistry and joy of music. His arrangements are gold standard for guitar. A few years ago my husband cajoled him into writing arrangements for ukulele and the rest is history. Two ukulele albums and one soon-to-be published book of Howard's arrangements are only a nibble of the fruits of this collaboration between Howard and Craig that has spanned over twenty years.
I tagged along for the party and played my uke with Craig on stage. It was an indisputable pleasure to bring some ukulele joy to this auspicious occasion. I adore Howard too and since I am not a student of his, he's never yelled at me. So I have a different "mojo" with him. I wrapped my arms around him as he declared "oh darling, you make me feel 80 again!"
Ah, the wonder of it all. Here's a toast to all those "who do" AND "teach."