This post is part 4 of 11 in the series, "

Marvelous Midwest,

" about discovering my extended family in Indiana and "ukeing" it up in Missouri.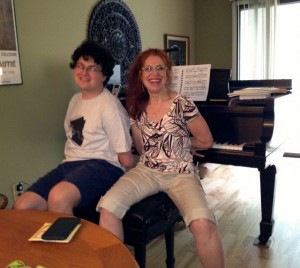 Somewhere in a lush, woody area of Indianapolis is "the other house," shared by Patricia, the matriarch of the Tretick clan, her daughter Blythe and grandson Lexi. Day two of our Midwest visit, the whole family converges at the compact dining room table, digging into burgers, steamy-hot off the grill, and homemade delicious bean salad, Patricia's specialty. We eat, talk music and family, with a kind of gusto that moves the air in the room. It's so delicious, the gestalt of it all and a perfect coda to another wonderful day with our "at-last-we-found-each-other" family.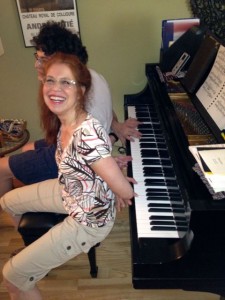 Craig and I arrive earlier and are quickly offered front row concert seats…in the living room. Lexi plops down at the Steinway and plays some finger-twisting classical music as his mother Blythe shouts prompts and suggestions from the kitchen and Patricia sits quietly beside us, eyes closed as if she is swept into a secret garden of music.
I later learn something spectacular about my great uncle Sidney, the violin virtuoso and Lexi's grandpa. He was a showman with a robust sense of humor. (And "beautiful hands," according to his wife). I didn't know he played the piano too.
Backwards…
The "Jerry Lee Lewis" of classical music? So Lexi and I attempt to replicate this amazing stunt. Believe me, it looks better than it sounds and is, in my humble opinion, a deliriously naughty thing to do on a piano as sacrosanct as a Steinway Concert Grand.
The whole episode sends me reeling back to my piano bar days when I performed a trick of my own. I played the song "Chopsticks" with my feet. Don't roll your eyes please. I am very proud of this accomplishment. I'd remove my shoes, of course, lean back in the chair, hoist my toes onto the keyboard and hit just enough right notes for the average drunk person to recognize this iconic tune. I had the good sense NOT do this trick in a dress. It's about the music, not a view of the front porch… So I tell the inebriated who have moved in for a closer look.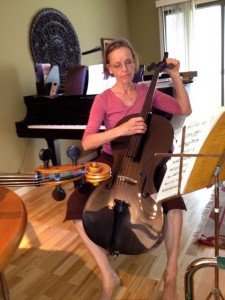 My cousin Blythe is a force of nature. She played the cello in the Phoenix Symphony Orchestra for umpteen years and this afternoon, she hauls out her two instruments and plays for us. I have never been this close to a real cello and the sound of Blythe's bow across those big fat strings, oh my, it shakes the table, the chairs and my bones. This is a woman who not only makes sublime music but can fix anything on an instrument, just like her father Sidney could do.
And she is the self-appointed family historian too, taking it upon herself to piece together the who, the why, the what, the mystery of "the estrangement" that severed our family in half, like lightning splits a tree.  Blythe has found documents, clippings, letters. We look at the pictures I have retrieved from my mother's dusty black trunk in the garage and try, like hell, to connect some dots. But we will never know. And this "not-knowing" feels like a dull ache that doesn't go away.
All this reminiscing works up an appetite so Blythe and I dash to Whole Foods to snag hamburgers and buns for dinner. But soon I go this-a-way, she goes that-a-way and I can't find my cousin. I retrace my steps, slink up and down each aisle, hang out by the registers. No Blythe. I don't have her cell phone number either so I call my husband so he can call the family so they can call Blythe and tell her to find Cali… Finally there she is thundering past the fresh fruit and veggies and I'm ready to latch onto her arm like a bulldog so we don't get lost again.
That's how I feel about this family. I'm holding on…