This post is part 5 of 11 in the series, "Marvelous Midwest," about discovering my extended family in Indiana and "ukeing" it up in Missouri.
Some folks call it PEEE-ROO. Others, PEAR-ROO. I call it PURR-ROO. Like Peru, South America and olé. That would be bienvenidos to Peru, Indiana. The hometown and final resting place for one of my favorite songwriters of all time: Cole Porter.
My cousin Noelle cleared an afternoon from her busy performing and teaching schedule to do the "tourist" thing with us. But Craig and I are not "sportsy people" (oh dear…we have to ask the relatives what teams are from Indianapolis…) We're not "car racing people" so there goes the Speedway. We're not "downtown people" so no tall buildings for us. But we are music people and when I learn that Peru is a mere hour and a half drive away, I am positively giddy.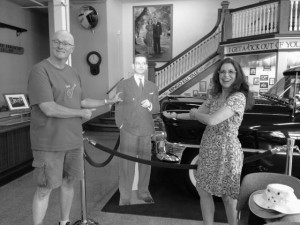 So that is how we land at The Miami County Museum (no we don't accidently head south to Florida) where we get up close and personal with the master songwriter himself, standing alongside his custom Cadillac, fit for a musical genius. Cole Porter composed sublime and eminently hummable melodies. AND he wrote lyrics to match, that twist and rhyme in clever and unexpected ways:
"Old sloths who hang down from twigs do it, though the effort is great.
Sweet guinea pigs do it, buy a couple and wait." (from the song "Let's Do It, Let's Fall in Love")
He's old school. Those guys and gals of the Great American Songbook era wouldn't dream of rhyming the words "line" and "time." N? M? That equals apoplexy! Oh my, how times have changed…
At the height of his career, Cole Porter's legs were crushed in a tragic horseback riding accident and the injuries and constant pain bedeviled him the rest of his life. Thankfully he could afford the big cushy car and this custom sofa that allowed him to lean back, extend his legs forward, drink a martini and schmooze with his friends. At the same time.
I love playing his songs because they are smart and sexy and I plunk out a few of his hits on the old upright piano that stands in the middle of this large one-room museum. Suddenly the employees, who were hunkered down in their offices, gather around, take pictures and ask me to play and sing some more. I'm just doing what I do at my gigs in SoCal, but this sort of reception for my efforts, well it's very encouraging and does a body good.
Then they ask if I'd like to perform at Cole Porter's birthday celebration next year in Peru and please send a video. Well yeah, I'd like to do THAT. So the next day my cousin Noelle and I whip off a couple videos in her music room and I send them, straightaway. Who knows. Sometimes these things pan out, sometimes they don't. But the real reward is "the doing it" — playing "Night and Day" in that museum, that afternoon.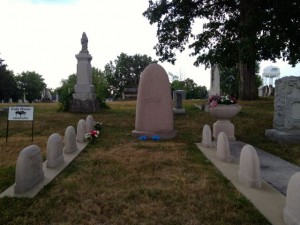 The Cole Porter family gravesite is located nearby in a small cemetery. Noelle has seen it before and says his gravestone looks like "an egg." I'm not sure what that means. An egg in the shell, sunny-side up, scrambled? So we turn right and left and right and left as we follow the small "Cole Porter" signs that point atta-way. All at once we are standing before an interesting array of obelisk-type stones. They definitely don't look like anything else in the neighborhood. The big stone honors the "Cole" family and the songwriter is buried alongside with his wife and parents and other family members.
Suddenly the sky turns slate gray and lightning snaps in the distance. Noelle knows midwest weather and implores us to get into the car. Quickly. This is not like herding cats. We clamber inside so fast even our shadows have to catch up. It begins to rain like a mofo and we get the hell out of there.
But what a day! Rain or shine, "It's De-Lovely."