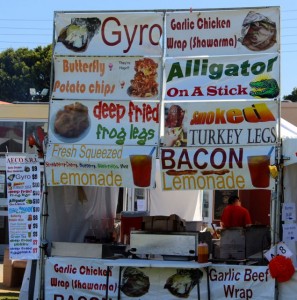 Welcome to the land of bacon lemonade, spam musubi and rows of Porta Potties sponsored by Sees Candy. It's Fiesta La Ballona time in Culver City, California and Sunday morning, forty-five of The CC Strummers arrive early for our "really big show."
We bring our music stands and ukuleles, husbands, wives, friends and neighbors. We wear aloha shirts, leis and flowers tucked behind either the "I'm-Taken or I'm-Not" ear.
The CC Strummers have been practicing our thirty-minute set every Monday and Thursday for weeks because that's what it takes to get this stuff under our fingers. Repetition is key to becoming a good musician. I call it wood-shedding. Doing the grunt work. Playing that new chord or fancy lick five hundred times.
Five hundred times… If we're lucky.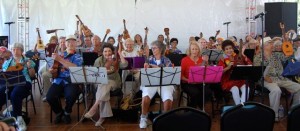 Beginning with our CC Strummers' theme song we launch into a music mix that is joyfully eclectic. Sure we do our version of Iz's version of Somewhere over the Rainbow, but we also scat on I Got Rhythm and get the audience "whoo-whooing" with us on Opihi Man. We sing a song in Japanese. Sukiyaki. Because we can.
Then we perform the fabulous tune, Sway. Also known as Quien Sera. This song has been translated into almost every language on Mother Earth. We tackle it in English and Spanish. I enlist my husband, Craig Brandau, to man the video camera, which is his little blue phone. Click here to see our smokin' arrangement that includes rrrr-rolling and an exquisitely placed grunt. (Thank you The Northern Virginia Ukulele Society for the "grunt" idea).
One of our favorite songs to play together is Ghost Riders in the Sky and of course we invite the audience to "yippee-yi-ay" with us. Our mistress of percussion, Marilyn, hauls a sack of clicking, clacking instruments along and she let's "dem ponies" run free on this one. Would you like to channel your inner cow person and join the fun? Click here to watch.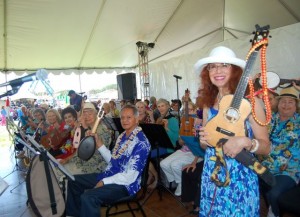 We end the show with the reprise of our theme song and the audience applauds. And applauds. Then they stand up and keep on applauding. I'm stunned. We are all stunned. Not that we don't deserve this…but…like…WOW! The CC Strummers suddenly stand up too. It's the sweetest thing. I don't have to replay it in my mind because hubby captures the whole standing-up-thing on video and believe me, I've watched it over and over.
And it doesn't take long to identify the "ring leaders" in the audience. First I see the husband of one of our CC Strummers cajoling others around him to get on their feet too. With manly gusto, he sweeps his arms up. Up! UP! And there's Debbie, our treasured Senior Program Specialist from The Culver City Senior Center, bouncing up and down as she moves towards the stage. Witness the sheer power of personality and a smile soaked in ukulele joy as she takes aim with her camera and rouses everyone else to show their appreciation. The announcer, Ronnie Jayne, implores the audience with her warm persuasive voice to "give it up, give it up for them."
You see, it takes a village…  And voila! Standing ovation! Click here to watch the panorama unfold.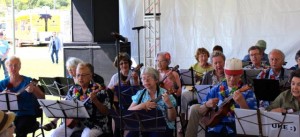 There is no other musical instrument that engenders this kind of "joy" and sense of ohana—family—than the four-stringed wonder. Whoever you are and wherever you live, if you are willing to do a little wood-shedding and learn a few chords and strums, you too can snag some joy and make music that does the heart and body good.