I've been spinning a lot of plates in the air lately. Gigging, teaching, doing what we all do to stay connected with each other, sleeping (sometimes), celebrating a wedding anniversary and my husband's birthday. Oh yes, I've been writing songs, practicing the uke and got to participate in not one, but two ukulele festivals the last three weeks.
I will share more about that in another blog but I just have to tell what happened at The Antelope Valley Ukulele Festival during the Friday evening concert. Not the part where the fire alarm went off, the police showed up, the building was evacuated and everyone huddled in the parking lot as we sang "Island Style" accompanied by some of the performers who remembered to skedaddle WITH their ukuleles…
Not that part.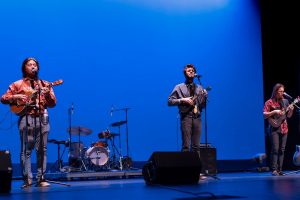 This part: The three handsome, joy-infused fellows who are a delight for the eyes and ears. Whoo-hoo they can sing! In three-part harmony. They are very accomplished musicians and their arrangements are original and super cool. It's yummy. It's delicious. Uh-oh, I am suddenly besotted with food. Maybe it's their name. The Naked Waiters. But they are not waiting tables. Nor are they naked. And they will leave the stage wearing clothes.
I mention this in passing because the action on stage then takes an abrupt turn. In my head. It's all in my head.
I have a flashback:
My mother's birthday is coming up. Crazy mom–who has been obsessed with sex since I can remember and is a poster child for the old adage: The ones who talk the most about it have gone the longest without it. And now she's in her late seventies and still making casual conversation about men's parts. I kid you not.
So for her B-Day I decide to take her to a matinee performance of the musical-comedy review, Naked Boys Singing. It's playing in a very small West Hollywood theater. The boxy room is the entire stage. No stadium seating here because there are ONLY two rows. On the stage. As an audience person you are either sitting in the front row. Or the back row. One expects that the performers may get…um…um…real close. So the decision to sit in the front or back row is made with much consideration.
Mind you, this is a surprise for my normally talky-talky mother. She has no idea what's going on, why we are in THIS place and if that marquee about naked boys on the front of the building is, like, for real.
It's interesting what happens when reality collides with fantasy. The talkers get real quiet.
Guess what, mom and I sit in the front row and everybody gets quiet as the house lights dim, the musicians hit the downbeat and suddenly eight naked men are singing. Right in front of us. Okay, they are not quite naked. They're are wearing headset mics. On their heads. That's it. The stage lighting is…very good.
Oh God where do I look first? Well you know damned well where I look. I'm an only child. I didn't grow up with brothers. I was never an Army Nurse. Of course I've seen "the package," in person, but never more than one at a time. It's like I'm in line at the Soup Plantation of Life here!
I have no idea what they are singing. I think they are dancing or something but I'm mesmerized by the sheer majesty and variety in the human species. Well at least eight of them. A few are more buff than others but the great equalizer is that they all appear to be having a really good time. I don't even like to dance naked in my own house, with the curtains closed and the lights dimmed to almost nothing. But these guys are groovin' and it's kind of contagious.
Interestingly enough, after three songs I am just about done watching dingle-dangles and start focusing on, gasp, the music, the performance, the whole twisted fun of it. These guys are really good singers and dancers and actors. Maybe they are exhibitionists too. But whatever.
One of my friends, a brilliant comedy writer, wrote a song for the show called "The Bliss of The Bris." It's written from the point of view of the one getting the manicure. (Yes you can YouTube it). If you don't know what a bris is please ask your nearest Jewish friend to explain. Because I'm not going there. But the truth is, all the songs and skits in the show are really ingenious and entertaining and, oh yeah, the guys are naked.
As I observed earlier, the nakedness thing gets kind of "ho-hum" after a while and that is both surprising and comforting. I think I'm settling down and that's when I notice THE something that will become THE enduring, stand-out memory of THE whole day…
THE lower abs!
"Really," you ask?
Really…and picture this: My singing teacher–my mentor–would stand us in front of a full-length mirror leaning front and center in her over-stuffed living room, place her hands on her lower abdominal muscles and implore me to do the same with my belly.  Mind you we are definitely wearing clothes. We inhale, exhale, tighten and loosen those things like we're blowing up a balloon in our gut then letting the air out. Over and over. I'm thinking she's freaking nuts. But you know what, if I do THAT when I'm singing (big IF), all at once I have this exquisite control of the sounds I make.  Singing becomes a whole body experience.  My legs and butt come online, the ribs expand, the multiple little mechanisms in my throat and mouth and nose relax and begin working together.  It feels really really good.
So back to West Hollywood… There is one naked guy who is doing it. Just ONE. Every time he takes a breath to sing he squeezes his abs. There it is! THAT's what great singing technique looks like. Well, on a well-toned naked man body. The mental image is seared into my brain. This makes me so happy.
Another thing that makes me happy is that my mother has gone mute. It's temporary of course and later that evening she will find her voice again and go all Mae West. In a few short years she'll spiral out of control but this afternoon she's had a close encounter with the real deal.  Happy Birthday Mom!
And ain't that how music goes. When it's just right–those words, those melodies—they can send us back in time. Or down a brand new road.