First I hear it. Then I see it. Then my life passes before my eyes. In slow motion.
It falls with a thud and bounces on the hard floor. I hear wood kaploof and strings buzz like confused bees. It lands face down, my precious Koa ukulele. This is NOT where you want to see your prized instrument come to rest. A few of The CC Strummers gather around to offer solace after our Thursday class.
The spruce top is cracked. The binding is cracked. My heart is cracked.
How did this happen? OMG! Then I replay the last few seconds. Yes, I carefully place the ukulele in my case and zip it up. Do I zip it? I remember jabbering with my friends and hoisting the backpack case over my shoulder then…snap, crackle, pop.
Guess I didn't zip it up after all. Multi-tasking is going to freaking kill me one of these days.
---
I beat myself up. All day I beat myself up for being so stupid. My husband sends loving texts: "Accidents happen." " Life is short." "Even monkeys fall out of trees." "I'm sure Rubio can fix it.
"Rubio" is German Vasquez Rubio. (You pronounce his first name like Hair-Mahn, not Angela Merkel's country in Europe). He is a master guitar maker and luthier who I think would rather be in his workroom, hands to wood, than anywhere else. We have been taking our ukuleles to him for years because he's excellent, his prices are reasonable and he's a very kind man. His shop is no frills with bars on the windows, a couple old sofas in the waiting area, cases of classical guitars scattered about and autographed photos of grateful clients on the wall.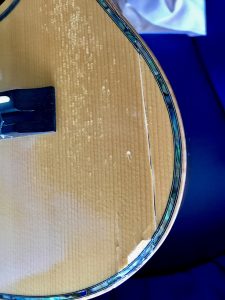 Armand, his right-hand man, greets us with such a big open smile that it helps tamp down my despair as I present him with Exhibit A
"Can you fix it?" I whimper.
"Of course we can."
"Have you seen worse?" I ask.
He laughs at that one. They had to put Humpty Dumpty together again after the airlines shredded a $10,000 guitar. Just saying…
---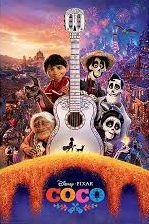 As he's writing the paperwork I notice a nearby movie poster. "Oh! It's Coco!" I exclaim happily.
Armand smiles again. "Yes German made the guitar from the movie." Well suddenly I forget ALL about my ukulele because I want to hear "the rest of the story." The rest of THAT guitar story.
Armand does a "show and tell" as he scrolls through pictures on his phone and tells us how the execs at Pixar and Disney heard about this great guitar maker in Los Angeles who also happens to be from Mexico, like the young protagonist in their upcoming movie, and they knock-knock at his door. Apparently everyone hits it off splendidly because German is hired to make a real guitar, just like the fancy white, skull-festooned one in Coco.
He builds a magnificent instrument and the execs are so pleased they bring in a crew to film him at work and they order 20 more. German just finished guitar #11. Wanna buy one? ☺
---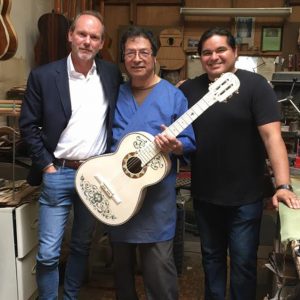 Coco debuts in Mexico first, just in time for Dia de los Muertos, and Disney flies German and the folks in his shop to the movie premiere. Within days it becomes the #1 film of all time in that country. The Los Angeles premiere comes next and again German and his peeps are VIP guests.
Then last February German is invited to his hometown in central Mexico. He needs a police escort as he is greeted by throngs of people. Their native son has returned. The man who built THE guitar. There's music and speeches and an autograph session that lasts six hours. Try signing your name for six hours straight? And if you have the Blue-Ray version of Coco, Armand tells us that German Vasquez Rubio is one of the "bonus features."  Read more about this remarkable man.
---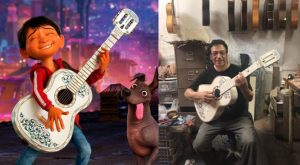 As we leave the shop I say to my husband Craig "we better rent the movie." As much as I love Pixar flicks, this one got lost in the holiday shuffle for me.
So we click On Demand and rent it that very night. Saturday. The following Tuesday it will disappear at exactly 7:28 P.M. The movie begins, the story unfolds, the music pours through our earphones and I start crying. I'm not Mexican. Well not that I know of (DNA test is pending). But this feels like my family and my story–the family who demands that young Miguel, the hero of this tale, chuck his dreams of becoming a musician, a guitar player, and learn to be a shoemaker like mom and dad and the rest of the kin.
My parents didn't want me to be a musician either. My family prized academia. The arts? That's hobby stuff. But the piano saved me when I was a sick kid. My Sears Silvertone guitar saved me through those ragged rutted teenage years. I couldn't help myself, like Miguel.
In the movie he goes on a hero's journey through the land of the dead on Dia de los Muertos, where he meets up with members of his departed family with their eccentricities and finely-drawn personalities intact. Miguel discovers that sometimes the very people we idolize, worship even, are balancing precariously on a wobbly pedestal. Sooner or later they land on their butts. If we are lucky, like Miguel, we learn the truth—that good guys are not always good and bad guys aren't always bad and families, as imperfect as they are, teach us something deep and enduring about love.
---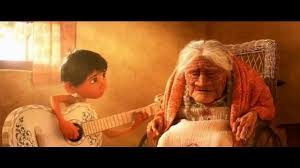 Miguel brings this truth back to the land of the living, to his great-grandmother Coco, and he plays THAT guitar and sings her THE song that beckons her forth from the mists of dementia. Awakened once again, she reaches into a drawer to retrieve a tattered picture and a frayed book of poems. Her father's songs. Apparently Coco has done a pretty good job of keeping these dusty old mementos to herself but their discovery changes the whole trajectory of the family. Music helps them "remember" — to see the dance of life across the generations, across the threshold of life and death.
Well that "Remember Me" scene just about does me in because I see this happen when I'm doing music therapy with seniors. They hear a song, the THAT song for them, the fingers on their hand move, maybe a foot taps, they look up, maybe smile. And sometimes they sing along. And for a few precious moments they have rejoined this mortal coil.
I am mindful that "reality" is a relative thing and that their reality is as valid as mine. But it's lovely to behold when a person who is lost in another land rejoins what I would call the status-quo. At least for a while.
And for a while, Coco feels very real to me.
I watch it again Sunday night and a third time on Monday. I would have watched it Tuesday but alas, time runs out.
---
We picked up my ukulele last week at German's shop. It's beautiful. As if someone dusted it with a little magic.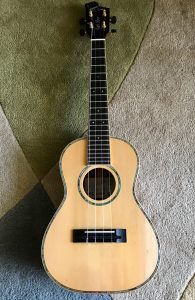 _ _ _ _ _ _ _ _ _ _ _ _ _ _ _ _ _ _ _ _
Earlier this year my husband Craig happened to be on Olvera Street in downtown L.A. and followed the music to this "Coco" celebration. He tells me that the kids were over-the-moon as they perched on daddy-shoulders, like this little girl, so many ponytails swinging back and forth with the Mariachi band. Viva Los Angeles!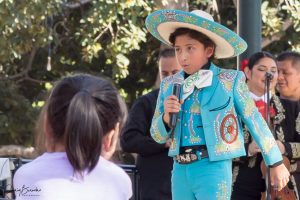 _ _ _ _ _ _ _ _ _ _ _ _ _ _ _ _ _ _ _ _
PROGRAM NOTE:
I think I got more responses from my last blog, USE THE BATHROOM, WHY DON'T YA, than any others. Some of you thought it was hilarious. (Thank goodness!) Others were grossed out. You shared your "it-happened-to-me" stories and I learned more about camping etiquette than I shall ever use in my life (because my idea of camping is Motel 6). But many of you reamed me for not saying something to the poop lady (as she was taking a dump under our third-floor balcony during her afternoon jog). You told me, in no uncertain terms, that I should report her.
To tell you the truth I feel badly for this woman. She obviously has "issues" BUT she is not homeless and this is a rules-rule community where I live. One of the rules is no #1's and no #2's in the common areas unless you are a dog and your master is toting baggies to clean up the poop. So I did have a little talk with the powers-that-be and an incident report was filed.
It's been several weeks now and I haven't seen the lady jogging or doing anything else for that matter. I don't feel particularly vindicated. It's just sad. We human beings struggle. All of us. And sometimes those struggles wash into public view. May kindness prevail.