We are having a date! Husband and I are zigzagging through rain-splashy traffic for an afternoon matinee of Julia Sweeney's one-woman show at the Geffen Playhouse in Westwood Village. It's dog-eat-dog as he squeezes our little Honda Fit into the long line of cars entering the $4 validated parking lot next to Trader Joe's. It may be "mellow Sunday" but it's still a zoo out there and we will do just about anything for cheap parking in Los Angeles.
You may remember Julia Sweeney as "Pat," the gender-bending character on Saturday Night Live, way way back in the day. Was she a boy? Was she a girl? After that stint in the limelight she wrote shows and took them on the road. They were about her life—losing her religion, losing her brother, almost losing her own life, adopting a little girl from China, marrying a scientist, settling into middle-class housewife-dom in the Midwest and today, at the age of fifty-nine, bringing her new show to Los Angeles. She calls it "Older and Wider."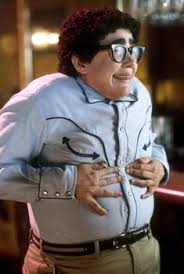 We afternoon revelers take our seats, forming an intimate semi-circle around an empty floor in the middle of the Geffen's mini-theater room. Well it's not quite empty. An usher brings a bottle of water and a big cup of something, places them on the stool and arranges the microphone and stand real close to the beverage supply. With no fanfare whatsoever Julia is introduced and bounces into the spotlight wearing a black jogger suit as if she too just dashed over from Trader Joe's.
And immediately she apologizes. For her voice. She's getting over a cold and is still hoarse and crackly and improvises on the spot about her emergency room visit. Then the microphone goes dead. Then the lighting goes funky. And this is NOT part of the show. But as the jean-clad techie rushes on stage and replaces the mic and the sound lady, whose disembodied voice is floating above, proclaims that the lighting IS the way it's supposed to be, Julia Sweeney soldiers on. With grace and humor. She answers audience questions until the new microphone arrives. She sweetly tells the light lady "NO we need the lights turned down" and we applaud happily when that finally happens. All these distractions…and this woman "stays in the moment."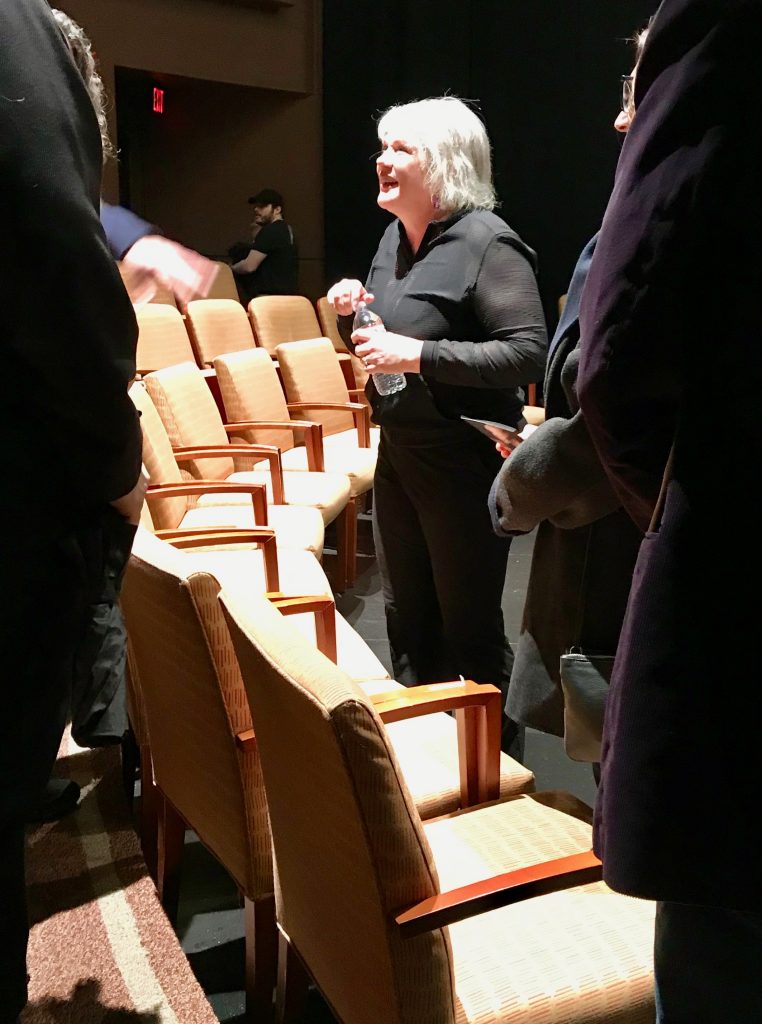 That is why, when Julia Sweeney makes an audience-schmooze appearance after the show, I tell her "you are such a pro." Because it takes a pro to navigate the vagaries of doing a show, the vagaries of being in show business, the vagaries of just living your life and still grabbing onto an anchor—to something—that keeps you, well, upright. And maybe even smiling. Because you are still breathing, after all.
She weaves story after story through her ninety-minute monologue, embellishing each one with lots of ha-ha moments. But like any good storyteller, Julia Sweeney is holding up a mirror for us, so we can catch a glimpse of ourselves. When her daughter confesses that her boyfriend is "annoying," mom declares, "everybody is annoying. E-V-E-R-Y-B-O-D-Y…" The audience is roaring, of course, because…well…DUH…
_ _ _ _ _ _ _ _ _ _ _ _ _ _ _ _ _ _ _ _ _ _ _ _ _ _ _ _ _ _ _ _ _ _ _ _ _ _ _ _ _ _ _ _ _ _ _ _ _ _ _ _ _ _ _ _ _ _ _ _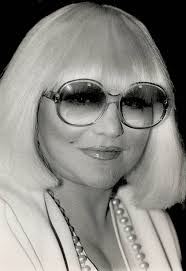 Once upon a time The Geffen was The Westwood Playhouse, standing pretty in the shadow of UCLA, which is right across the street. I flash back to the summer of 1984 where I am the first person in line with my $25 sit-anywhere-you-can-grab-a-seat ticket to see Miss Peggy Lee. I want to be in the front row, center, close enough to see the veins in her eyeballs. She is my favorite singer.
Her combo launches into THE signature song as she s-l-o-w-l-y approaches the microphone. It's delicious torture how she takes her time. She extends her arm towards the audience, starts snapping her fingers and sings, "Never know how much I love you…" Oh wow! This is what COOL looks like. Her platinum hair—a wig probably—is dolloped just so in a perfect pageboy—and she sings that song—Fever— like she's singing it for the first time. What a pro!
Talk about the vagaries of life—she has traveled THAT road. Peggy Lee had a hardscrabble childhood, born in the "jazz capital" of the world—Jamestown, North Dakota. But she found a way to do what she loved—to sing and write great songs and be a star. I do think she was a "diva." She also liked to sue people who pissed her off. Like the Muppet folks when they added a new character to their brood: A blond—it's all about me—bombshell. With an attitude. They gave this pink fluff a familiar Midwest hardscrabble back-story and named her "Miss Piggy Lee."
Well Peggy Lee got wind of this and called her lawyers. That is why today Kermit the Frog's on-again, off-again paramour is known simply as Miss Piggy.*
Apparently Peggy Lee had a pre-show ritual which included knocking back a shot of cognac and letting lose with a guttural whoop before going on stage. I can only imagine she was doing that before the show I saw in 1984. Then she comes on stage and sings like there is no tomorrow.
I remember hearing someone say that the sum of his whole life has brought him to THIS moment and then THIS moment. In other words, THIS is it. Peggy Lee brought each filament of her life to THIS moment. I could hear it in her songs, see it in her face. Just as Julia Sweeney does in her show. That's what singers and actors and comics and writers and artists DO. They hold up a mirror so WE can see ourselves…doing the same thing. SHOWING UP and landing here. Baggage included.
*Sourced from the book, Is That All There Is? The Strange Life of Peggy Lee
__________________________________________________________________________
SHAMELESS SELF-PROMOTION
I'm doing my thing in my little corner of the world—teaching, doing gigs, writing songs. If you are a Southern California person and interested in my ukulele classes here's an update:
I am starting a brand new class: Ukulele For Beginners PLUS. We need a transitional workshop for folks who already play a little but want to feel more confident and learn more goodies on the ukulele. This four-week workshop begins Saturday, March 2, 2019 at Boulevard Music in Culver City.
__________________________________________________________________________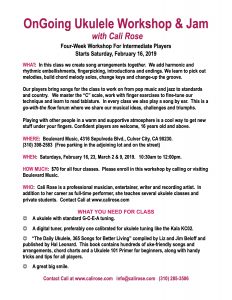 My Four-Week OnGoing Ukulele Workshop & Jam is beginning a new session on Saturday, February 16, 2019 at Boulevard Music. This has morphed into an intermediate level class where we co-create song arrangements and add lots of flash and fun.
__________________________________________________________________________
My ukulele group, The CC Strummers, meets twice a week, Monday afternoon and Thursday morning in Culver City. Please CLICK HERE for the details.
And thank you all for being there, staying connected and coming along for the ride.
Warmly,
Cali