We call it a "working vacation" which I think, in retrospect, are two words that don't belong in the same sentence. Hubby Craig and I embark on a whirly-windy ukulele tour that takes us from Modesto and Sacramento to San Jose where I re-discover, not for the first time, that I don't really, REALLY, relax until the "gigs" are done. This leaves us a day and a half of "ahhhhh," hunkered down in an oak-filled canyon somewhere near California's only nuclear power plant.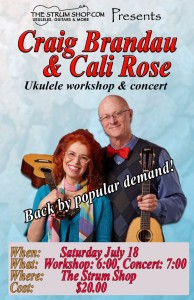 So we are plenty exhausted when we roll into Culver City in our rented Hyundai Elantra. Before we get home I take a quick detour to our local post office to pick up the mail in my P.O. Box. I suppose I could have waited. And truth be told, I wish I had waited, but a prophet I am not…
I did a retirement home gig several months ago and they still haven't paid me so I'm anxious to see if my money arrived. And pissed off. I hate chasing after checks–making the calls, sending the emails. Making more calls, sending more emails. I bring the subject up periodically on our working vacation. "Those bastards…" is usually how I start the conversation…
I send Craig into the post office as I wait in the idling car and a few seconds later he appears waving the check over his head. Elation turns to shock as he tumbles face down onto the sidewalk. I wait for him to get up. He always gets up.
He doesn't get up.
I leap from the car and run to this sweet man, sprawled on the cement, unable to lift himself with his arms. A kind gentleman passing by helps me get my big 6'3" husband to his feet and back into the car. His right wrist is askew; his left arm is throbbing. My husband was a corpsman in the Navy. "It's broken," he moans.
We turn the car north and head to U.C.L.A. I have no idea where the emergency room is. U.C.L.A. is crazy big, like a little city. And it seems like they are always building some new building. I break my personal "don't do it" decree and make a call on my cell phone while I'm driving. I punch in 911. It rings and rings but finally I am connected to a very nice fireman who gives me the address of the ER and adds that he has no idea where it is… All this as I am negotiating our rental car through some of the busiest intersections in the whole damned United States of America.
Right after I yell at a defenseless valet guy at the first wrong U.C.L.A. building I pull into, we find our way to the Emergency Room—during an afternoon lull. Before the rush hour bedlam begins. They take Craig in right away. I ask the admitting clerk if a lot of people come to the ER because they tripped on a sidewalk and she guffaws at her computer screen because, apparently, our crumbling pedestrian infrastructure in Los Angeles keeps the ER docs busy setting bones 24/7.
We are quickly escorted to a small examining room. The attending physician orders X-Rays and then we wait. And wait. What to do? Now here is where the story goes all baby-boomer weird. This is where we see, first-hand, how social media has reprogrammed our brain synapses.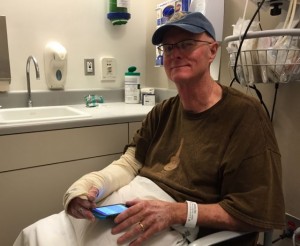 I take Craig's fricking picture with my cell phone camera. "Post it on Facebook," he says. And I do, like that's the most normal thing in the world. What have we come to? My husband, a musician, facing the prospect of a broken wrist, another broken arm, wants to "report" our travails to our FB friends as they are unfolding. And me, I go—hey good idea!
Let me back up a little…
We don't have kids. Craig's parents are gone as is my father. My mother has dementia. So we reach out to our tiny circle of friends and far-away family. We don't like to ask for help. (I bet most of us don't.) So Craig and I, we rely on each other. But people text and call back–with good wishes, offers to bring food, to drive us, to do whatever. It's a revelation.
Then the circle widens. Facebook. We have lots of FB "friends" because we are active in the ukulele cyber world. But most of these people–I will never meet them. Ever. Then again, I HAVE met a few of them, on this trip even. And they are kind and warm and have stories that are engaging and interesting. And almost immediately there begins a cascade of responses to the picture we posted. They offer support and good thoughts, prayers. The comments help us feel a whole lot better as we sit in this dreary, cheerless room… They make us feel not so alone.
Years ago I worked in an emergency room and those three years on the graveyard shift changed my life. The stuff, the bad stuff we see on the local news, it played out in the bowels of this place. I got it. Into the marrow of my bones. We are all just hanging by a thread? Do we really know what's going to happen in the next ten seconds? For sure? Our lives can change in the time it takes to breathe in.
It's scary to think about. And in all honesty, when I hear about someone else's troubles, I feel badly for them, terrible sometimes. AND I'm grateful that it didn't happen to me. AND I'm also afraid that someday it will. I feel a little tug of OMG in my stomach. Maybe I'm super neurotic. Or just human. Well…both. My husband has traipsed across the uneven sidewalk in front of the post office thousands of times. Up to last Thursday afternoon his record of safe passage was spotless.
The lyric from Monty Python's "Always Look On The Bright Side of Life" has been playing in my head as if the needle is stuck in an acetate groove.
You'll see its all a show,
keep 'em laughin' as you go.
Just remember that the last laugh is on you.  Ha ha ha…
In the big picture, none of us are on stage for very long… Things get goofy and awful, boring and beautiful. And if we are lucky, there are circles upon circles of dear ones, of friends, to share the whole mess of it.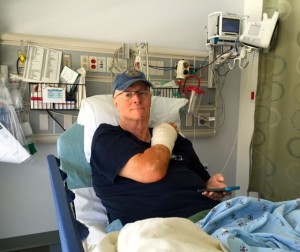 Medical Post Script: Craig's broken left elbow is healing quickly. Unfortunately my right-handed sweetheart crushed his right wrist and spent two hours in surgery. We are so lucky to have U.C.L.A.'s best hand guys "on hand." Craig gave them both a copy of his new ukulele CD at our initial consultation. A not-so-subtle reminder that this is the wrist of a musician… We hear later that they played the CD in the operating room during his surgery. Ukulele is everywhere these days…