This post is part 1 of 11 in the series, "Marvelous Midwest," about discovering my extended family in Indiana and "ukeing" it up in Missouri. All in one very eventful trip…
I grew up hearing stories about my great uncle Sidney. The musical prodigy. The violinist. The light of this Russian immigrant family that landed in Baltimore around the turn of the century. My grandmother was the eldest of five and twenty or so years later Sidney came along. The baby. It's wacky, but my mother and Sidney were born the same year and slid into a sometimes contentious brother-sister kind of thing. She was jealous of him because he got all the attention. Maybe too much attention because when Sidney grew up, he vanished. It was like the earth swallowed him whole.
"I wonder what happened to Sidney?" became my mother's lunch-a-bunch mantra. Year after year. Decade after decade. Lunch after lunch. Until four years ago when, over sushi and miso soup, my mother sounds the Sidney Refrain one more time and I remember making a mental "note to self" to Google his name as soon as I get home.
And now I'm staring into the computer screen at the picture of a beautiful woman who is holding a viola. Her name is Stephanie and she is a member of the Pittsburg Symphony Orchestra and according to her biography, the daughter of violinist and composer Sidney Tretick.
Out-of-the-body experiences are interesting, aren't they…
Once I regain my center of gravity, I call her on the phone and we find doorways to the past that neither of us even knew existed. She tells me that Sidney moved to the Midwest, married a fellow violinist and they had five children. All professional musicians. Master classical players. They don't know anything about our branch of the family tree because their father so completely estranged himself from the on-going melodrama back in Baltimore. Sadly, Sidney died very young and left a widow with these five young children to raise. That kind of loss haunts us like a sad melody that plays through the background of our lives.
But the news–that there was a new cousin in California–spreads like wildfire and we soon "friend" each other on Facebook and begin the process of "getting to know you."
I meet Drew Tretick first, at his gig where he plays violin at Downtown Disney in Anaheim. But Sidney's other daughters, Noelle and Blythe and his wife, Patricia, live in Indianapolis, Indiana. Not so close…
Then out of the blue, and I mean out of the blue, I get an email from Janelle Hoffmann with Boat Paddle Ukulele Company which is located in wine country Missouri, asking if I would be interested in teaching workshops and being the headliner at their next Mighty Mo Ukulele Festival?
Like…Yeah!!!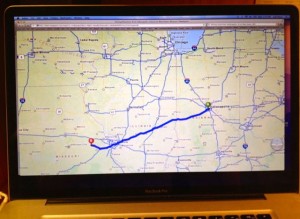 Like yeah, especially after I mapquest Missouri and discover it's a straight shot from Indianapolis to New Haven. A five hour drive. We can do that. We can do that!!! And we do. My husband and I.
You can only do "first times" once and this, my first trip to Indiana and Missouri, is a revelation. I find my kin. Both "DNA" kin and "ukulele" kin.
And have I got stories. So stay tuned.