This post is part 8 of 11 in the series, "Marvelous Midwest," about discovering my extended family in Indiana and "ukeing" it up in Missouri. 
We turn west onto a blue highway toward New Haven.  That's not Connecticut.  It's Missouri.  I didn't know this "Show Me" state has a wine country.  But it does and here we are.  The corn crop is a lost cause.  The soybeans are hanging on for dear life.  Lord knows where the grapes are but the landscape is beautiful.  Soft rolling hills and lots of trees.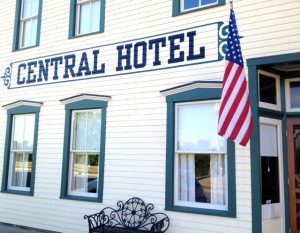 We arrive a day early and the ukulele-powers-that-be comp us a room in the local bed and breakfast—the beautifully renovated, redecorated and very old Central Hotel.
We are warmly welcomed by the proprietor, Steve, a happily retired school teacher and active sculptor, who escorts us up the grand staircase to our equally grand room with an unusually long hallway that leads to the bathroom. I remember this clearly because I am standing in that very hallway, gazing out the window at a Norman Rockwell scene below when the building begins to shudder. "Did you feel that???" I yell to Craig, who has already flopped across the king-size bed. "Feel what?" He mutters.
This is a typical conversation back home. I seem to have a built-in Richter scale and can feel even the puniest earthquakes. My husband shakes his head and questions the air pressure in mine… But the next day I show him the earthquake article in the Los Angeles Times. "See. See that?"  So Craig ain't buying it–that the old hotel is trembling–and frankly I'm wondering what is going on too. Then it happens again. And again.
Sixty-eight times every day. That's when a train goes by. Apparently we are steps from the main tracks that connect east and west and all points in between. Obviously the double-pane windows block "the choo choo" but not the "cha cha cha." Once the mystery is solved, all this rattling morphs into something positively medicinal. I sleep so well that night that they just about have to drag me from the place…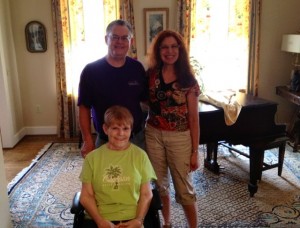 But we have a delicious breakfast first.  Somehow word gets out that I'm on a gluten-free diet.  Steve drives ten miles down the road to the health food store to pick up gluten-free bagels just for me.  Now that is Midwest hospitality.  I am speechless.  For a few seconds, anyway.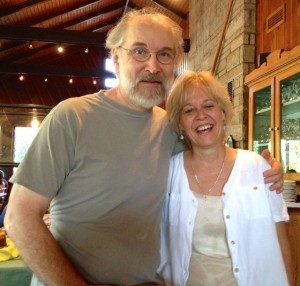 This is the day we meet the sponsors of The Mighty Mo Ukulele Festival. In person. Janelle and Jerry Hoffmann of The Boat Paddle Ukulele Company. Jerry designs and builds unique and coveted ukuleles in his workshop which is located in this quaint little town.
It doesn't look like anyone is inside as we pull up in front. I scamper to the door and knock a few times. Look through the big glass windows. "Hello. Hello ukulele person. Are you in there?" Nothing. Then I try the doorknob and it opens. I saunter in and say it again, "Hello. Anyone home?" It smells so good in here. Fresh cut wood with a splash of lacquer fumes. Maybe I'm getting a little whoo-whoo on the aroma because I start hearing funny beep-beep sounds. Then they get faster and louder until my ears are ready to fall off. That's when it dawns on me I've set off the burglar alarm.
I make like Roadrunner and get the hell out of there, racing for the car and grabbing my cell phone to call Jerry. All at the same time! Just then we see the police car.
I suppose it helps that Craig and I don't fit the profile of Bonnie and Clyde, making a hit on a ukulele store on a blazing hot afternoon. The cop-guy smiles and waves us off just as I connect with Jerry who walks me through the "go-back-into-the-store-and-turn-off-the-ringy-thing" instructions.
Finally it's Friday. The first day of the ukulele festival. I get to keep the bag of bagels and my hearing is almost back to normal. It's all good.