This post is part 7 of 11 in the series, "Marvelous Midwest," about discovering my extended family in Indiana and "ukeing" it up in Missouri. All in one very eventful trip…
It's a straight shot from Indianapolis to St. Louis on Interstate 70 as we continue our Midwest sojourn. After several days of getting to know the relatives I found on Google and Facebook, my husband and I are heading to The Mighty Mo Ukulele Festival in the rolling hills of wine country Missouri. In one afternoon we drive in three states. This is new territory for me, hop-scotching across state lines. In California you can drive fourteen hours and still be in California.
It's hot outside. The A/C keeps us comfy cool, but you can "see" the heat through the car windows: The eerie ripples of distortion that appear on blazing asphalt. Cornfields, left, right, mile and after mile where the plants are stunted, ashen and drooping like sad faces lost in a crowd. This drought that never-seems-to-end is bad news. For folks in the Midwest. For anyone who likes to eat. We are all deeply impacted by the vagaries of weather.
It's one thing to watch this catastrophe unfold on the news and it's another to actually "feel" it. We pull over at a rest stop to pee. When I get out of the car it's like stepping into a Bikram (that-would-be-105-degrees) Yoga Studio. Times ten! I make a mad dash for the air-conditioned toilet building as if I'm being chased by fire ants falling from the sky.
Well almost. But I do run for it…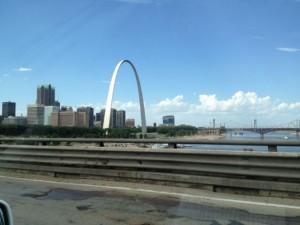 Granted, I am not acclimated to this kind of weather, but who is? This is scary stuff. Later on we meet a woman who lives in a century-old farmhouse in Missouri. The ground is so hard and dry from the drought that she is afraid the foundation will crack, so she built a moat, her own mini-circle of water, around the farmhouse to give the soil some semblance of "wet."
So we drive on and on and just like that I see the St. Louis Arch appear behind a hill. Oh this is so exciting. I'm getting goose bumps just like the first time I spotted the peak of the Matterhorn Mountain at Disneyland as my parents and I rounded a bend on the Santa Ana Freeway. And now we are getting close to "The Gateway To The West" and the Mississippi River. I've seen this great river from the window seat in coach, but never on the ground. Or rather from a bridge. During rush hour. Just then my cell phone rings. It's a client wanting to book a show. "Oh Natasha," I say, "let me call you back in a half an hour. We're about to cross the Mississippi River!!!"
What does that tell you about my concept of time? That it would take thirty minutes to cross a river… Albeit a big river…
Speaking of time. Somewhere between cornfields in southern Illinois, my husband wonders aloud "do you think there is a time change?" Uh-oh. I never thought of that… I hope you Midwest people are laughing at how totally pathetic this conversation is. I look at the clock on my cell phone and suddenly we have gained an hour. OMG. How did that happen? We get a sixty minute re-do!
I later learn that most of Indiana is on Eastern Standard Time while Illinois and Missouri are on Central. So now I'm wondering… What if I live in Indiana but work in Illinois (or any place near a "time-change" border). That would make me fricking crazy. Like, what time is it? Like, where am I? Like, what's it all about?
Well this whole discussion illustrates a wonderful thing about traveling and getting out of my steel-reinforced comfort zone… It's a chance to experience stuff that never crosses my radar at home. Stuff that is stark reality for other people. And for the briefest time, I get to "live" it too.