This post is part 6 of 11 in the series, "

Marvelous Midwest,

" about discovering my extended family in Indiana and "ukeing" it up in Missouri.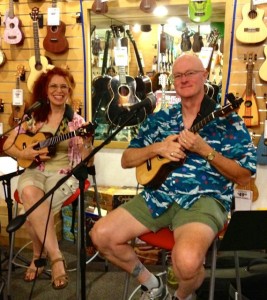 It's our last evening in Indianapolis. My husband Craig and I are heading over to the armory-size San Ash Music Store where we are scheduled to perform, teach a clinic and jam with the Indy Ukers. We settle into the "acoustic room" where the walls are festooned with ukuleles, guitars, banjos, mandolins. Standing sentry, they are, strings vibrating, ever so slightly as we begin to play.
We're going to have a "Kanikapila" I cheerfully announce to this warm group of ukulele lovers. "A what"? They say. Alas Hawaii meets Indianapolis!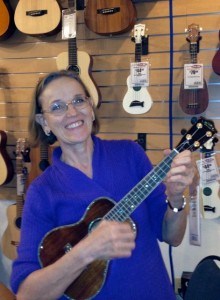 Kanikapila: Let's make music together.
The gathering is even sweeter because my family of classical musicians join the party. "See which one calls to you." I implore them choose a pretty uke from the wall, press it into their arms like a baby and begin to strum.
This is not easy for my family of violin players. Yeah there are four strings on both instruments, but the similarities end there. I grew up playing the guitar, then ukulele, and can't imagine playing an instrument without frets, which are the slats on the neck that change the pitch of the strings. But the frets on the ukulele are driving my "fretless" family crazy.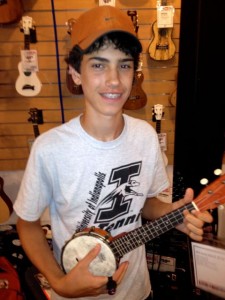 My cousin Noelle wonders if she can re-tune a ukulele like her violin. But violins have a five-octave range. Huge!!!! Ukuleles are pushing two plus. Small!!! The tunings are not interchangeable. But my family jumps in anyway. With joy and gusto! And for a little while these master musicians leave Mozart behind and get down and funky with "Let's Twist Again."
It is a wonderful thing to behold. As one of my friends says, the ukulele is about sharing, not rivalry and that creates an atmosphere of "okay-ness" as we join together to play and sing.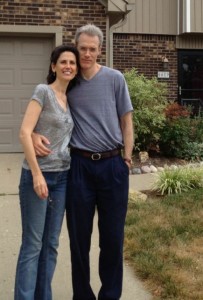 The next morning we bid our newly-discovered cousins farewell. Oh my, we just found each other and now we have to say goodbye. It sucks.
But thanks to Google and Facebook, we connected in the first place. After decades of "not knowing." What are the chances? And we won't lose each other again.
P.S. In the second blog of this series, I wrote about stumbling through my new arrangement of "Dueling Banjos" in front of the musical family. Back to the woodshed for me. Practice, practice, practice. Finally I got the song under my fingers and put my version on YouTube.
A member of Ukulele Underground posted this comment: "That may be the best Dueling Banjos I've heard on ukulele, certainly the best I can remember!" Click here to watch.